Alt Investments
Private Markets Outlook Remains Strong, But Investors Must Be Choosy – BlackRock
The world's largest asset manager casts its eye over likely major trends in the alternative investments space, such as in private equity, credit, infrastructure and real estate. These have all featured more heavily on wealth managers' menus in recent years.
The case for private market investment continues to grow but public listed equities remain a major part of portfolios as business cycles and company journeys oscillate, according to an overview of alternative asset markets by BlackRock.
Technology, healthcare and the new ways in which people are consuming will drive the growth of privately held businesses and the returns they generate, the report said.
Often companies will move back and forth between listed/private markets at different stages during their lives. The private markets benefit from a greater pool of potential investments, but participants need to be able to address both public and private, or risk losing an investment relationship with a strong corporate, BlackRock, overseeing $9.46 trillion in assets at end-September 2021, said.
Wealth managers that cannot offer both private and public market access will be in a difficult position, the report said.
"A blurring of the lines is leading to increased opportunity sets but also challenges for investors who cannot navigate across both public and private markets, or across private markets' verticals," it said.
The risk premia paid on private equity and credit remains, explaining why wealth managers, family offices and high net worth individuals continue to put more money into such asset classes. The size of the private equity market has tripled in the last decade, from about $2 trillion in 2010 to more than $6 trillion in 2021. The number of active private equity investors has also tripled.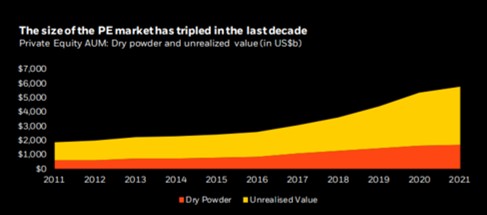 Source: BlackRock
That said, BlackRock expects private equity valuations, for example, to remain strong, putting more pressure on investors and advisors to be choosy. More than a decade of very low official interest rates has squeezed yields on listed equities, making less liquid, private investments more attractive by comparison.
Private market investments – such as private equity and credit – have exploded 30-fold from 2000 to $30.5 trillion today. US-based firm ALTSMARK, which provides a solution for managing, reporting and risk analysis on private market investments, has argued that wealth managers who lack the ability to offer clients access to the space could go out of business.