Company Profiles
CMB Aims To Win Big From Monaco's Growth Story - CEO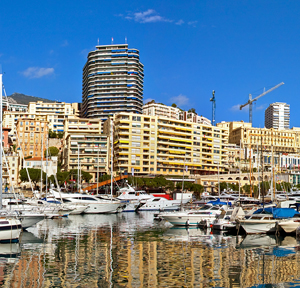 Monaco-based CMB, the private banking group, is refreshing its brand and pushing its name forward into the European and wider wealth management space next year. This publication recently sat down with CMB's chief executive to talk about plans and potential growth.
Dramas in international financial centres, whether it be the UK's own angst about London post-Brexit or political unrest in Hong Kong and Malta, means that some places get a chance to showcase their stability. One example is the tiny principality of Monaco.
Monaco, which has a total population upward of about 38,000, depending on various recent estimates, and a land area of 2.02 square kilometres, is the world's most densely populated and second smallest nation, second only to the Vatican City. It makes Malta, Jersey, the Isle of Man or for that matter Hong Kong and Singapore seem large.
A lot of millionaires and those even higher on the wealth spectrum reside in a jurisdiction renowned for its annual Formula 1 motor racing antics, as well as the magic Hollywood/traditional royalty combination of the late Grace Kelly. Since the mid-19th century many a high-roller has won or lost fortunes at its green gaming tables. (Winston Churchill was, for example, a keen visitor.) As this correspondent knows, it has also been a busy hub for financial conferences. The Monaco Convention Centre actually goes underneath the sea, underlining why the principality is just made for an Ian Fleming spy caper.
But it is the prosaic but vital role of protecting and growing clients' wealth and wellbeing that interests the chief executive of major local banking group CMB, Francesco Grosoli, told this publication recently. (CMB stands for Compagnie Monégasque de Banque. CMB is revamping its brand and launching a new identity and marketing drive in the first quarter of 2020.)
"The market is competitive…there is a concentration of wealth that is second to none," Grosoli told this publication at a recent meeting at its offices in the Victoria area of London. (The fact that we met there speaks to the bank's pan-European reach.)
CMB and its parent are building out a new segment for 2020: Premier, private banking, corporate and institutionals, and external asset managers.
Upside potential for the bank is vast. Grosoli cited data from Forbes showing that 32 per cent of Monaco's population is made up of millionaires. By 2026 there will be 16,100 millionaires in the jurisdiction (source: Knight Frank). There is a lot of growth potential. CMB serves a significant number of existing HNW individuals. CMB has 240 employees and oversees €13.3 billion in client assets. CMB clients must have at least €1 million ($1.1 billion) to open a private bank account; to obtain full-service (investment advisory and other services), clients must have €5 million.
Competitive pressures have waxed and waned in the past decade. The number of Monaco-based banks has oscillated, contracting from about 50 banks a decade ago to 30 now, partly due to M&A, departures and other changes, although new players are entering the market, Grosoli said.
Banks such as CMB sit on a generally rising wealth escalator, even though a world of very low, or even negative, interest rates create pressures. Recent figures from PwC and UBS, for example, show that although the number of the world's billionaires fell last year, the overall trend is up, and many of them want a non-domestic home – like Monaco.
Structure
CMB is part of Italian banking group Mediobanca. Mediobanca has wrought a number of changes to its wealth management businesses in recent years, creating a new division bringing together CheBanca (an asset gatherer for households), CMB, Spafid and Mediobanca Private Banking. Mediobanca has also launched the new Mediobanca Asset Management product factory. CMB is able to tap into the investment banking/asset management resources of its parent, and yacht financing solutions through SelmaBipiemme Leasing, delivering the kind of service coverage clients now expect as a matter of course, Grosoli said.
Firms such as CMB must adjust to a changing client demographic, he said. "People often used to retire here and now a much younger population lives here. They often manage their wealth and businesses from Monaco. It is also `The Mayfair of the Mediterranean Sea'".
"The concentration of wealth here is massive," Grosoli continued. Monaco is a small jurisdiction and it is easy for banks and advisors to meet people, to network and get things done.
"Historically, a lot of people here were using other markets such as Switzerland and London. That people are living permanently in Monaco they need closer partners. We have evolved from an offshore to an onshore model and countries such as the UK, Switzerland, and Monaco (what we could call `the golden triangle of wealth management') have become even more so important wealth management centres. Because of this change of model, clients now choose their private banks because they are based in a city where they would enjoy living (environment, quality of schooling facilities, security, and political stability. Monaco ticks all these boxes," he said.