People Moves
Who's Moving Where In Wealth Management? - BNP Paribas AM, EFG Private Bank, Others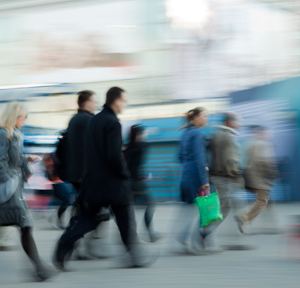 The latest moves in wealth management across Europe, the Middle East and Africa.
BNP Paribas AM
BNP Paribas Asset Management has appointed Florian Schoeps as exchange-traded fund and index solutions sales trader in Germany.
Based in Munich, Schoeps reports to Claus Hecher, head of business development for Germany, Austria and the German-speaking areas of Switzerland.
Schoeps joined BNPP AM from MAEG Munich ERGO Kapitalanlagegesellschaft mbH, where he was a senior relationship manager.
Deutsche Bank
Deutsche Bank Wealth Management has named former Credit Suisse manager Aditya Mishra to lead its global south Asia client coverage team that is based in London.
Mishra reports functionally to Amrit Singh, head of wealth management coverage for global south Asia and locally Michael Morley, CEO, Deutsche Bank UK Bank Limited. At Credit Suisse, Mishra worked for over eight years across UK and Asia (India).
"With his many years of private banking experience in building businesses and managing teams across in the UK, India and the Middle East, Aditya will add enormous value to our growth plans in the UK," Singh said.
The German bank's wealth management business has made more than 15 hires at various levels of seniority overseeing the GSA business in Dubai and Singapore.
Livingbridge
Livingbridge, the independent asset management group, has appointed portfolio manager Graeme Bencke to work across its equity strategies.
Bencke joins from PineBridge Investments, where he ran a number of equity strategies – including the group's strongly-performing Global Focus Equity Fund. A former Royal Air Force pilot, Bencke has also held roles at Killik & Co and F&C Asset Management – where he ran the European small-cap equity portfolio.
He will work alongside Ken Wotton and Brendan Gulston, co-managers of the LF Livingbridge UK Micro Cap Fund and the LF Livingbridge UK Multi Cap Income Fund.
Brewin Dolphin
UK wealth manager Brewin Dolphin has appointed Andrew Sloan as regional relationship manager (RRM) to develop its professional services operation across its four Scottish offices.
Sloan joins Brewin Dolphin with more than 10 years of experience in the financial services industry, having previously held senior roles at Bank of Scotland and Lloyds Banking Group.
In his new role, Sloan will be responsible for building relationships with law and accountancy firms across Scotland. Based at Brewin Dolphin's Edinburgh office, he will also manage the firm's relationship with the Law Society of Scotland, which recently announced that Brewin Dolphin would be its wealth management partner.
EFG Private Bank
EFG Private Bank has appointed Vedat Mizrahi as the London-based client relationship officer for the Turkish market, and Richard Stanwell as a director in its UK clients business.
Stanwell is based in London and reports to Michael Vlahovic, head of private banking UK. He has over 20 years of experience in the private banking industry. He joined EFG Private Bank from Kleinwort Hambros (formerly Kleinwort Benson). He previously also worked at Barclays Wealth, Gerrard Investment Management and Killik & Co.
In his new role at EFG, Mizrahi will cater for the needs of Turkish clients. Mizrahi joins EFG from UNLU&Co in Istanbul, where he was a member of the executive committee and head of equity and fixed income research, managing a team of analysts covering Turkish equities and corporate bonds.
River and Mercantile
River and Mercantile Group has promoted head of asset management, James Barham, to deputy chief executive. It is a newly- created role with responsibility for all the commercial business lines of the group, including the solutions and asset management businesses.
He founded River and Mercantile Asset Management in 2006 and was its CEO until 2014, when it merged with investment consultant and fiduciary manager P-Solve, recently rebranded to River and Mercantile Solutions.
Barham will continue to report to Mike Faulkner, River and Mercantile Group CEO, whose focus will remain on accelerating investment research and development.
Jack Berry, head of River and Mercantile Solutions, also moves to a new role to leverage the group's macro thinking around markets. He originally set up River and Mercantile's derivatives business. In his new role, Berry will report to Barham.
Kevin Hayes, chief financial officer, will take on leadership of the global solutions business. He will report to Barham, and retain his CFO responsibility.
Collas Crill
Offshore law firm Collas Crill has appointed partner Ian Montgomery as its new head of corporate, finance and funds in its British Virgin Islands office.
Montgomery was previously based in Collas Crill's Jersey office, where he advised financial institutions, public and private businesses, individuals and funds on all aspects of commercial law from both a Jersey and BVI perspective. Prior to joining Collas Crill, he worked for Mourant Ozannes in Jersey. He has also worked for Harney Westwood & Riegels in the BVI and Pinsent Masons in London.
Ian is a member of the Law Society of England and Wales, the Law Society of Scotland and the BVI Bar Association. He studied law at the University of Edinburgh.
Collas Crill launched its BVI office following its merger with local firm Farara Kerins in early 2017.
PIMFA
The Personal Investment Management and Financial Advice Association, the UK wealth management lobby group, named two senior female industry figures to its board.
The joiners are Tracey Davidson, chief executive of Heartwood Wealth Management Limited, a wholly-owned subsidiary of Handelsbanken Group, a role she has held since 2014.
Penny Lovell, meanwhile, is CEO of The Private Office and the Sanlam UK Executive Committee, a role she took up in 2017. She has over 25 years advising private clients, families and charities. Previously Penny was Managing Director at Rothschild and Fleming Family and Partners. Before Joining Sanlam, Penny was Head of Private Client, Marketing and Distribution at Close Brothers Asset Management and a member of the Executive Committee.
A third board member appointee is Myles Marmion, chief financial officer for Ruffer. He has worked at ED&F Man Holdings, where he was group chief financial officer and previously been head of corporate finance and risk. He started his career at Ernst & Young and then worked for Robert Fleming Holdings Limited and Maple Financial Group. In 2009 he joined Ruffer.