Client Affairs
Exclusive: Chinese Buyers Pile Into Luxury London Property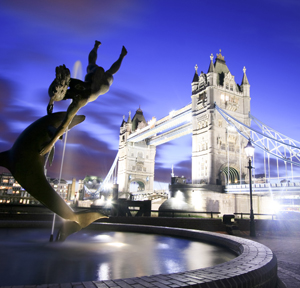 Hai Tao Jong was celebrating last week. The 30 year-old Beijing-based media entrepreneur (who did not want to give his real name) recently completed on his first UK property purchase. Jong only viewed the brand-new luxury Docklands apartment, as an afterthought, when he flew to London to sign the legal documents and pick up the keys. It cost £400,000 (around $657,000). "I was helped by my friends in the UK. They checked, and sent me some pictures. I contacted the agent. That was enough."
Does he plan to move to London to enjoy his new flat? "Maybe when I retire!" he laughs. "I bought it for investment. A lot of my friends were buying there and they said it is a good area. I already have a tenant."
As China's central bank moots hiking interest rates for the fifth time in eight months, off the back of rising inflation, Jong joins a growing number of mainland Chinese opting to park their cash in "safe" London real estate. Real estate agent Knight Frank sold £500 million of prime London property to Chinese buyers last year – up 150 per cent on 2008.
So keen has Chinese interest been, the estate agents are hailing them this decade's answer to the Russians and Middle Easterns – referring to the wealthy oligarchs and Sheikhs who helped prop up the luxury London market during the downturn.
"Although numbers are still relatively small, the Chinese may soon take over from the Russians and Arabs in their appetite for prime property," says Oliver Hooper, a buying agent operating in prime central London. Around a quarter of Hooper's clientele are now from China, from negligible numbers a year ago. "They have serious cash and they want to spend it." Hooper said that some of his Chinese customers want trophy homes in most exclusive neighbourhoods, but investment potential is usually the main priority.
"In the last three months I have had enquiries from several Chinese looking for luxury flats in Kensington. Not single apartments, but whole blocks. They wanted to spend between £15 million and £20 million. These are investments, not homes."
Given China's meteoric growth in household wealth and purchasing power, their appetite for expensive property is unsurprising. Last year Chinese millionaires grew their fortunes by 31 per cent according to the latest Merrill Lynch and Capgemini World Wealth Report. Since the recession began the exchange rate has been favorable for Asian buyers, who are purchasing with a 10 per cent to 30 per cent discount.
But naturally with greater wealth, comes greater fear of losing it. Chinese and Hong Kong property prices rocketed 21 per cent last year, according to Knight Frank research, and investing in domestic real estate is considered too risky by many.
"People have limited ways of investing in a stable manner. China has a very volatile market and property prices are irrational. People are afraid the bubble will break," says Jong.
A weak pound is making UK property even more enticing. The value of Sterling against the Dollar has dropped 27 per cent since 2008, while London property values are still depressed against their 2007 peak. More than one in 10 buyers of new properties in central London are now from China, according to Knight Frank.
This is good news for London's luxury property developers. So sure are they of China's coming wealth wave, many are incorporating the principles of Feng Shui into their interior and structural designs to cater for Chinese tastes. Feng Shui is an ancient Chinese system of aesthetics believed to use the laws of astronomy and geography to help one improve life by receiving positive Qi, or energy flows.
"We have been getting a specialist to look at our designs and check they comply with the principles of Feng Shui," says Alex Michelin, co-founder of luxury London developer Finchatton. "Even the younger generation of Chinese can be quite superstitious, and put off by a mirror facing the door. It is supposed to reflect good Qi out of the house," says Michelin.
Finchatton's Belgravia-based development, Hans Place, will have Feng Shui credentials – lots of light, no beams in the bedrooms and no directly facing windows and doors. It will be blessed by a Feng Shui master when it completes, due this year. "We don't go overboard with windchimes and lucky bamboo. The apartments are aesthetically pleasing for everyone, not just Chinese. However our Chinese clients do notice and it makes a difference."
In neighbouring Chelsea, Bramah Chelsea sales executive Matt Shenton said the incorporation of the element of water in the development, with low inbuilt fountains, has caught the eye of many Chinese buyers looking for a Feng Shui-friendly property.
Even commercial developers are catching on. City-based block Heron Tower has an ethically sourced tortoise shell implanted within its foundations. "It is considered auspicious," says Lisa Ronson, marketing executive at the development. She explained: "In Feng Shui theory, the tortoise, dragon, phoenix and tiger form four kinds of energy that surround a building. The tortoise represents a strong back, protection and security. A tortoiseshell is commonly placed into the foundations of a building that incorporates Feng Shui principles."
Other developers are going a step further, sending marketing teams to Asia in a bid to drum up business from well-heeled locals.
London developments Bramah Chelsea, Wellington House and Neo Bankside have held marketing exhibitions recently in Hong Kong. Last September Bramah hosted a successful exhibition in the Mandarin Oriental in Hong Kong, and the block is already 80 per cent sold.
Meanwhile estate agents are setting up Mandarin-speaking desks in London to keep pace with demand. Cici Dong, a 25-year-old from Shanxi Province, was recruited on by Savills in London last November, in response to growing demand.Chesterton Humberts last year hired Shi-Yu Phang, a Cantonese and Mandarin speaker. A third of buyers at the Canary Wharf office are mainland Chinese, says 34-year old Phang, and numbers are growing. "They like brand new apartments. They don't like wearing other people's shoes," says Phang, who was born in Fuchoa in China and went to university in Birmingham.
Although their presence is relatively small, property brokers say that as soon as laws become more relaxed, Chinese will overtake all other international buyers of high-end real estate in some parts of the Capital.
Chinese mainlanders are forbidden from transferring more than $50,000 out of the country annually. Although the restrictions limit the flow, clearly money is getting out. Some individuals channel money through offshore accounts in Hong Kong, others through units of mainland companies with operations in the UK.
Jong bought his apartment through a friend of a friend.
He says: "Officially, it is not possible. You just try and get around the restrictions. I have a friend who knows a friend at the local bank. He put the transfer through as if it was a business payment to a supplier at a UK company. It will not be inspected, they would not know if it was a personal or a supplier's account."
Regulatory reform could be on the way. In January the Eastern city of Wenzhou launched a pilot project allowing individuals to invest up to $200 million overseas annually. But almost as soon as it was announced, it was quashed by a further announcement that it would be suspended indefinitely.
Some believe the suspension will be lifted again this year, others are more sceptical. "Things move slowly in China. It could be another decade before regulations are lifted," says Phang.
When that day comes, London will be ready.