WM Market Reports
Global Wealth Growth To Stumble After Strong 2021 – Credit Suisse Study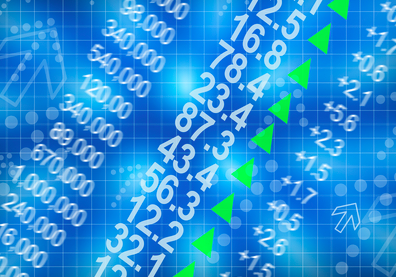 Wealth around the world rose strongly last year, fuelled by the rise of equity markets as the worst of the pandemic subsided in many nations. But more adverse economic conditions in 2022 are likely to hamper growth this year, if not pull it backwards.
Global wealth rose strongly in 2021 reaching a total of $463.6 trillion, although rising inflation, slowing growth and fallout from the Russia-Ukraine conflict may dent figures this year, according to an annual survey by Credit Suisse.
The rise in 2021 equated to a gain of 9.8 per cent; wealth per adult rose 8.4 per cent to $87,489, the bank said.
Setting aside exchange rate movements, aggregate global wealth grew by 12.7 per cent in 2021, the fastest annual rate ever recorded.
Since the turn of 2022, however, markets have slumped, hit by rising interest rates and the war in Ukraine. Since the start of January, the MSCI World Index of developed countries' shares (in dollars) has slumped more than 19 per cent.
"On a country basis, the United States added the most household wealth in 2021, followed by China, Canada, India and Australia," Anthony Shorrocks, economist and report author, said. "Wealth losses were less common and almost always associated with currency depreciation against the US dollar. Analysis of median wealth within countries and across the world shows that global wealth inequality has fallen this century due to faster growth achieved in emerging markets. The average household has thus been able to build up wealth over the last two decades."
If inflation rates are stripped out of the figures, the rise in real wealth last year was 8.2 per cent, Credit Suisse said.
All regions contributed to the rise in global wealth, but North America and China dominated, with North America accounting for a little over half the global total and China adding another quarter.
In contrast, Africa, Europe, India and Latin America together accounted for just 11.1 per cent of global wealth growth. This low figure reflects widespread depreciation against the US dollar in these regions. In percentage terms, North America and China recorded the highest growth rates (around 15 per cent each), while the 1.5 per cent growth in Europe was by far the lowest among the regions.
Total household debt increased by 4.4 per cent for the world as a whole. However, the global figure was suppressed by zero growth for the Asia-Pacific region (excluding China and India) and the reduction in debt in Europe (due to exchange rate depreciation).
Elsewhere, household debt rose on average by 9 per cent, led by a rise of 12.1 per cent in China.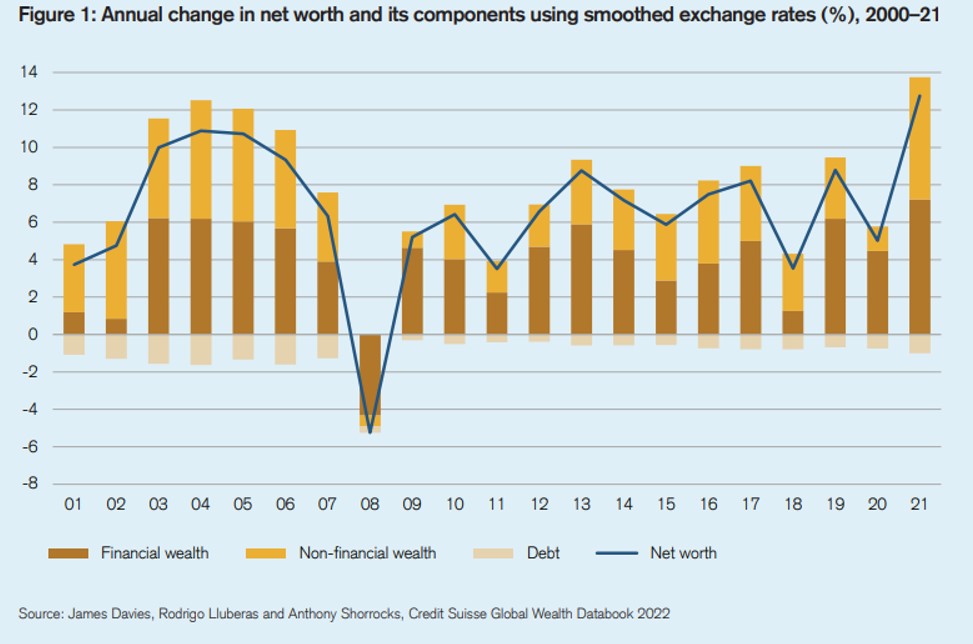 Generations
A look at specific population sub-groups suggests that, in the US and Canada, Millennials and Generation X grew their wealth most between 2019 and 2022. In the US, African American and Hispanic households saw the largest percentage increase in wealth in 2021 thanks to increases in non-financial wealth – mostly housing. With regard to women's wealth, it is estimated that, of the 26 countries that make up 59 per cent of global adult population, 15 countries (including China, Germany and India, for example) show a decline in the wealth of women over 2020 and 2021.
For the remaining countries (including the US and the UK, for example), the average ratio of women to men's wealth increased.
As the reported note, the rise in wealth last year was driven by the "widespread and sizable gains" in share prices.
Clouds in the sky
Credit Suisse argued that worldwide inflation and the Russia-Ukraine war are likely to "hamper real wealth creation over the next few years".
"Nevertheless, global wealth in nominal US dollars is expected to increase by $169 trillion by 2026, a rise of 36 per cent. Low and middle-income countries currently account for 24 per cent of wealth, but will be responsible for 42 per cent of wealth growth over the next five years," the report said.
"Middle-income countries will be the primary driver of global trends. Global wealth per adult is forecast to rise 28 per cent by 2026 and to pass the threshold of $100,000 in 2024. The number of millionaires will also grow markedly over the next five years to 87 million, while the number of ultra-high net worth individuals will reach 385,000.