Family Office
Tough Markets Cause Family Offices To Slow VC Investments
For some time, the fact that family offices are enthusiasts for VC has been an obvious fact but changing economic conditions might change their appetite. We talk to a bank that recently issued a report examining what family offices are up to.
The worsening economic environment and market gyrations have prompted family offices to slow down their venture capital activity but it certainly hasn't dampened their appetite for the asset class.
A few days ago, SVB Capital, issued a report scanning the views of more than 100 family offices in North America and other regions.
Despite macro concerns, North American family offices are continuing to allocate more to venture; 15 per cent of their portfolios are focused on venture compared with 13 per cent on the rest of the world, the report found. Family offices invested in over 2,100 direct venture deals in 2021 (5 per cent of global deals) versus 1.9 per cent in 2011, a 250 per cent-plus increase.
Latest evidence suggests that there has been a cooling of family office involvement.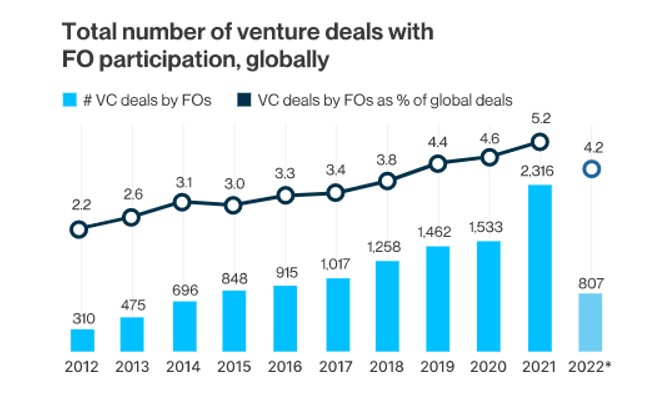 Source: SVB, Campden Wealth
"Macroeconomic conditions are contributing to the 'denominator effect' for family offices, i.e., the value of their public market portfolios have decreased significantly, causing FOs to slow their venture investments. They are also expecting a recalibration of startup valuations, causing them to slow capital deployment," Shailesh Sachdeva, managing director of Family Office Practice at SVB, told this news service in an interview.
There has been an unrelenting diet of commentary and reports about how family offices, which are classic examples of investing in "patient capital," have embraced VC and other private market investments with gusto. Family offices want returns and alternatives to listed stocks, and have the pockets to afford the change. However, VC isn't immune to wider market trends, including inflation rates not seen since the 1970s. Sachdeva stressed the long-term time horizons that family offices have.
"Most family offices are sophisticated and understand that venture is a longer duration asset class. It typically takes a start-up seven to 10 years to have an exit event, and venture funds. Family offices are advised to have conversations with their fund managers to understand the implications of a protracted recessionary environment on the underlying portfolio companies," Sachdeva said.
The SVB report, produced in conjunction with Campden Wealth, found that family offices' top motivation for investing in VC was to diversify portfolios. Due to market volatility and risks, 41 per cent of family offices' top motivation for increasing their venture allocation in 2022 is greater portfolio diversification. FOs are also interested in specialised and diverse funds. Some 58 per cent of respondents are invested in ethnically diverse general partners, 56 per cent invested in female GPs with roughly two-thirds interested in growing their investments into these types of GPs.
Among other details, the report found that in 2021, family offices expected to make 18 new investments by mid-2023 as the world has since changed that number has slowed to 12.
FWR asked what aspects of its survey had been a surprise.
Globally, in the next decade, family offices expect their highest returns from US-based emerging managers (33 per cent), emerging managers outside the US (28 per cent) and US-based established brand managers (25 per cent).
"The resilience of family offices and continued interest in investing in venture was an interesting takeaway from the report. FOs recognise that the recalibration in startup valuations is going to create unique opportunities for venture funds, and also lead to a more disciplined investment approach," Sachdeva said. "The other interesting takeaway was the flight to 'safety,' i.e., more US/Europe focus (less Asia). FOs are leaning more towards early-stage investing (primarily through funds) since they see this stage a bit more insulated from public market volatility."