Financial Results
Full-Year Profit Rises At UBS; French Case Dents Wealth Results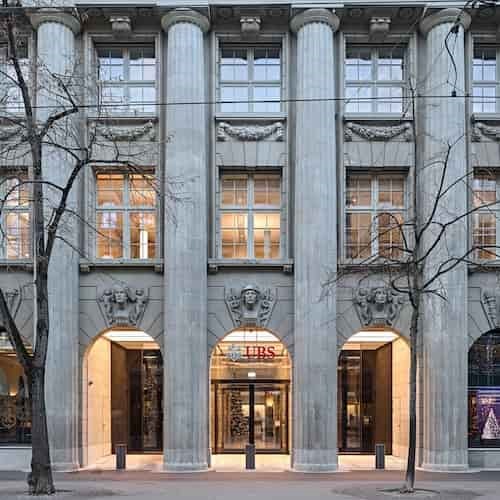 UBS results for the whole of 2021 showed profits and higher assets under management for the wealth arm, although in the quarter, provisions for the impact of a French legal dispute hit figures.
UBS today reported a full-year pre-tax profit of $9.484 billion, rising 16 per cent on a year ago, taking account of a net credit loss release of $148 million against net credit loss costs in the pandemic-hit year of 2020.
The Zurich-listed group said its cost-income ratio widened 0.4 percentage points to 73.6 per cent. Operating income increased by 10 per cent on a year ago, with operating costs rising 8 per cent, partly driven by the bank setting aside an added $740 million in litigation provisions to handle a French cross-border dispute. Had that litigation amount been stripped out, operating costs would have risen 4 per cent and pre-tax profit risen 25 per cent, it said in a statement.
Net profit attributable to shareholders stood at $7.457 billion, up by 14 per cent on the level for 2020.
At the end of 2021, UBS's Tier 1 Common Equity Tier ratio – a standard international yardstick of a bank's capital buffer – was 15 per cent, ahead of its guidance. The bank proposes to pay a 2021 ordinary dividend of $0.5 per share. After share repurchases of $2.6 billion in 2021, UBS said it plans to buy back up to $5 billion during this year.
"UBS is in better shape than ever. For the second year in a row, we achieved our targets, remained disciplined in our costs and saw strong contributions from all regions and divisions," Ralph Hamers, chief executive, said.
The results came out a few days after Switzerland's largest bank announced that it had agreed to buy US digital wealth business Wealthfront, a move seen as going after more of the mass affluent segment in the US and, eventually, other parts of the world.
Late in December, UBS announced that it had filed an appeal with the French Supreme Court after the Court of Appeal in Paris imposed €800 million ($903 million) in damages on the bank, and confiscated €1.0 billion, in a case where the lender had been accused of helping tax evaders.
Wealth results
Within the global wealth management arm, pre-tax profit stood at $563 million in the final three months of 2021, down from $864 million a year ago, including provisions of $657 million for the French cross-border legal issues. If this was excluded, GWM would have delivered double-digit growth in all regions. Operating income in the division rose 13 per cent in Q4 2021 from a year ago. Recurring net fee income rose 17 per cent, mainly as a result of higher values for fee-generating assets. Invested assets increased by 3 per cent sequentially to $3.303 trillion. Fee-generating assets rose 5 per cent sequentially to $1.482 trillion.
For the whole of 2021, pre-tax profit was 4.783 billion, including litigation provisions of $657 million for the French cross-border matter in 4Q21.
Across the whole UBS group of businesses, invested assets stood at $4.59 trillion at the end of 2021, against $4.187 trillion at the end of 2020.