Surveys
UBS Investor Sentiment Survey: Sustainable Investing Claims Centre Stage
UBS Wealth Management's latest check of investor and business sentiment show labour markets and wage inflation taking their toll, and Europeans leading the way on an optimistic outlook
A recognition of returns matching values, and concerns over tax increases and climate change are all factors driving investors even closer toward sustainable investing decisions.
Business owners are also becoming more accommodating on worker flexibility as a tightening labour market takes hold.
These are the top-level findiings of a UBS Wealth Management survey of over 3,000 investors and 1,200 businesses across 15 global markets in the summer and early fall of this year. Over three-quarters of investors said they expect sustainable investing returns to match or exceed traditional investing returns.
A majority are also optimistic about their own region's economic and market performance over the next 12 months. But, increasingly, their main worries are tax rises, climate change and local geopolitics.
Those last two issues will be on full display next week when world leaders, with the absence of a few key figures, descend on Glasgow for COP26 to hash out how advanced economies are going to help bankroll reducing global carbon emissions.
Investors told UBS that they plan to increase their exposure to risk assets, including greater focus on sustainable investment. "With climate change a top concern for investors, many will focus on the progress made at the UN Climate Change Conference (COP26) and any agreed new measures," Tom Naratil, president of UBS Americas and co-president of UBS Global Wealth Management, said.
The survey of investors and business owners with at least $1 million in investable assets or $1 million in annual revenue is a useful measure of how different regions are bouncing back from the effects of the pandemic, which is still on an uneven road to recovery.
They were polled in September and early October and split across 15 markets in Argentina, Brazil, Mainland China, France, Germany, Hong Kong, Italy, Japan, Mexico, Russia, Singapore, Switzerland, the UAE, the UK and the US. UBS also surveyed 4,200 investors and business owners globally in June and July for a mid-year review.
Business owners across territories acknowledged that the last six months have brought weaker customer demand, challenges recruiting and retaining staff, and having to deal with the effects of wage inflation. The realities have forced them to adapt to more flexible hours and working locations for employees to offset tightening labour markets. Two-thirds said they had increased their workers' base pay.

So how does this translate more regionally?
This first chart shows the regional comparisons of their return expectations for sustainable investing.
Optimism in the US was down slightly over the previous quarter on the economic outlook, although respondents were more optimistic about the stock market for the next six months.
Latin America, which has stayed largely upbeat about its prospects, was slightly more downbeat about its economic and stock performance for the next 12 than on previous occasions. But sentiment was higher overall than among North American investors.
Caution and understatement underscore the Swiss
Just over a half (56 per cent) of Swiss investors were optimistic about the economic outlook for the next year. But this dropped to 46 per cent for market expectations, and has fallen significantly from 67 per cent, rating themselves optimistic in the first quart of the year.
This chart reveals the importance regions attach to SI in their portfolio strategy, and the percentage change of adoption. The figures show that Asia was the only region to report a decline in importance for sustainable investing in its strategy.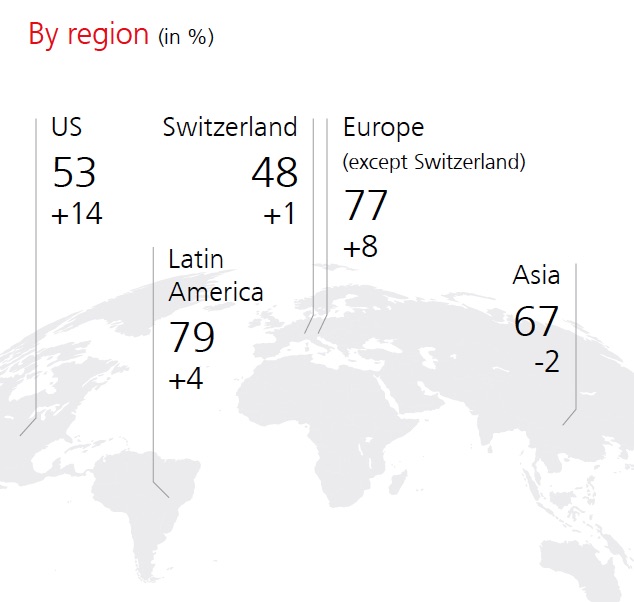 The UBS data revealed Europe as the most confidence on outlook. Seventy seven per cent of European investors (ex Switzerland) were optimistic for the regional economy over the next 12 months; and 71 per cent were feeling good about the next six months for European stocks, down just a couple of points from sentiment three months ago.
The view from Asia
Asia was largely unchanged. Roughly two-thirds of those surveyed were optimistic about their economic picture for the next 12 months, down a couple of base points from three months earlier. Their expectations on Asian stock markets dropped a little more from 63 per cent to 60 per cent feeling positive this quarter.

"Throughout the pandemic, business owners faced many workforce challenges and had to adjust to meet the needs of their employees and customers," president of UBS Europe, Middle East and Africa and co-president of UBS Global Wealth Management, Iqbal Khan, said. "It's encouraging to see that a majority of business owners remain optimistic and interested in hiring and investing more in their companies over the next 12 months."