Surveys
Attitudes To The Wealthy In Seven Countries
A regular writer for this news service delves into how people in seven countries - all important wealth management centres - think about those who hold great riches.
What do people think of those they deem "rich"? The answers to that question matter because voters in the US put the Democrats in charge of the House of Representatives with a tax-hiking agenda. In the UK, Boris Johnson leads a government which, while it calls itself Conservative, is definitely not keeping to the Thatcherite script of low, flat and simple tax, but appears to be going after the "centre ground" of tax and spend. Meanwhile, German election results came out and showed the centre-left SPD winning the largest share of the vote. We live in interesting times.
Dr Rainer Zitelmann, a regular writer in these pages, published a book about attitudes towards the rich, raising uncomfortable conclusions about what people really think of those they consider to be wealthy. He has also delved into the characteristics of successful people in business. Gaining a clearer understanding of such views can help wealth managers figure out which countries are most benign from a tax and estate planning point of view and which are likely to produce the most robust economic growth over the long term. And, as the industry is in some ways caught up in the hot-button politics around inequality and "wealth justification," it is good to get acquainted with these insights.
The editors are pleased to share these insights; the usual editorial disclaimers apply. To respond, email tom.burroughes@wealthbriefing.com and jackie.bennion@clearviewpublishing.com
What do people in different countries think about the rich? An international survey set out to answer this very question.
Ipsos MORI, and the Allensbach Institute for Public Opinion Research in Germany, conducted surveys involving at least 1,000 respondents in each of the seven countries; in total, 7,644 people were interviewed.
The survey's respondents were asked a range of questions to find out what percentage of the population in each country was envious of the rich (social enviers) and how many were not (non-enviers). Our seven-nation analysis reveals that approximately half of the populations of Sweden, the United States, Spain and Great Britain are non-enviers. In France, Germany and Italy, in contrast, the proportion of non-enviers is lower. At 33 and 34 per cent respectively, the proportion of social enviers is highest in Germany and France. In order to calculate the Social Envy Coefficient, we worked out the ratio of enviers and non-enviers in each surveyed country. The following graph shows that social envy of the rich is lowest in Britain and highest in France.
In all seven countries, we presented our respondents with a list of 14 personality traits and asked: "Which, if any, of the following are most likely to apply to rich people?" Of the 14 personality traits, seven were positive: visionary/farsighted, industrious, bold/daring, imaginative, intelligent, optimistic and honest. The remaining seven traits were negative: materialistic, greedy, self-centred, arrogant, superficial, ruthless and cold-hearted. We then calculated the average percentage of positive traits and negative traits for each country and divided these two percentages to arrive at the Personality Trait Coefficient (PTC) depicted in figure two, below.
Our comparative analysis of data from the first batch of surveyed countries was based solely on the Social Envy Coefficient (SEC). However, as we proceeded with our analysis, it became clear that the SEC alone did not give us the level of detail we need to truly depict a population's attitudes towards the rich. In order to address this, we therefore developed the Rich Sentiment Index as a combination of the Social Envy Coefficient and the Personality Trait Coefficient. The next graph shows that people in Sweden, the United States and Britain have much more positive attitudes towards the rich than the populations of France, Spain and Germany:
Figure 2: Attitudes toward the rich in 7 countries – the Rich Sentiment Index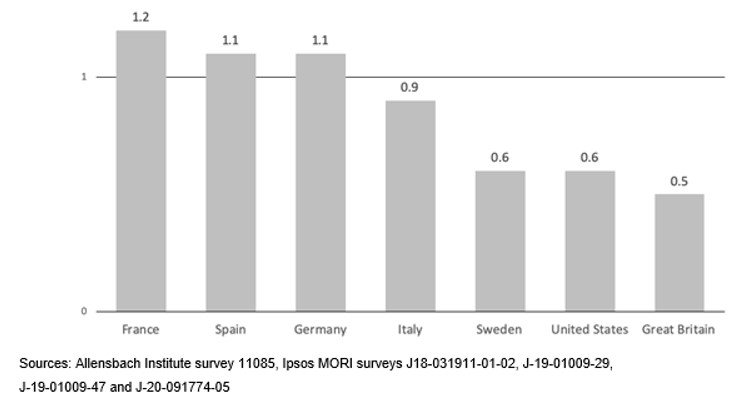 In four of the countries we surveyed, we also investigated whether general perceptions of the rich differed from the views held by people who know one or more millionaires personally. As our data clearly reveal, respondents who actually know a rich person offer a far more positive assessment of their wealthy acquaintance than the general population do of millionaires in general. Perhaps unsurprisingly, most people do not actually know any millionaires and this has a definite impact on their views of the wealthy. In Germany, Italy, Spain and Sweden, for example, an average of only 3 per cent of respondents say that rich people are 'honest,' compared with 28 per cent of respondents who say the same about the rich person they know personally.
Rainer Zitelmann is an historian and sociologist and the author of the book The Rich in Public Opinion https://therichinpublicopinion.com/