Real Estate
Sydney To Set Hottest Prime Property Price Pace - Knight Frank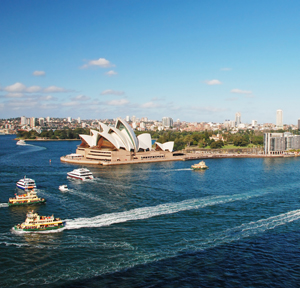 Sydney is slated to be ahead of the pack of major cities' prime property markets in terms of price rises this year, and will match the fastest growth rate in 2022.
Prices of prime properties in Sydney are forecast to rise by the fastest pace in 2021 and match the quickest rate for 2022, sharing that spot with London, according to predictions from Knight Frank.
The global real estate consultancy reckons that the Australian city's prime property prices will rise by 10 per cent in 2021 and by 7 per cent a year later. London's prices will rise by just 2 per cent this year but will rise by 7 per cent in 2022, the firm said.
"Closed borders have seen wealthy Australians purchase at home instead of abroad. The first quarter of 2021 saw 1,429 prime sales recorded, the highest quarterly figure on record for Sydney and, despite recent lockdowns, momentum is being maintained," Knight Frank said of the Australian figures.
In the US, Miami's prime property prices are expected to rise by 6 per cent this year - a reflection of Florida's rising economic strength - and by 4 per cent a year later, the firm said.
Los Angeles and Hong Kong are predicted to chalk up prime property price gains of 5 per cent this year and next.
Here is a grid showing forecasts for 11 major cities: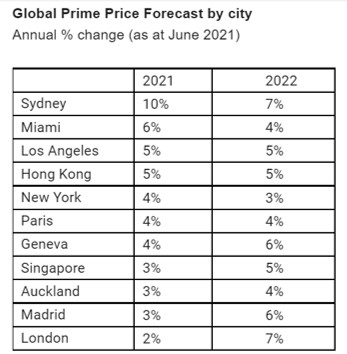 "Government fiscal stimulus measures have been revised upwards, protecting jobs and incomes via furlough schemes meaning there have been few forced property sales. Banks in key developed markets offered mortgage holidays to customers reducing repossessions and foreclosures. Households accrued a total of over $5 trillion globally in savings during lockdown, enabling some homeowners to undertake home improvements but others have opted to relocate, upsize, downsize or buy a second home/investment property," Kate Everett-Allen, head of international residential research at Knight Frank, said.