Philanthropy
HNW American Philanthropists Ramp Up Giving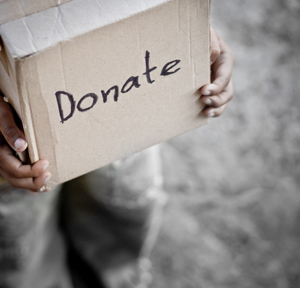 Bank of America's private bank talks about trends in philanthropy and the habits of affluent donors during recent months. The pandemic has affected giving patterns in several ways, but appears not to have hampered a desire to volunteer.
(An earlier version of this news item was used last Friday on Family Wealth Report, sister news service to this one.)
A study of more than, 1,600 high net worth US households found that the vast majority - 90 per cent - contributed to charity last year with almost half (47 per cent) supporting causes directly linked to the COVID-19 pandemic.
The 2021 survey by Bank of America, conducted in collaboration with the Indiana University Lilly Family School of Philanthropy at IUPUI, found that 93 per cent of households maintained or increased their giving to frontline organisations providing basic needs, healthcare and medicine; 85 per cent of households maintained or boosted giving for spiritual and religious purposes; and 94 per cent maintained or raised giving for other purposes (e.g. education, the arts, and the environment).
Despite social distancing constraints and other headwinds, one in three of respondents (30 per cent) volunteered during 2020. Among those who did so, 71 per cent either maintained (48 per cent) or increased (23 per cent) their volunteering activities.
"Philanthropic households rose to the extraordinary challenges presented by the pandemic," Ann Limberg, head of philanthropy at Bank of America Private Bank, said. "This sustained commitment by donors shows the importance of a strategic approach to philanthropy that is still flexible enough to respond to a sudden surge in need. It is also a testament to the resilience of those charitable organisations that were able to pivot and effectively use technology to engage with donors during such difficult times."
The evidence seems to chime with what this publication has heard from wealthy advisory businesses and firms operating donor advised funds and private foundations; donors have boosted contributions over the past year. The pandemic has sharpened conversations on estate planning, preparing for wealth transfer, and setting goals. It has also shone a light on the timeframes that philanthropists adopt, and how this affects investment.
Ninety per cent of affluent households that increased their giving for basic needs and medical care in 2020 directed their donations to organisations in their own communities, 35 per cent supported US organisations outside their community, and 15 per cent gave internationally.
Although donors often restrict how or where their gifts may be spent, many donors gave general current use (i.e., unrestricted) gifts in 2020.
"In times of crisis, Americans have historically responded quickly and generously to assist others and address urgent needs," Una Osili, PhD, Efroymson Chair in Philanthropy, Professor of Economics and Philanthropic Studies and Associate Dean for Research and International Programs at the Indiana University Lilly Family School of Philanthropy, said. "During the pandemic, unrestricted giving by affluent Americans supported continuing operations at many non-profits, enabling them to continue serving their communities, and was a significant aspect of giving behaviour during the pandemic. Additionally, many households expanded giving by donating to local businesses and individuals during the pandemic."
Don't stand so close to me
The vast majority of affluent Americans (88 per cent) said that the lockdowns and social distancing, common in 2020, had little or no impact on their households' philanthropy. However, the pandemic did change how donors engaged with the organisations they support, with non-profits adapting to restrictions on personal interaction by shifting programming, events and other interaction into virtual formats. Nearly a third of respondents (31 per cent) reported that the organisations they supported reached out to them virtually. Among those households, 53 per cent said they had more frequent contact via email, 43 per cent said they took part in more frequent virtual events and galas, and 32 per cent said they had more regular outreach via social media.
The survey was conducted using data obtained by Ipsos, including responses from its KnowledgePanel®, a nationally-representative, probability-based panel.