Family Office
Building Data, Best-Practice Ideas At Dentons' New Family Office Group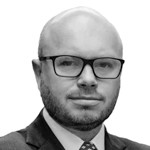 One of the rising movers and shakers in the family offices and wealth management world, Edward Marshall, has already put a dent in the industry universe with research into the sector. From his new berth at law firm Dentons, he hopes to drive change. We recently chatted to Marshall about his approach.  
(An earlier version of this article was run in Family Wealth Report, sister news service to this one. The role described below is global in scope, so we want readers from all regions to read it.)
There's big potential for law firms to have dedicated offerings for family offices clients, and great opportunities to build best-practice ideas and gather data to shed light on this sector, a newly-appointed figure at global law firm Dentons says.
A few days ago, Edward Marshall, formerly a managing director at Boston Private, was named by Dentons as global head of its family office and high net worth group. (Marshall is also a member of this news service's editorial board.)
Marshall, who has an academic background in the sciences, likes to challenge assumptions. He thinks that the family offices industry, and the affairs of UHNW clients, are far more measurable than conventional wisdom suggests – hence they can be benchmarked and compared. He questions the industry saying: "if you have seen one family office, you have seen a family office." At his former berths at Boston Private and Citi Private Bank, he helped author research in family office areas as diverse as cybersecurity to aviation resources. That research-driven mind-set remains.
One of his missions is to continue compiling data on the family offices space and come up with actionable ideas and processes that family offices can put to use, he said in an interview.
"Family offices, regardless of their archetype, often lack the data to make effective decisions. Too often do we talk about `trends' in family office without the data to back these up," Marshall said.
"Well-functioning family offices tend to follow patterns of how they do business. Those patterns are predictable and learnings and actual data can be shared with families," he continued.
Marshall's team offers family offices a 360 degree audit of their operations, risk management, governance, structures, and strategies. They can then provide a roadmap and work hand in hand with a family to optimize and future-proof their family office.
Among the objectives Marshall wants to work on, for example, is helping family offices to integrate the multitude of service providers they are working with in the most effective way.