Family Office
How One Swiss MFO Is Looking To Stand Apart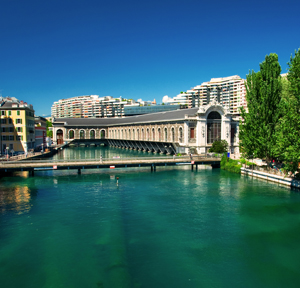 Two industrialist families have launched a multi-family office in Switzerland based on an equity stake and following very long-term investment horizons. This service spoke to one of the founding financiers about how, beyond this, they intend to attract other families into the fold.
Earlier this month, long-time investment partners Hugues d'Annoux and Morten Kielland launched Key Family Partners. It is a Geneva-based multi-family office designed as a private investment club, inviting families to take an equity stake and largely follow the model pioneered by Yale University 20 years ago as a patient non-traditional path to attractive yields.
The two families, whose fortunes have been preserved over generations in industrials, have spent the last six months engineering services. It seemed a good time to ask why two families - one French and one Norwegian operating in the Alpine state - are choosing now to open their doors. As to what distinguishes them from hundreds of other Swiss-registered family offices or private banks, there are several answers. One standout factor is asset allocation which Kielland believes is about 80 per cent of returns, and where the "difference" can be made. Another factor is launching the venture with zero debt and the families' long history together, he told WealthBriefing in a recent call.
"We have known each other for 30 years and [have been] investing together for a very long time. We were part of another multi-family office before but we decided to start our own because we wanted different corporate governance, a different structure so that really is why we are here."
The Swiss family offices space is worth attention at a time when this news service has been intensifying its coverage of non-bank wealth management players in the country. New regulations are taking hold in Switzerland, giving external asset managers more visibility. Among the ranks of the ultra-wealthy, a desire for more hands-on control of wealth and activity helps drive development of family offices. And banks' value propositions are under a spotlight in Switzerland when the country wrestles with negative official interest rates.
Switzerland has a large number of single family offices, to give some context. There are 135 of them, according to Highworth Research and, after checks are made, Highworth expects to add about 50 more to that number to its database by the close of 2021.
What specifically do you want to do differently?
Kielland: I think number one was to have 100 per cent transparency. That includes not to have many offshore companies but just to have one entity. Number two was to start a company in the black from day one. Number three: we didn't want any family members to work full-time in the office because that can create problems further down the line. So we believe in professional management. We can sit on the board but not in the day-to-day operations. We also wanted to have a very professional investment committee. Our CIO is Nigel John Webber [former chief investment officer and chairman of the global investment committee of HSBC Private Bank]. We wanted to do everything right from day one.
That's interesting, you use the word transparency and typically for those covering family offices, they are anything but. They are difficult entities to understand because they are all quite different and generally fly under the radar.
That's true. I think you can probably ask 10 different family offices and they can be very different. Our approach at least is different from the multi-family offices that I know about. And that is why we offer equity to each family that comes in. So it would be like a true partnership. And also having families as equity shareholders you have the transparency. You will see all the financials there. There are no hidden commissions, there is no hidden anything. That is very important. Also by creating this, we should be able to attract families who view this as a very long-term commitment for many generations. That is our goal.
Explain the equity structure and how it works for individual families wanting to come in.
We have set aside 25 per cent for additional families that come in. The remaining 75 per cent is owned by the two founders and staff.
So what is the threshold for families?
We believe that the sweet spot is between SFr50 million and SFr250 million. So we are saying the minimum investment is SFr50 million. I think in excess of SFr250 million and you are large enough to have your own structure. We want to have another eight families then we will close the shop.
What's your time frame for achieving that?
That is one beauty of being in the black. If it takes two years or ten years, it doesn't really matter. The most important thing for us is that we are able to manage our money in the way that we think is the most efficient. If other families join us that is very good because then we can possibly squeeze our infrastructure differently. But as we are truly operating today, we use external advisors on the private equity side. We do in-house bonds and in-house equities.
We have a firm based in Geneva that used to run Pictet's private equity on retainer. We have an English advisor doing due diligence on our real estate investments. I don't think we will change those in the future.
How do you go about reaching consensus around some of these long-term investment decisions? There are probably going to be strong personalities from other wealthy families bringing their own ideas. Are you taking them on the basis that they believe in the Yale Endowment model predominantly and that is the common ground?
Today, the two families are quite different. I manage part of my equity portfolio myself. The other partner does not do any investments on the equity side nor bonds side. I do both. So we are quite tailor-made to the families' needs and wants. Some families can be very hands on and other families have 100 per cent discretion, so it depends from family to family.
I think we welcome strong personalities. It only contributes to the evolution of ideas. Nothing is better than having a challenging discussion in the investment committee. We had one this morning where I happened to disagree with our CEO but we came to a solution.
How might the regulatory landscape change for you now? Where do you see those hurdles?
We are in a two-year grace period because we only have two families. But now already we have quite a lot of compliance. I am sure it will increase. And we don't have an external compliance company to do this. For now we are doing it in house because it is routine. How it will be in two years I have no clue but our lawyer and director of the company deals with this all day long so we will know in advance if we need to change anything.
What industries and sectors are you most paying attention to? One from an investment point of view but also the types of wealthy families you are attracting or want to attract in to the office? And where do you see wealth heading as opposed to how it was created from your own background?
That's a good question. What I am saying is, "OK you are a wealthy person, you have SFr100 million with Coutts in London, you get good service, but it is quite pedestrian. You put SFr100 million with us, you will get a yearly dividend. I guarantee you, we will commit the same service but we will also have a much more interesting deal flow – in private equity, in real estate in non-traditional asset classes. And we will have a much more active asset allocation. And if history teaches you something, and what it taught me, is that asset allocation is about 80 per cent of returns. That really is where you can make a difference.
We have a very active asset allocation model and a bias towards the endowment funds in the US. They have a very non-traditional asset allocation model. In the last 20 years and 10 years they have out-performed the typical 60/40 portfolio by a good 100 per cent. Our goal is to out-perform the typical asset allocation model of most private banks in Switzerland, the UK and elsewhere. I also believe in the next 10 years, interest rates are going to be quite low, equity valuations will be quite high, so you have to look elsewhere.