M and A
Switzerland's Two Largest Banks Toy With Marriage - Media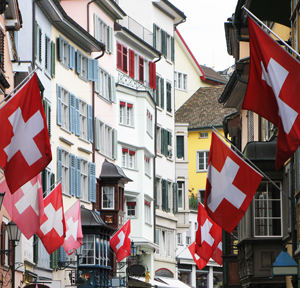 Both banks have declined to comment about a Swiss financial industry blog that quoted unnamed sources. The Alpine state's banking industry remains highly fragmented, although UBS and Credit Suisse are by some distance the two largest players and have both recently moved leadership under new CEOs.
The chairmen of UBS and Credit Suisse have considered a potential merger of Switzerland's two largest banks, according to German-language finance blog Inside Paradeplatz, citing unnamed sources.
UBS and Credit Suisse declined to comment to this news service about the matter.
The blog said that explorations of a possible merger, dubbed "Signal", are being pursued by UBS Chairman Axel Weber, who is working on it with his counterpart at Credit Suisse, Urs Rohner. Weber has discussed the idea with Swiss Finance Minister Ueli Maurer; an agreement could happen by early next year, according to the blog.
"The potential merger between UBS and Credit Suisse is a clear signal that both banks are still since many years struggling to grow despite having strong wealth management businesses and large domestic national market shares. Perpetual cost cutting has been the name of the game for both since the last financial crisis and is set to increase further with or without a mega merger, with such events unlikely to improve the future share prices, except temporarily," Ray Soudah, chairman and founding partner, MilleniumAssociates, told this news service. "The best option would be a merger of operational and technology systems into a separate utility keeping client facing businesses and risk management issues separate."
Switzerland is home to 248 banks, as of the end of 2018, according to the Swiss Bankers Association: that figure has fallen below 300 from a decade ago. A mix of rising regulatory burdens, negative official interest rates and increased client demands have caused consolidation in the industry. On the other side, geopolitical uncertainties in some parts of the world have only served to highlight Switzerland's value as a stable, relatively prosperous jurisdiction.
UBS is in the middle of a leadership transition, with former ING Groep NV head Ralph Hamers taking over from CEO Sergio Ermotti in November. At Credit Suisse, Thomas Gottstein has taken over as CEO from Tidjane Thiam, who resigned following a spying scandal at the bank. (Thiam was not implicated in that episode).
The blog said that a merger could cause job cuts of between 10 per cent and 20 per cent of the workforce, or 15,000 personnel or more worldwide.
(Editor's note: For all the reasons stated here, after more than half a decade of negative official interest rates, there has been considerable pressure on Swiss banks. That pressure is not going away soon. A matter of concern is whether FINMA would be happy to see UBS and Credit Suisse, the largest and second largest banks, respectively, merging. That is not just about job losses, but about market concentration. Both banks have recently seen changes at the top, albeit for different reasons. Recent Credit Suisse results have been positive; UBS continues to enjoy the drive of a powerful global brand. Both of these firms have made Asia a big regional priority, cutting investment banking exposures. As Swiss Bankers Association numbers show, the total population of Switzerland-registered banks has steadily eroded over the past decade.)