Alt Investments
Tech Brings Diamonds Towards Fully Commoditised Market
Diamonds are famously unique, which in the past has limited their appeal as commodities. But that may be starting to change as new technology takes hold, a practitioner in the space argues.
Within the alternative asset class kaleidoscope, an important niche is the diamond market, worth more than $82 billion in 2017, based on latest available data (source: statista). The diamond jewellery market is of course very old – people have bought, sold, dug and fought over these gems for centuries. Novels have been written and movies have made about them, and they feature in songs.
One challenge, however, is that diamonds aren't "fungible" as a commodity in the way gold is. Each diamond is different, in terms of "cut" (the quality that unleashes its light); clarity, colour and carat (weight). Gold, by contrast, can be divided into equal-sized lumps; it has a standard weight and consistency. This explains why gold remains (to the frustration of some modern economists) an important component of today's monetary order.
But could there be ways to standardise a market for diamonds? Well, the accelerating world of cryptocurrencies and associated tech such as blockchain and "tokenisation" may hold the key. A recently-established firm, Diamond Standard, is building a diamond commodity that it predicts will revolutionise the market. The business, based in the US and Bermuda and a founder member of the Diamond Standard Exchange, is applying to be regulated by the Bermuda Monetary Authority. This news service recently spoke to the firm's CEO and founder, Cormac Kinney, about this venture.
"For family offices [and other wealthy individuals] it is a new investment asset; it is a new type of diversification and new store of wealth," Kinney said.
How does the Diamond Standard work? The firm's process produces "coins" and "bars" composed in such a way that they reflect the proportions of diamonds' defining qualities (carat, cut, etc) across the entire diamond market as found in the earth. This creates a standardised measure of such qualities – allowing a fungible commodity to develop, which can then be tokenised via blockchain distributed ledger technology. The fungible sets of diamonds are sealed in transparent resin – to create the Diamond Standard Coin or Diamond Standard Bar - containing a military grade wireless encryption chip. The commodity is always delivered to the buyer or their custodian and can be easily verified. The diamonds also can be removed and used, though not as a commodity.
Here is a picture of such a "coin" from Diamond Standard's website: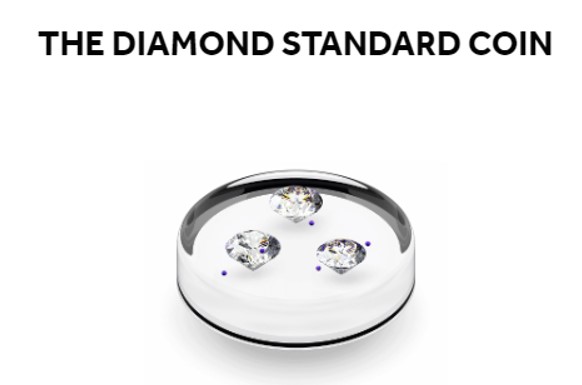 Custodians store the commodity in smart cabinets, which audit them constantly, and enable owners to transact them remotely using the "Bitcarbon" token. The owner alone has the digital key. For every transaction, the encryption chip is challenged by the blockchain in a process called "proof-of-asset". When the commodity is held by the owner it can be authenticated and sold using a smartphone, anywhere in the world.
There have been past attempts to build such a commoditised way of trading diamonds, but they typically foundered because of the fungibility issue. But the arrival of blockchain technology, which has been in the works for more than five years, has helped change the game, Kinney said.
Big market
Besides the jewellery market, there is a smaller but important segment for industrial diamonds (used to cut metal, for example). The global industrial diamond market size was estimated at $1.79 billion in 2018, according to Grand View Research.
There is a good deal of resistance to the idea that diamonds could be a major source of investment. The Investopedia website (an invaluable resource for journalists and investors) has this comment: "Diamonds as gemstones are generally considered a poor investment vehicle, mainly due to the illiquidity of the market, a lack of price transparency, high transaction fees and high risk related to quality assurance." (It suggests that investors should buy funds that track the gemstone sector.)
This is a fragmented market with no central point of data for prices and investment returns. One of the most prominent information sources is the Rapaport series of reports on diamond prices (available by subscription). Rapaport churns out price indices, such as RapNet Diamond Index (RAPI™). Auction houses such as Sotheby's and Christie's will produce auction results – a problem, however, is being able to track these over time and compare the final agreed price paid and what the initial offer might be.
Kinney and his colleagues hope that their venture will drastically clarify this area. The scale of the market is vast – and not readily appreciated by non-experts. "We buy diamonds every day with a transparently based and regulated exchange. We make a cash bid for 16 million different types of diamond every day," Kinney said.
The Diamond Standard Exchange, which is owned and controlled by its members (brokers, dealers), has offered membership to organisations such as Richemont, Tiffanys, etc. "All these companies are joining together as members of a regulated exchange where there's now a market maker," Kinney said.
The Diamond Standard only uses natural diamonds, not man-made ones. Also, by only buying from members of the exchange, it eliminates the threat of conflict diamonds entering the system, he said.
"The exchange is bringing tremendous efficiency to the supply/demand chain," he said. Adding that the greater price transparency and efficiency is good for diamond miners and cutters, and good for the jewellery buyers and certain specialist areas.