People Moves
Who's Moving Where In Wealth Management? - BlueBay AM, Falcon Private Bank, Others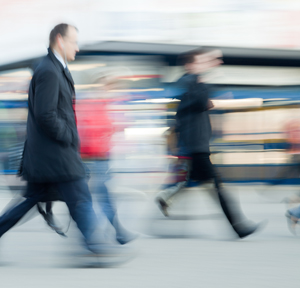 The latest moves in wealth management across the UK, Europe, Middle East and Africa.
BlueBay Asset Management
Specialist fixed income manager BlueBay Asset Management has appointed Gautam Kalani to the newly created role of emerging market FX strategist.
Based in London, Dr Kalani will join the five-strong EM strategist team, reporting to senior sovereign strategists Timothy Ash and Graham Stock. He will be responsible for analysing and shaping global FX positioning across BlueBay's emerging markets investment strategies. Kalani was most recently a strategist in the emerging markets research team at Deutsche Bank.
Falcon Private Bank
Falcon Private Bank has elected Matthew Hurn as a new member of the board of directors, effective immediately.
Hurn has been covering several management positions with the Mubadala Investment Company in Abu Dhabi, most recently as chief financial officer of alternative investments and infrastructure.
Withers
Withers has promoted 14 new partners across its Asian, European and US offices. The appointees' new roles take effect from 1 July 2018.
Margaret Robertson, Withers' CEO, comments: "Our new partner appointments are an exceptionally large and varied group this year, and this is a strong reflection of the strong performances across our international business. We are glad to promote talented new partners across our practices and to bring them into the firm's leadership across our European, US and Asia offices."
• Joy Chang, based in San Francisco, advises on estate and gift planning, probate and trust administration, and charitable giving.
• Chua Yee Hoong, based in Singapore, advises on tax matters, including litigation, as well as matters involving wills and succession, probate, estate administration, immigration and charities.
• Stefano Cignozzi, based in Milan, advises on M&A and corporate finance transactions, representing private equity, multinationals and privately held companies.
• Lara Crompton, based in London, advises on tax and succession planning, including trust structuring. She frequently advises international families on multijurisdictional planning.
• Billy Ko, based in Hong Kong, advises on family law, civil litigation and media law matters. His family cases often involve complex asset holding structures and trusts, and his experience in media and reputation management complements this work.
• Leong Chuo Ming, based in Singapore, advises on corporate transactions, with a particular focus on equity capital markets work and M&A. Leong Chuo Ming's experience includes regulatory and compliance work for clients.
• Xanthe Lok, based in London, advises on banking and finance matters, working with borrowers and lenders on bilateral and syndicated secured and unsecured corporate borrowing/lending and real estate finance transactions.
• Joseph Morales, based in Greenwich, Connecticut, advises on M&A, commercial real estate and corporate finance transactions. His clients include private clients, family offices, privately held companies, emerging companies and entrepreneurs.
• Alessia Paoletto, based in London, is a dual qualified Italian lawyer and English solicitor, advising on international succession and trust planning, and cross-border UK-European inheritance disputes.
• Alana Petraske, based in London, advises charities and donors on issues including tax-efficient, the structuring of philanthropic giving vehicles, the terms of direct funding, venture philanthropy and social investment.
• Matilde Rota, based in Milan, advises on commercial and banking litigation matters. She also regularly advises on issues such as product liability, contract and credit recovery.
• Lesley Timms, based in London, has a broad commercial litigation and arbitration practice with a focus on complex contractual disputes, and frequently works on disputes with Italian elements.
• Jocelyn Tsao, based in Hong Kong, advises on all aspects of matrimonial law including divorce, prenuptial agreements, child care and custody and financial disputes, and acts as an advocate.
Sharon Whitehouse, based in Milan, advises on a range of corporate and commercial matters, including M&A for private companies, international joint ventures and equity investments. She additionally advises on equity and debt private placements and real estate financings.