Compliance
Money Laundering Cases To Rise, Swiss Watchdog Says; 1MDB Remains In Cross-Hairs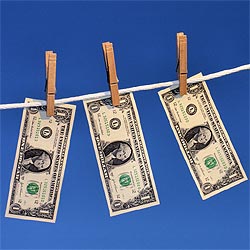 Malaysia's scandal-hit 1MDB fund was a focal point of FINMA's regulatory efforts last year.
Switzerland's financial regulator last year dealt with more than twice as many money laundering cases as in 2015, and the number is set to surge, FINMA said in its annual report, demonstrating how the Alpine State faces an intensifying battle to stymie the flow of dirty cash.
The watchdog examined 22 cases of money laundering last year, a sharp rise from the nine cases it examined in 2015, and despite increased efforts to curtail the flow of illicit money, these figures show no signs of slowing.
"Money laundering risks in Switzerland are increasing," FINMA said in its 2016 annual report.
The regulator says that while assets from emerging economies present opportunities for the Swiss financial market, they also bring new risks.
"It is often hard to determine the origin of the funds," FINMA said. "That is why financial intermediaries need to identify, limit and monitor their money laundering exposure."
Notably, FINMA mentioned its probes into certain Switzerland-based banks over their dealings with 1Malaysia Development Berhad, or 1MDB, Malaysia's scandal-ridden investment fund.
Authorities worldwide allege that crooked bankers, politicians and financiers have siphoned billions of dollars from the fund and used banks to cover their tracks.
FINMA said it investigated around two dozen banks and commissioned reviews of institutions, which led to enforcement proceedings against nine companies. It was not clear, however, whether all of the probes were related to 1MDB.
In February, the regulator fined UK-based private bank Coutts more than $6 million over "serious breaches" of money laundering regulations relating to 1MDB.
Last year, FINMA helped close down Swiss banks BSI and Falcon Private Bank in Singapore. Both were forced to shut shop in the city-state because they allegedly helped crooked clients funnel money from 1MDB.
FINMA said its supervisory authority last year launched enforcement proceedings against senior bank managers, four of whom were linked to the 1MDB scandal.
The Financial Action Task Force, a global anti-corruption watchdog, conducted an assessment of Switzerland and its efforts to combat money laundering and terrorist financing. The body concluded that the Alpine State must undergo an "enhanced follow-up process", as the FATF saw "room for improvement in certain areas, for example in the legal framework".