People Moves
Standard Chartered Private Bank Names New Group Head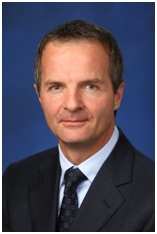 Standard Chartered Private Bank names former Julius Baer executive as private banking head in Hong Kong, filling the vacancy left by the departure of Shayne Nelson.
Standard Chartered Private Bank has named a new group head of private banking based in Hong Kong.
Effective 17 February, Michael Benz joins the company from Julius Baer, where he was the designated chairman for Asia. Prior to that, he was the chief executive for wealth management (Asia-Pacific) at Bank of America Merrill Lynch, where he led the wealth management businesses in Hong Kong, Singapore, Taiwan, California, India and Japan. He also previously held several senior positions at UBS.
Benz fills a position that had been vacated last year by Shayne Nelson, who is now CEO of Emirates NBD, the largest bank in the Middle East by assets; Nelson had been at StanChart since 1997.
At StanChart, Benz reports to Anna Marrs, who assumes the role of group head of commercial and private banking clients from 1 April 2014. Marrs is currently the group head for strategy and corporate development at Standard Chartered in London.
"Standard Chartered's footprint markets are expected to account for 60 per cent of the global growth in high-net-worth-individuals' personal financial assets over the next three years... The bank's strategic focus and our recent reorganisation will enable the private bank to leverage products and serve clients as they grow both their businesses and personal wealth," said Marrs in a statement.
The bank reorganised its business and made changes to the board in early January 2014 in an effort to deliver better financial results. These include integrating the wholesale banking and consumer banking divisions to be run by Mike Rees as deputy group CEO by 1 April. In a meeting with investors in November 2013, the group said it is sharpening its strategy to focus on trade and the creation of wealth across Asia, Africa and the Middle East, among others.
Standard Chartered established its private banking business in Singapore in 2007 through organic growth and via the acquisition of American Express Bank in 2008. In Hong Kong, it is regulated by the Hong Kong Monetary Authority and the Securities and Futures Commission in the territory. The bank has over 1,200 employees across 400 relationship managers worldwide, with 13 offices including two trust offices in 12 cities in Asia, Africa, the Middle East and Europe.