Financial Results
Credit Suisse Reports Q4 Loss, Outflows; Continues Business Restructure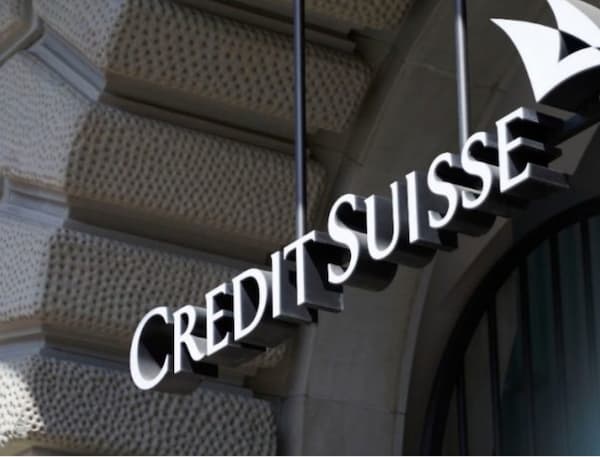 Among the highlights of the announcement today was a move to continue the planned "carveout" of the CS First Boston business, part of Credit Suisse's plan to reduce investment banking exposures and restructure.
Updates with share price
Credit Suisse, which is seeking to bounce back and restore fortunes after a series of losses and problems, today said it had made a net loss (on a reported basis), attributable to shareholders, of SFr1.393 billion ($1.51 billion) in the fourth quarter of 2022. For the whole of last year, its net loss was SFr3.258 billion, widening from the SFr600 million loss in 2021.
The Zurich-listed bank, which last year announced sweeping changes including a sharp reduction in risk exposures and reduction in the capital devoted to its investment bank, also announced today that it is buying the US-based investment banking business of M Klein & Co, for $175 million, as part of its "carveout" of the CS First Boston operation to put it on an independent footing. Michael Klein, who has been named CEO of banking and CEO of the Americas, is the designated chief executive of CS First Boston, reporting to Credit Suisse group CEO Ulrich Körner.
The bank, as stated in its strategy update in late October 2022, is turning CS First Boston into an independent capital markets and advisory business that is based in the US, and a preferred long-term partnership with the Credit Suisse Group.
"CS First Boston, with its differentiated proposition and partnership model, is expected to be more global and broader than existing investment-banking boutiques, more focused than bulge bracket players, and to be competitive in attracting and retaining top talent," the firm said.
These measures, as well as the previously-announced intention to steer more resources into wealth management and similar activities, and cut risk exposures, follow a series of problems for the bank, such as its losses to New York-based hedge fund/family office Archegos, the UK-based supply chain finance business Greensill, among others.
"2022 was a crucial year for Credit Suisse. We announced our strategic plan to create a simpler, more focused bank, built around client needs and since October we have been executing at pace. We successfully raised [around] SFr4 billion in equity capital, accelerated the delivery of our ambitious cost targets, and are making strong progress on the radical restructuring of our investment bank," Körner said in a statement. "We have a clear plan to create a new Credit Suisse and intend to continue to deliver on our three-year strategic transformation by reshaping our portfolio, reallocating capital, right-sizing our cost base, and building on our leading franchises."
The bank said it began to cut costs in the fourth quarter of 2022, setting out actions designed to account for about 80 per cent of targeted SFr1.2 billion cuts to its cost base to be achieved this year. More moves are under way, it said.
Shares in the bank on the SIX exchange were down about 9 per cent around 12 noon GMT, at SFR294 per share. The scale of the loss, and the outflows (see below in this article) from the bank in the final quarter of 2022, weighed on the bank.
Assets, flows
Credit Suisse said total assets under management stood at SFr1.294 trillion at the end of 2022, down from SFr1.614 tillion at the end of the previous year; there was a net asset outflow in Q4 2022 of SFr110 billion, translating into an outflow for all of 2022 of SFr123.2 billion, against a net new money inflow of SFr30.9 billion in 2021. The outflow figures show how the bank faces a challenge to encourage investors to return to the fold after a difficult period.
Net revenues fell 33 per cent year-on-year to SFr3.06 billion in Q4, 2022, it said.
As costs have risen and the bank fell into the red, its cost/income ratio widened to 142 per cent at the end of 2022 versus 137 per cent a year earlier.
Credit Suisse had a Common Equity Tier 1 ratio – a common measure of a bank's capital buffer – of 14.1 per cent at end-December 2022.
Among other moves to bolster its fortunes, Credit Suisse has completed its capital-raising plans, collecting gross proceeds of about SFr4 billion, helping it to increase its capital ratio. It has also successfully completed its funding plan for last year. The bank has also cut its leverage and risk-weighted assets. In total, risk-weighted assets fell by SFr23 billion in Q4 2022 from the previous quarter, mainly caused by deleveraging in the investment bank, wealth management and Swiss banking arms. The bank said it sustained "significant" deposit outflows in Q4.
Wealth management results
On an adjusted basis, Credit Suisse said its wealth management division sustained a pre-tax loss of SFr155 million, falling from a pre-tax profit of SFr138 million a year earlier, due to client asset outflows and sentiment weighing on revenues, combined with higher costs. The reported pre-tax loss for the quarter of SFr199 million included a real estate sale gain of SFr122 million, losses related to the equity investments in Allfunds Group and SIX Group of SFr77 million and SFr10 million, respectively, as well as restructuring expenses of SFr73 million.
The firm said its wealth arm had reported net revenues of SFr1.1 billion, falling 17 per cent year on year.
Wealth management had net asset outflows of SFr92.7 billion in Q4 2022; about two-thirds of net asset outflows for the quarter were in October, with about 60 per cent of net asset outflows driven by deposit outflows.