Financial Results
Credit Suisse Names New CEO As Gottstein Resigns; Bank Logs Q2 Loss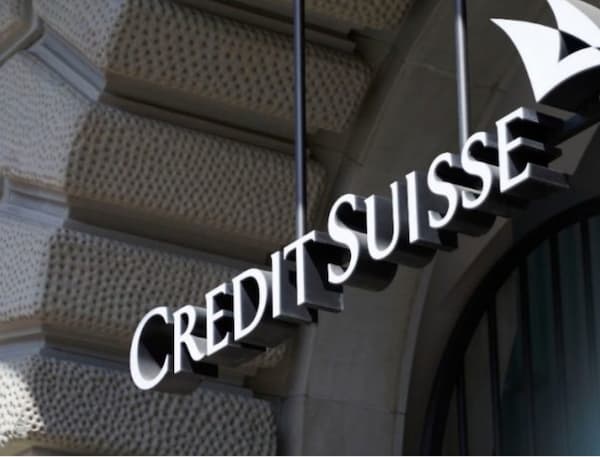 A heavy loss in the second quarter, sustained as the bank has battled through a series of mishaps, has prompted Switzerland's second-largest lender to announce a review of its business lines. The changes include turning the investment bank into a "capital-light" operation.
Credit Suisse, which today reported that it slid into a loss for the second quarter of 2022, also announced that its chief executive, Thomas Gottstein, has resigned and will be succeeded by one of its senior figures, Ulrich Körner, from 1 August.
The Zurich-listed bank also said it is conducting a "comprehensive strategic review" of business lines, including the idea of transforming its loss-hit investment bank into a "capital-light, advisory-led banking business," and strengthening its wealth management arm.
Shares in the bank were up 1.28 per cent around 10 am Swiss time, at SFr5.22 per share.
A run of damaging losses, such as those sustained by exposures to US-based hedge fund/family office Archegos, and supply-chain finance business Greensill over the past few years, came as Gottstein battled to restore the fortunes and image of the bank. Gottstein had been appointed in 2020 to take over from CEO Tidjane Thiam, who had left in the wake of a damaging spying scandal.
The change also highlights the ferocious competition in current banking and how investment banking, once a prized business line, carries significant capital risks. Swiss banks have had to cope with negative official interest rates; there has also been speculation – never confirmed – that rival UBS might buy Credit Suisse.
In its Q2 2022 results, Credit Suisse reported a net loss, attributable to shareholders, of SFr1.593 billion ($1.65 billion), contrasting with net income of SFr253 million a year earlier. At the investment banking arm in particular, Credit Suisse said that on an adjusted basis, this division posted a "significant" pre-tax loss of $860 million, against pre-tax income of $663 million in 2Q21, "reflecting extremely challenging market conditions, particularly in capital markets." (The IB figures were given in US dollars rather than Swiss francs.)
On a reported basis, the pre-tax loss at the investment bank was $1.2 billion. Total reported operating costs rose 12 per cent and included $200 million of major litigation provisions, mainly in connection with a previously-disclosed matter concerning compliance with records preservation requirements relating to business communications sent over unapproved electronic messaging channels, as well as restructuring costs of $63 million. (Other banks such as Morgan Stanley and JP Morgan have also been punished over the similar the use of channels such as WhatsApp.)
Across the whole Credit Suisse group, it sustained a net outflow of assets of SFr7.7 billion, against -SFr4.7 billion in the second quarter of 2021. Assets under management fell to SFr1.454 trillion from SFr1.632 trillion.
Net revenues fell to SFr3.645 billion in Q2 2022 from SFr5.103 billion. Total operating costs rose 4 per cent year-on-year to SFr4.754 billion. The bank's Common Equity Tier 1 ratio was 13.5 per cent at the end of June, narrowing from 13.7 per cent a year before.
Wealth management results
Credit Suisse said that on an adjusted basis, its wealth management pre-tax income fell to SFr114 million, falling from SFr432 million, a slide of 74 per cent on a year ago due to reduced client activity, lower volumes impacting revenues and higher costs.
Adjusted pre-tax income was hit by certain asset impairments and non-operational charges, including SFr17 million relating to certain third-party assets, mark-to-market losses in Asia-Pacific financing of SFr21 million, SFr24 million relating to the supply chain finance fund fee waiver programme, and other costs. WM net revenues fell 34 per cent to SFr1.3 billion.
The WM business sustained net asset outflows of SFr1.4 billion in Q2, mainly driven by outflows from EMEA and Switzerland, including client deleveraging, partially offset by inflows from Asia-Pacific and Americas. Total assets under management stood at SFr662 billion, down from SFr769 billion, mainly caused by falling markets.
Review of businesses
Switzerland's second-largest bank said its business review will consider how to strengthen its "world-class global wealth management franchise, leading universal bank in Switzerland and multi-specialist asset management business." The review will also consider how to transform the investment bank into a capital-light, advisory-led banking business with more focused markets which complement the growth of the wealth management and Swiss bank franchises. It will look at options for the securitised products business, which may include attracting third-party capital into its platform to capture untapped growth opportunities and free up capital for growth. The firm also wants to cut costs below SFr15.5 billion in the medium term, in part through a company-wide "digital transformation."
In wealth management, Credit Suisse said it aims to "extend its leadership positions" across Switzerland, EMEA, parts of the Americas and APAC, leveraging its strengths in the ultra-high net worth sector while accelerating "Core" HNW growth to drive recurring revenues, supported by a unified global platform.
New chief
Welcoming Körner to the CEO slot, chairman Axel Lehmann, said: "I am delighted to welcome Ueli as our new group CEO, to oversee this comprehensive strategic review at a pivotal moment for Credit Suisse. With his profound industry knowledge and impressive track record, Ueli will drive our strategic and operational transformation, building on existing strengths and accelerating growth in key business areas."
"Since becoming chairman and reviewing the bank's portfolio with our newly refreshed board of directors, I have come to appreciate the world-class quality of our businesses. But we need to be more flexible to ensure they have the necessary resources to compete. Our goal must be to become a stronger, simpler and a more efficient group with more sustainable returns," he said.
Gottstein said: "Despite the challenges of the past two years, I am immensely proud of our achievements since joining the executive board seven years ago and more recently in strengthening the bank, recruiting a top-calibre executive board, reducing risk and fundamentally improving our risk culture. In recent weeks, for personal and health-related considerations, and after discussions with Axel and my family, I concluded that now would be the right time to step aside and clear the way for new leadership to fully embrace the important initiatives announced this morning, which I wholeheartedly support."
Körner joined Credit Suisse on 1 April as CEO of asset management, having previously worked at UBS where he served as a member of the group executive board for 11 years, of which six years were leading the asset management division. Prior to this role he served as chief operating officer.
From 2011 Körner additionally headed Europe, Middle East and Africa for UBS. Before joining UBS, he was an executive at Credit Suisse serving in a variety of roles, including chief financial officer and chief operating officer of Credit Suisse Financial Services and CEO Switzerland.