People Moves
Credit Suisse CEO Resigns; Successor Named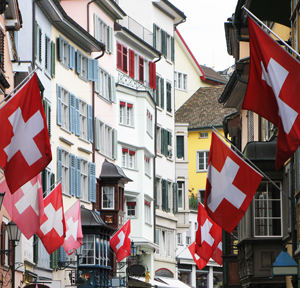 Hit by concerns about the bank's internal culture following last year's spying scandal, the CEO of the Swiss lender steps down next week and his replacement was announced today.
The chief executive of Credit Suisse, Tidjane Thiam, has resigned and been replaced by Thomas Gottstein, Switzerland's second-largest bank said today. The move comes after the bank was rocked last year by a spying scandal that had raised questions about Credit Suisse's corporate culture.
Thiam, who has been at the bank since June 2015 and praised for restoring the fortunes of the Zurich-listed banking group after a tough period before his appointment, came under pressure last year following the spying scandal. A former top wealth management figure, Iqbal Khan, was followed by people employed by the bank after he had left to work for UBS. The bank said last year that its former human resources chief Peter Goerke had been put under observation, in addition to spying on Khan.
A number of senior figures have left the bank. Thiam had been absolved of blame for the saga following an investigation.
Shares in Credit Suisse fell about 3.4 per cent in Zurich trading today.
Credit Suisse said its board of directors, meeting yesterday, accepted Thiam's resignation, which takes effect on 14 February. He will step down after presenting fourth-quarter and full-year 2019 results.
Thiam had joined the bank in 2015 from UK insurer Prudential. In hiring Gottstein, it is picking a senior member from its own ranks.
There had been media speculation - prompting some pushback from a large US investor in Credit Suisse - of tensions between Credit Suisse chairman Urs Rohner and Thiam. Rohner praised Thiam's leadership of the bank in a statement: "Under Tidjane's leadership, Credit Suisse simultaneously repurposed our strategy, restored our capital, reduced our costs, de-risked our business, promoted diversity and engendered an exceptional level of co-operation between various divisions. Credit Suisse is in good health and we have a deep bench of talent which can build on his achievements."
"Tidjane has made an enormous contribution to Credit Suisse since he joined us in 2015. It is to his credit that Credit Suisse is standing on a very solid foundation and has returned successfully to profit," he said.
"I am proud of what the team has achieved during my tenure. We have turned Credit Suisse around. In particular, we have grown our leading weath management franchise, re-energised our gobal markets business and pursued a bespoke regional approach to client coverage," he said.
Referring to the spying affair, Thiam reiterated that he had no knowledge of the observation of former colleagues, adding: "It undoubtedly disturbed Credit Suisse and caused anxiety and hurt. I regret that this happened and it should never have taken place."
Severin Schwan, lead independent director, said: "Urs Rohner has led the board of directors commendably during this turbulent time. After careful deliberations, the board has been unanimous in its actions, as well as in reaffirming its full support for the chairman to complete his term until April 2021."