Real Estate
The "Bubbling" Global House Price Boom - UBS Study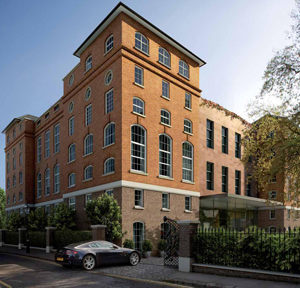 UBS has fired a warning shot about real estate bubble risks in several big financial centres.
The UBS Global Real Estate Bubble Index published this week has flagged Frankfurt, Toronto, and Hong Kong as the most elevated markets for risk and heading for a potentially severe correction.
In its annual study of where froth is mounting, UBS Wealth Management analysed residential property prices in 25 major cities globally. Data from mid-2020 to mid-2021 showed that inflation-adjusted house price growth in the three cities spiked 6 per cent, recording the highest annual increase since 2014.
Real estate has been back in the spotlight following the Pandora Papers' exposure of the sector's ongoing vulnerability to money laundering. But the asset class continues to play an outsized role in portfolios and in the lifestyle decisions of the itinerant wealthy.
A well-worn story over the last 12 months has been the hit to residential city markets as families in sufficient numbers have moved to the suburbs in search of more space or for other lifestyle choices, pushing down city demand.
"Consequently, for the first time since the early 1990s, housing prices in non-urban areas have increased faster than in cities over the last four quarters," UBS said.
The effects might be transitory, UBS warned, but the reversal trend weakens the case "for quasi-guaranteed house price appreciation in city centres." The wealth manager suggested that these effects are likely to be felt more acutely in regions with stagnating or shrinking populations, such as in Europe, where supply will have an easier time keeping up with demand.
"A long, lean spell for city housing markets looks more and more probable, even if interest rates remain low," report author and head of Swiss real estate at UBS Global Wealth Management, Matthias Holzhey, said.
The findings also singled out Munich, Zurich, Vancouver, Stockholm, Amsterdam and Paris for elevated bubble risk. In the US, Miami (replacing Chicago in the index this year), Los Angeles, San Francisco, Boston, and New York were tagged as overvalued territory. See below for the full spectrum.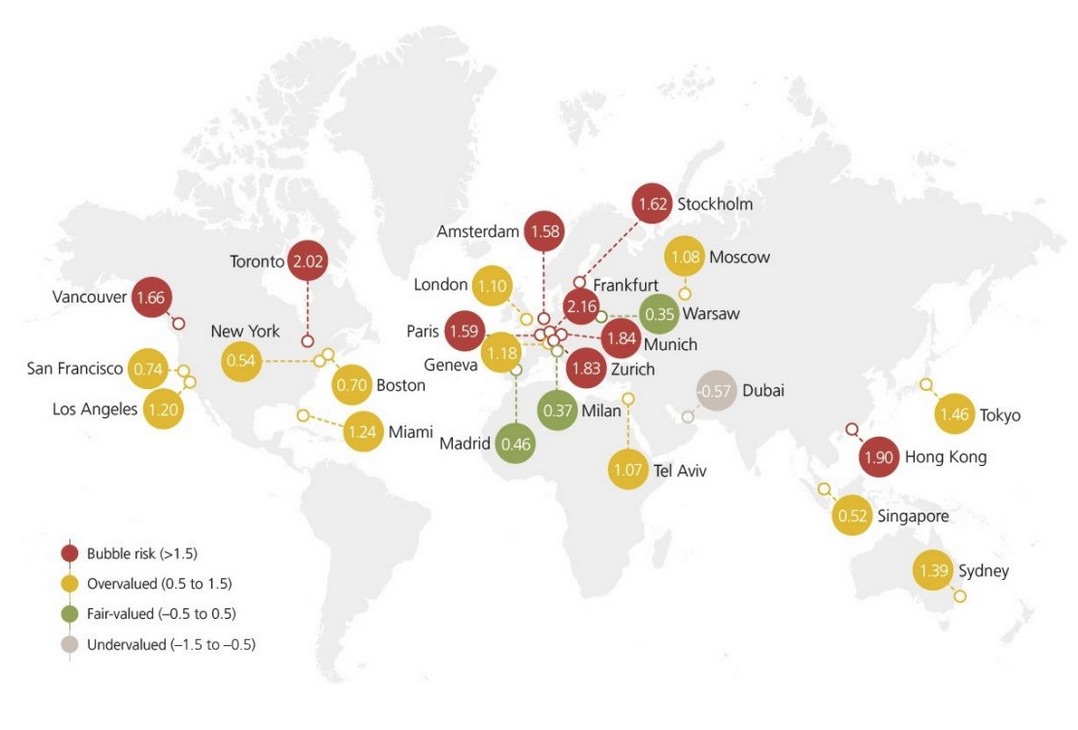 All this overheating, however, is likely to be short-lived as more normality returns.
"The coronavirus pandemic confined many people within their own four walls, amplifying the importance of living space, and leading to a higher willingness to pay for housing. At the same time, already favourable financing conditions have improved even more as lending standards for home buyers have been relaxed," head of real estate at UBS Global Wealth Management, Claudio Saputelli, said.
These conditions, coupled with higher saving rates and booming equity markets, have freed up additional housing equity. Also at play is the low cost of owning property compared with renting and the expectation of ever-growing price rises that make homeownership so attractive "regardless of price levels and leverage," the report added.
"This rationale may keep markets running for the time being, but households have to borrow increasingly large amounts of money to keep up with higher property prices," it said, and that's where the brakes should come on.
All but four cities - Milan, Paris, New York, and San Francisco - saw house price increases in the last year. While Moscow, Stockholm, Sydney, Tokyo, and Vancouver were among the hottest markets for the year, seeing double-digit house price growth.
Overall, the market is even more dependent on very low interest rates, and any lending tightening could bring price appreciation to an abrupt halt in most markets, UBS cautioned.
If all this has sounded alarm bells, the report noted that leverage and debt growth rates in many countries remain well below their all-time highs.
"From this perspective, the housing market is unlikely to cause major disruptions on global financial markets for the time being," it said.