Asset Management
Inflation: Roller-Coaster Or Rocket Ship?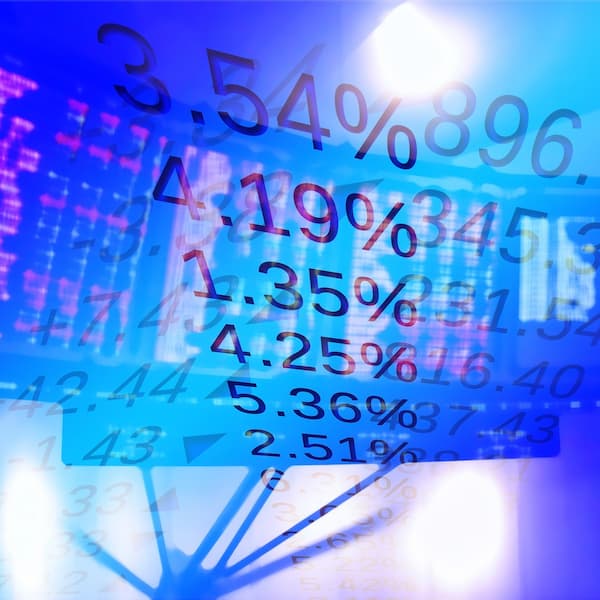 Market expectations around inflation are embedded in the inflation forward curve. Figure 2 compares the inflation zero coupon curve in the US at the end of 2020 with mid-May 2021.
As can be seen, the front end of the forward curve has reacted much more sharply than the back end of the curve. This was driven by recovering growth expectations, a weaker US dollar, short-term supply constraints, and stronger commodity prices. Similar to major central banks' views, markets are pricing a transitory increase in inflation while the longer-term structural view on inflation is well contained. Front-end inflation expectations are back to the 2010 to 2012 highs while the long end is still 50 basis points below post-GFC levels. Hence, we see a scenario of reflation that signals inflation should be accompanied by plenty of growth.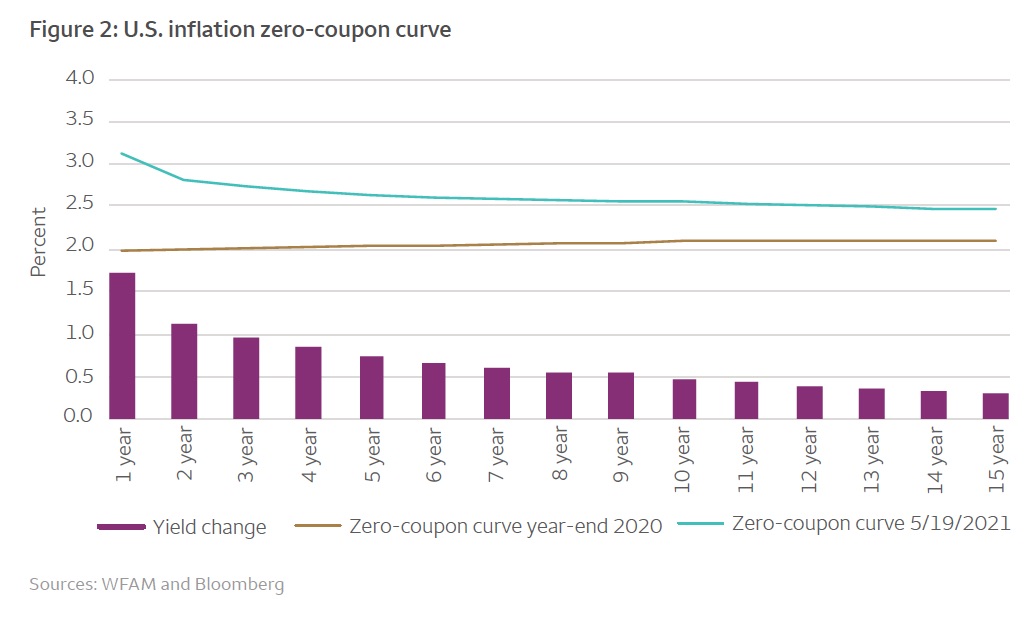 But what about ballooning balance sheets and debts?
Restarting an economy should be accompanied by a lot of growth and price pressure. But will large central bank balance sheets and federal debt make the inflationary pressure persist for multiple years? They don't have to. As the situation in Japan has shown, there could be the risk of deflation or disinflation (below target inflation) longer term.
Despite big fiscal and monetary stimulus, Japanese real rates have stopped falling since 2014, which has made it more difficult for Japan to shoulder its debt burden. Any direct comparison is difficult, yet we can see early signs of similar dynamics in the eurozone. Globally, lower inflation has been a trend over the past 20 years and we will need to wait to assess if the latest round of fiscal and monetary stimulus manages to turn the tide for longer-term inflation expectations. In other words, there must be something else added to the mix to make inflation persist. What is missing now?
Confidence
Monetary policy and fiscal policy do not, mechanically, cause inflation. Rather, longer-term inflation is more about faltering confidence—an ingredient that is missing today. Low inflation expectations beget low inflation and high inflation expectations beget high inflation. These are determined by the public's belief that monetary policymakers are credibly committed to their objective of keeping inflation contained. Monitoring breakevens and the health of Treasury auctions will help guide our thinking about whether investor confidence is getting shaky.
Price pass-through and bottlenecks
There are also a few other factors at play in determining the direction of inflation. Higher producer prices can precede higher consumer price inflation. The first line of defense against higher consumer prices is profit margins. Companies may temporarily be able to pass input cost pressures on to consumers, but after accumulated excess savings have been depleted, the forces of global competition are likely to curtail businesses' ability to enjoy 100 per cent inflation pass-through to consumers; margins will be squeezed instead.
Over the past year, the Producer Price Index has increased more than 5 per cent, but we think cost pressures will abate as supply shortages and shipping costs normalize. Freight rates and the various purchasing manager surveys of supplier delivery times should help trace out whether bottlenecks are getting better or worse.
Some economists point to a large output gap as a reason to be sanguine about inflation. The output gap compares what the economy is currently producing versus its potential if all factors of production (land, labor, and capital) are fully employed. The theory is that when the output gap turns positive, the economy is producing above long-term potential and inflationary pressures mount.
When the output gap is negative, as it is currently, there is slack and little inflationary pressure. Figure 3 shows the empirical relationship between the output gap, as calculated by the Congressional Budget Office, and inflation over the next four quarters. While there is a positive relationship between the two, it is not a very strong relationship (the correlation coefficient is only 0.14). However, excess capacity, as demonstrated by the negative output gap, is something we would expect to shrink before inflation makes a permanent move higher.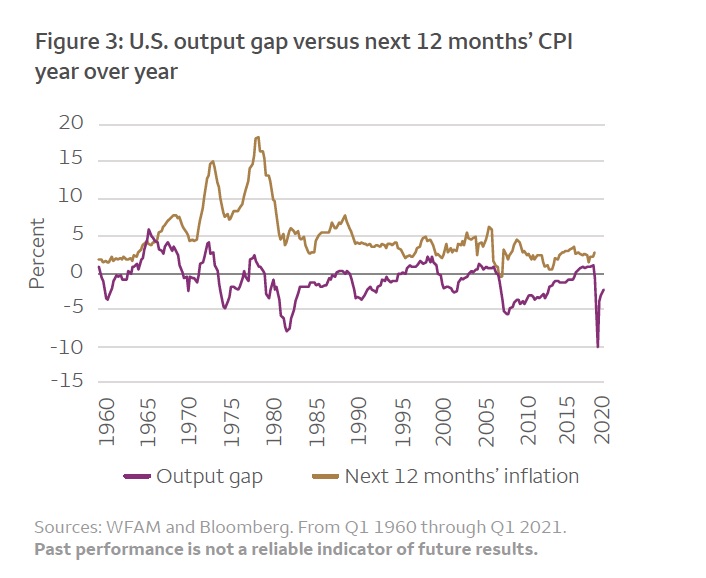 Debt dynamics
Milton Friedman famously said that inflation is always and everywhere a monetary phenomenon. That dictum needs to be updated for today when most transactions are done electronically or on credit. More properly, inflation is partially a credit phenomenon. While the federal government has been increasing its debt as a percentage of GDP, household debt growth has been below average, as shown in Figure 4. In fact, with excess savings from stimulus checks, households have improved their overall credit profile. Debt accumulation by households could pick up, so we will be monitoring bank lending and consumer credit data closely.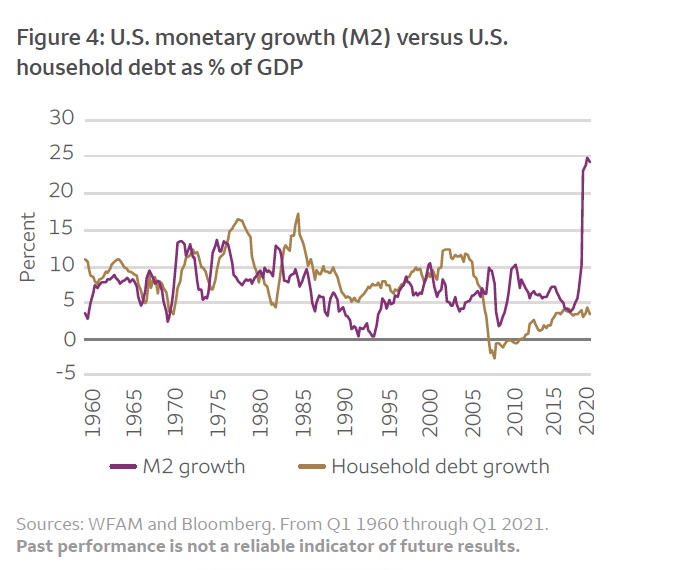 Productivity
Faster productivity growth, which is the ability to produce more with a given quantity of inputs, is positively correlated to lower inflationary pressures. Productivity growth was very low after the GFC. During the COVID-19 crisis, we likely had a few years' worth of technology adoption crammed into a few months due to forced technology adoption and quick changes in consumer and business behaviors as people adapted to a stay-at-home and work-from-home world. Relatively high productivity growth, as shown in Figure 5, contributes to our view that inflation should be elevated for only the next 12 to 18 months before bottlenecks clear.