WM Market Reports
Pandemic Didn't Hit Overall Global Wealth; Millionaire Headcount Continues Rising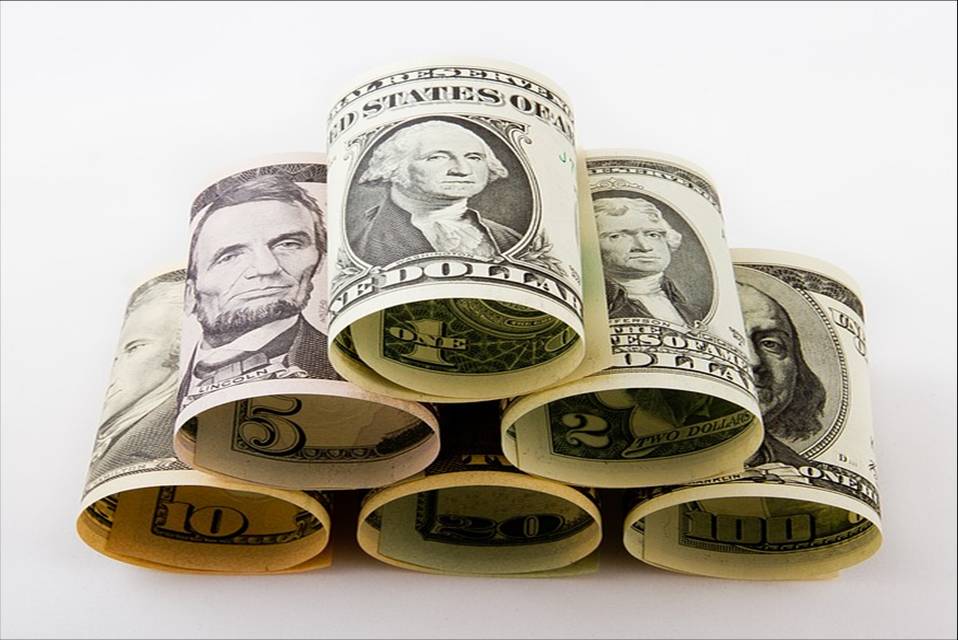 In the US, there are slated to be 28.055 million millionaires in 2025, a 27.8 per cent rise from 2020. Globally, the report points to how household wealth during last year was not - contrary to assumptions - directly linked to gross domestic product growth.
Total global wealth grew by 7.4 per cent in 2020 from a year before and wealth per adult rose by 6 per cent to reach $79.952. Aggregate global wealth rose by $28.7 trillion to reach $418.3 trillion at the end of the year, according to an annual survey of trends by Credit Suisse.
The report estimates that $17.5 trillion was wiped from total global household wealth between January and March 2020 when the COVID-19 pandemic struck, equivalent to a fall of 4.4 per cent. This was largely reversed by the end of June 2020, however. And the outlook for HNW population growth is positive, the study said. The report predicts that the world's population of millionaires will rise between 2020 and 2025 by 49.5 per cent to 84,014. In the US, there are slated to be 28.055 million millionaires in 2025, a 27.8 per cent rise from 2020.
Wealth differences between adults widened and the total number of millionaires expanded by 5.2 million to reach 56.1 million. As a result, an adult now needs more than $1 million to belong to the global top 1 per cent. 2020 marked the year when for the first time, more than 1 per cent of all global adults are in nominal terms dollar millionaires. The ultra-high net worth group grew even faster, adding 24 per cent more members, the highest rate of increase since 2003. Since 2000, people with wealth in the range of $10,000 to $100,000, have seen the biggest rise in numbers, more than trebling in size from 507 million in 2000 to 1.7 billion in mid-2020. This reflects the growing prosperity of emerging economies, especially China, and the expansion of the middle class in the developing world.
The US has by far the largest world share of millionaires and is far ahead of China and a spread of western European countries. The US has 22.0 million millionaires, or 39.1 per cent of the world total. China comes in second place with 9.4 per cent. The percentage in third-placed Japan (6.6 per cent) has eroded over the years and its position is now threatened by Germany (5.3 per cent). Next comes the UK (4.4 per cent), France (4.4 per cent), Australia (3.2 per cent), Canada (3.0 per cent) and Italy (2.6 per cent). Spain, Korea, the Netherlands and Switzerland each host around 2 per cent of global millionaires, with India and Taiwan (Chinese Taipei) adding another 1 per cent each, along with Sweden, which has met the 1 per cent threshold for the first time, replacing Hong Kong.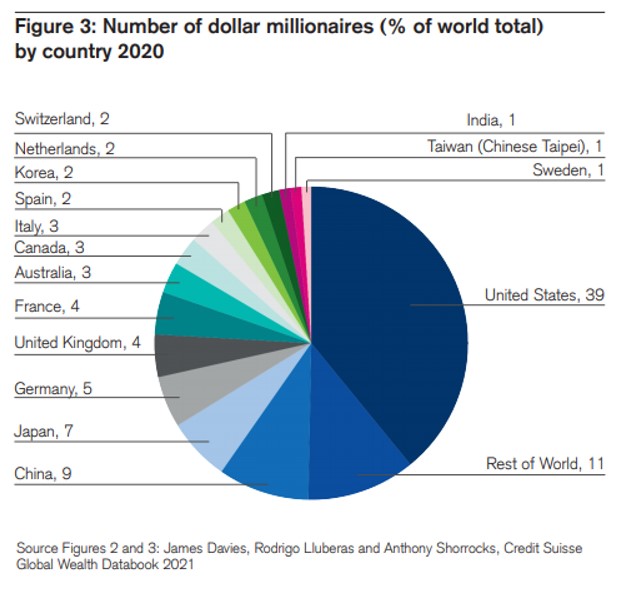 In 2020 a total of 5,211 millionaires joined the ranks of the 10 countries with the largest proportion of this cohort, creating a total of 56,084. The US added 1,730 millionaires, Germany added 633 and Australia 392. On the flipside, Brazil lost 108 millionaires, India lost 66 and Russia lost 44.