Real Estate
Global City Index: Residential Winners And Losers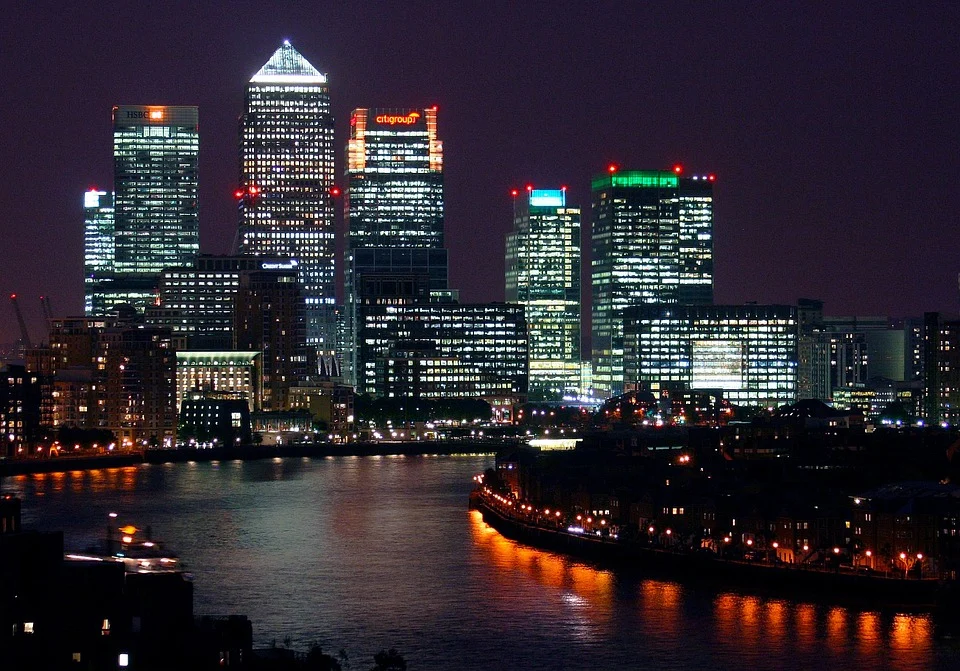 Knight Frank's latest Prime Global Cities Index, which tracks the movement in prime residential prices across more than 45 global cities, has revealed China's supremacy in price rise domination.
Predictions of the demise of major cities are much exaggerated, according to a new global study from Knight Frank, the real estate consultants and agents.
Following property fluctuations is indicative of wealth trends more generally and the residential picture overall was positive in the year up to March. Despite talk of metropolitan areas being hollowed out by a wealthy retreat to the country, and central business districts becoming victims of work from home policies, prime residential prices are on their fastest uptick since late 2017, and rose by 4.6 per cent to March, according to Knight Frank's latest figures. (The firm defines "prime" as the top 5 per cent of the market in value terms).
Chinese cities topped the ranking.
Prime property rose by 19 per cent in Shenzhen, and was up 16 per cent in Shanghai and Guangzhou, respectively, for the period. Prices in all three locations were bolstered by an improving economic outlook and continuing government investment in China's Greater Bay Area.
Eleven cities registered double-digit price growth for the period, up from one city a year ago, but notable prime markets have suffered. New York is down by 6 per cent, Dubai, London and Paris are down by 4 per cent, and Hong Kong is down by 3 per cent year-on-year. The political turbulence in Hong Kong has been a contributing factor. (See the chart below for year-on-year percentage changes).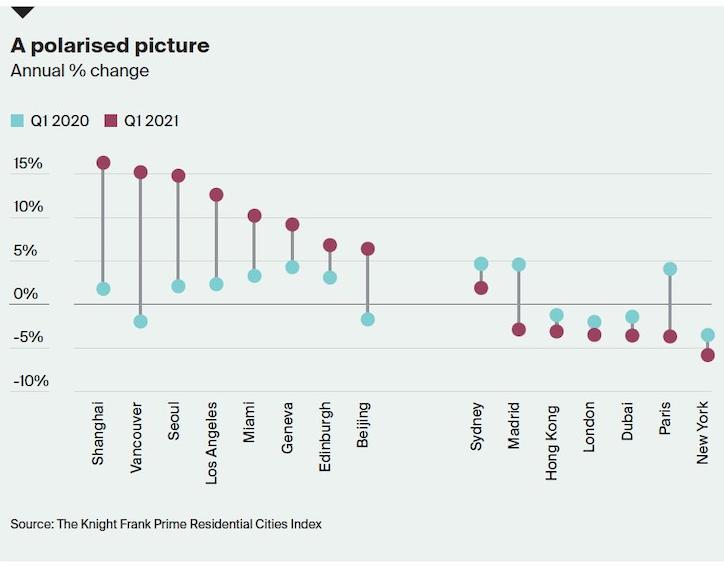 Bubbles
Meanwhile, speculative bubbles have emerged in Vancouver and Seoul (both up by 15 per cent for the year), and both in the top five global ranking. Residential sales in Greater Vancouver rose by 22 per cent in 2020 year-on-year. However, previous frontrunner Auckland has seen prime prices slow down from 18 per cent to 8 per cent, tempered by the introduction of a new capital gains tax on non-primary resident purchases that are held for less than 10 years.
Each city offers a combination of reasons for negative growth; these include the different impacts of the various lockdown measures and available supply of prime residential stock to tax and policy constraints, the report said.
"In most cases we expect a return to growth in the second half of 2021 once travel bans ease, cross-border transactions resume and consumer confidence ticks upwards," Knight Frank said.