Making Digital Pay: Wealth Firms New Tech Investment Approach
Peter Keuls and Thomas Griffin, 19 October 2020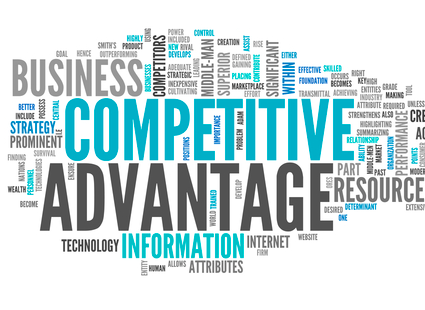 The authors of this article ask to what extent will higher spending by firms produce revenue growth? The answer is that, they say, increased investment has not yet translated into improved value creation. 
The air is thick with commentary about how wealth managers have accelerated their use of digital technology, making the kind of changes in months that might have taken years in a pre-COVID-19 era. The rapid pace of digital adoption in the present environment might have become a bit of a cliché, but the core of this theme is true enough.
Making smart technology decisions remains challenging, however. Firms are conscious of tight margins; they don't want to make costly mistakes. In this article, Peter Keuls, partner, and Thomas Griffin, at global wealth management for Aon, have their say on the subject. We are pleased to share these views; the team at Aon have been pushing thought leadership in wealth management on a number of fronts. As ever, the editors of this news service don't necessarily endorse all views of guest contributors. To enter the conversation, email tom.burroughes@wealthbriefing.com and jackie.bennion@clearviewpublishing.com
We are becoming accustomed to hearing the phrase "digital transformation" used ever more frequently in the US wealth management industry, as a combination of escalating investor expectations and profitability pressures compel firms to commit a higher proportion of their budgets to technology spend.
But to what extent will higher spend by firms lead to revenue growth? Using proprietary Aon analysis and our client experience research insights, we find that, so far, increased investment has not translated into improved value creation.
As they look ahead to 2021, wealth management firms must optimize the mix of transformational and "Business as Usual" (BAU) initiatives, and consider their impact on clients and advisors, if they are to improve revenues.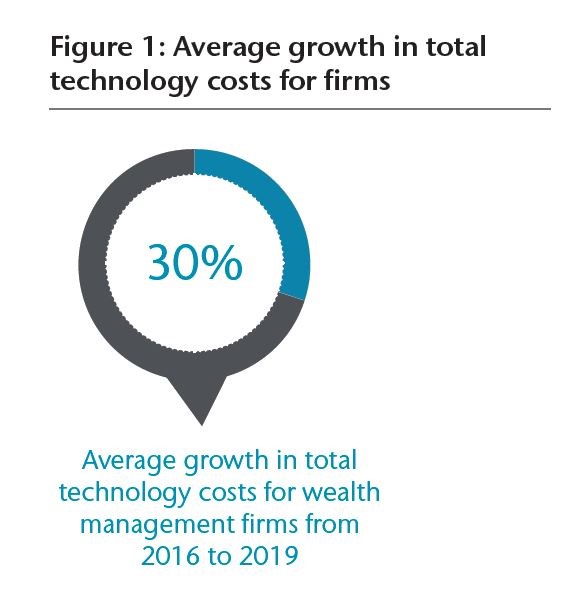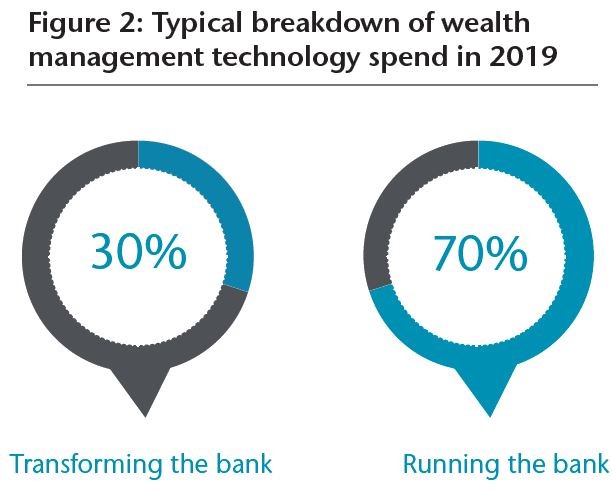 Tech costs have been rising in recent years
A rising expectation of digital delivery is one factor driving the significant increase in tech investment by firms in recent years.
Our own analysis shows that total tech expenditure in 2019 was up by 30 per cent for the average US wealth management firm, compared to 2016. The mix of spend between transformational projects and BAU initiatives remains decisively in the BAU corner, with 70 per cent of budgets going toward "running-the-bank". Platform enhancements, information security and data privacy remain top-of-mind for business leaders, but only comprise the minority portion of budgets.
The challenge is that although tech costs per advisor have increased by 30 per cent for the average wealth management firm since 2016, firms have struggled to realize value from these investments.