Reports
Pre-Tax Profits Rise At Wealth Arm Of UBS, Americas Rebound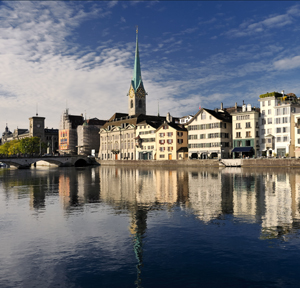 First-quarter results showed a clear improvement across all major geographic segments at UBS's wealth management business.
UBS reported a 7 per cent quarter-on-quarter rise in pre-tax profit at its wealth management arm in the three months to 31 March, reaching a figure of SFr645 million (around $729 million), boosted by higher operating income, the Swiss bank said today.
Results showed that across all major geographical regions – including the once embattled Americas business – UBS's results improved over the quarter. For the entire UBS group, covering all business lines, results improved dramatically.
Total operating income in the wealth management segment increased to SFr1.928 billion from SFr1.803 billion in the prior quarter following an improvement in all major income components, UBS said in a statement.
The gross margin on invested assets improved by 6 basis points to 98 bps in the first quarter, due to higher revenues, as average invested assets remained virtually unchanged.
Net new money inflows rose to SFr11.1 billion from "very small" inflows in the prior quarter, the firm said, adding that this provided a "sign of client confidence in our business".
International wealth management reported net inflows of SFr8.9 billion, with net inflows in the Asia Pacific region and emerging markets, as well as globally from ultra high net worth clients. Net outflows in the European cross-border business were partially offset by net inflows from European onshore clients. Swiss wealth management reported net inflows of SFr2.2 billion compared with SFr1.1 billion in the previous quarter.
Invested assets were SFr791 billion on 31 March 2011, an increase of SFr23 billion from 31 December 2010. This increase was mainly driven by positive net new money inflows, a 4 per cent increase in the value of the euro against the Swiss franc, and positive market performance.
Wealth Management Americas' pre-tax performance swung into a profit of SFr111 million in the first quarter of 2011 from a loss of SFr32 million in the fourth quarter of 2010.
Total operating income decreased by 2 per cent in this unit, or SFr32 million, to SFr 1.347 billion. In dollar terms, operating income rose by 2 per cent, principally due to higher fee income.
Net new money at SFr3.6 billion marked the third consecutive quarter of net inflows. Net new money in the first quarter was primarily generated by net inflows from financial advisors employed with UBS for more than one year. The gross margin on invested assets fell 2 basis points to 78 basis points, reflecting a 2 per cent fall in income compared with a 1 per cent increase in average invested assets, UBS said.
For UBS as a whole, performance from continuing operations before tax rose by 84 per cent to SFr2.235 billion in the first quarter of 2011 from the end of last year.