Technology
Middle East: The "Next Major Digital Frontier Market," Says UBS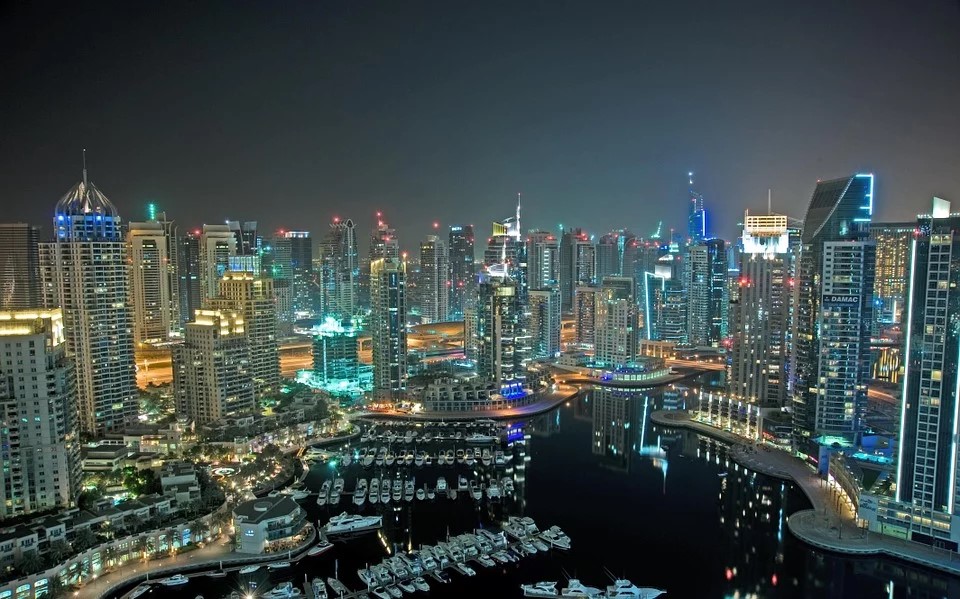 The Swiss bank and wealth manager takes a look at the region's technology sector and it's challenges and potential.
The Middle East will be the "next major digital frontier market within global tech," according to UBS – the sector is already growing at twice the pace of the global counterpart as a whole.
The Swiss delves into trends shaping technology in the Middle East, an area whose wealth has traditionally been based on energy. The author is Sundeep Gantori, equity strategist at UBS Global Wealth Management Chief Investment Office
"We estimate the Middle East's digital economy will grow from $180 billion in 2022 to $780 billion in 2030, or roughly 20 per cent per year…our estimates may prove to be conservative as the digital economy penetration as a percentage of the region's GDP is expected to rise from 4.1 per cent in 2022 to 13.4 per cent in 2030, which is still below today's 15 per cent or so penetration levels in advanced economies like the US," it said.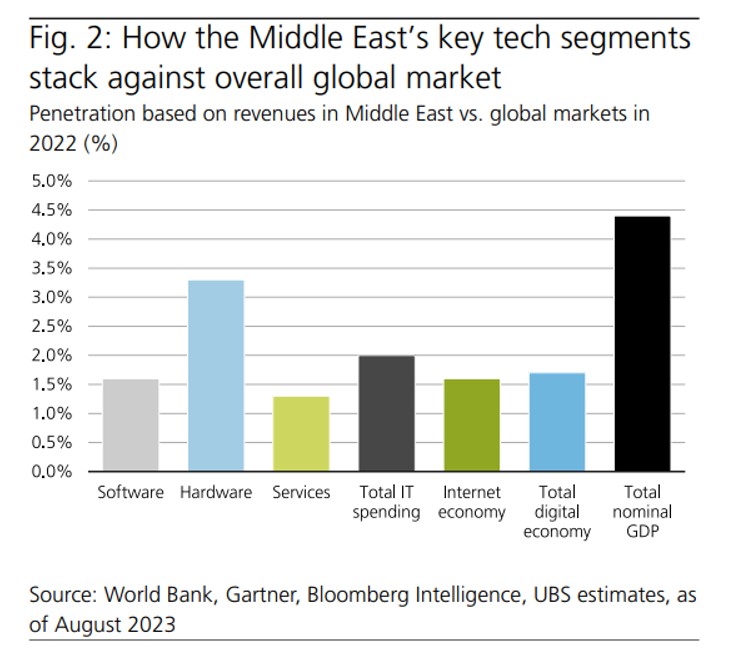 (Graphic taken from UBS document)
As noted in this article about Middle East family offices and AI technology, the region has considerable potential for tapping into trends already strong in Asia-Pacific, Western Europe and North America, for example.
The Swiss bank, which said investment opportunities outweigh risks, regards software, the internet, and data centres as "standouts," together with diversified opportunities through the venture capital/private equity space for capturing early stage growth and cybersecurity for managing data privacy risks. Funding for startups and unlisted companies in the Middle East hit $13.6 billion in 2022, the bank said, citing figures from CB Insights.
The Middle East hasn't escaped the chilling impact of rising interest rates, a force that has affected venture capital and parts of the private markets' space. The Middle East's tech funding was "flat" compared with 2021 (down 2.1 per cent on a year earlier. UBS said that outcome was "very impressive" considering that global tech funding slumped by more than a third (35 per cent).
"While we may need to wait for a few more months to get the full-year data, we believe 2023 is a challenging year given the still tough environment for global tech funding, in particular in 1H [2023]. But the good news is that green shoots are emerging thanks to the spiking interest around AI and hopes of a revival in key internet segments like e-commerce and digital advertising in the region," it said.
"As a result, we believe we are close to a bottom in tech funding in the Middle East as we believe the strong growth outlook for the region's digital economy over the decade should attract solid investor interest including from local technology and telecom players, sovereign wealth funds, and major global VC/PE funds over the coming quarters," it continued.
"With the Middle East accounting for only 2 to 3 per cent of global VC/PE tech funding today (based on data from CB Insights), the region's strong 20 per cent [per annum] growth outlook for information technology should attract more investments going forward, which, in our view, provides good investment alternatives for global growth-based investors beyond major listed tech companies globally," UBS said.
Risky times
There are risks to consider, UBS said.
"Regulations are a global issue but more so in the Middle East as the region's early stages of evolution may present risks around managing antitrust, competition, labour and pricing related regulations. Talent is another issue as the region needs to build a robust home-grown talent base including a solid developer ecosystem that matches other global talent pools in Silicon Valley, China, and India. The path to profitability is another risk for investors considering investments in profitless startups in the Middle East as there will be an ongoing tug of war between focus on growth and profitability as we see many trade-offs," it said.
"This is not a risk specific to the Middle East but given significant growth will originate from smaller startups in the next few years, investors should manage these issues.
"Additionally, geopolitical tensions between the US and China highlight the need for the Middle East to be self-sufficient. At the moment, the region relies a lot on the West for critical technologies like semiconductors and software, so we see both challenges and opportunities as the region strives to be self-sufficient. Among all the risks, data privacy is a pressing one given the region's high vulnerability to cybersecurity breaches," it said.
UBS referred to figures from IBM Security and Ponemon Institute, saying that the cost of a data breach in the Middle East is 8.07 million in 2023, up 8.2 per cent from $7.46 million in 2022. "This is alarming given the cost in 2023 is not only well above the global average of $4.45 million, but also the increase of 8.2 per cent is sharp compared to the global average of 2.3 per cent. The good news is that Middle Eastern tech companies have realised the importance of cybersecurity and are starting to step up investments, which also provides interesting investment opportunities," it added.