Emerging Markets
Exclusive: Hong Kong's Chartwell Eyes Hidden China Gems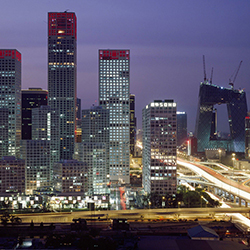 Ronald Chan, founder and CIO of Chartwell Capital, an investment firm based in Hong Kong, discusses with this news service investment opportunities in China, particularly the Greater Bay Area.
Mainland China has been through its fair share of problems in the past few years but there are opportunities to be found, a Hong Kong-based investment house says.
Despite the positive impact at the start of 2023 of China's re-opening after the removal of its Covid restrictions, markets fell recently and there are concerns that the economy is slowing. Despite this, Ronald Chan at Chartwell Capital thinks hidden gems exist.
China's economy is facing a number of challenges, Chan said, with a lot depending on the trade dispute between China and the US. "Markets have been beaten up recently and the property market has not helped this. The Hong Kong market went down 20 per cent since February," Chan told this news service in an exclusive interview.
"But this also provides a good opportunity to jump back into the market when things are cheap. We still see a lot of good stocks there," he continued. "There are hidden gems to be found in healthcare, for example." The firm invests in Hong Kong's largest non-hospital provider, EC healthcare, which he said they have put more money into. "The stock has rallied like a roller coaster," he said.
Rising global interest rates to curb inflation, and concerns about the domestic Chinese economy – such as indebted real estate developers and it ageing population – have cast a pall on the country's equity markets in recent months, even though harsh pandemic restrictions were lifted. Frosty relations with the US, for example, have added to concerns. Washington DC has restricted Chinese access to types of tech such as advanced computer chips. There is also widespread attention now on how India, for example, is filling a space in global supply chains amidst pressure on China from the US. But there are some optimistic voices. HSBC Asset Management recently said that there is scope for Chinese equities to shine this year.
So far, the MSCI China A-Shares Index (in dollars) has fallen more than 6 per cent this year. By comparison, the MSCI World Index of developed markets' stocks (adding capital growth and reinvested dividends) is 13.74 per cent (in dollars).
Chartwell Capital, however, sees a number of opportunities.
The firm invests in the retail and manufacturing sectors, hospitality, food and beverages. With Hong Kong being a large importer of Japanese food, consequently he invests in a large Japanese food distributor in Hong Kong – Four Seas – which he said is doing well. "We invest a lot in the Great Bay Area, and see a lot of investment opportunities there," Chan said.
"The property market is still challenging," he continued. He doesn't invest directly in the property sector and is hoping that the Chinese government will help home buyers. "A stimulus package could be introduced to help boost the sector," Chan said.
"Beijing is, however, doing a lot to stimulate the economy, as the rest of the world focuses on monetary tightening. High inflation rates are hitting the US and Europe, which isn't the case in Asia," Chan said.
Chartwell is an independent, Hong Kong-based investment firm serving institutional clients such as endowment and pension funds, charitable foundations, family offices, and high net worth individuals.