Wealth Strategies
Tesla And The Widow-Maker Trade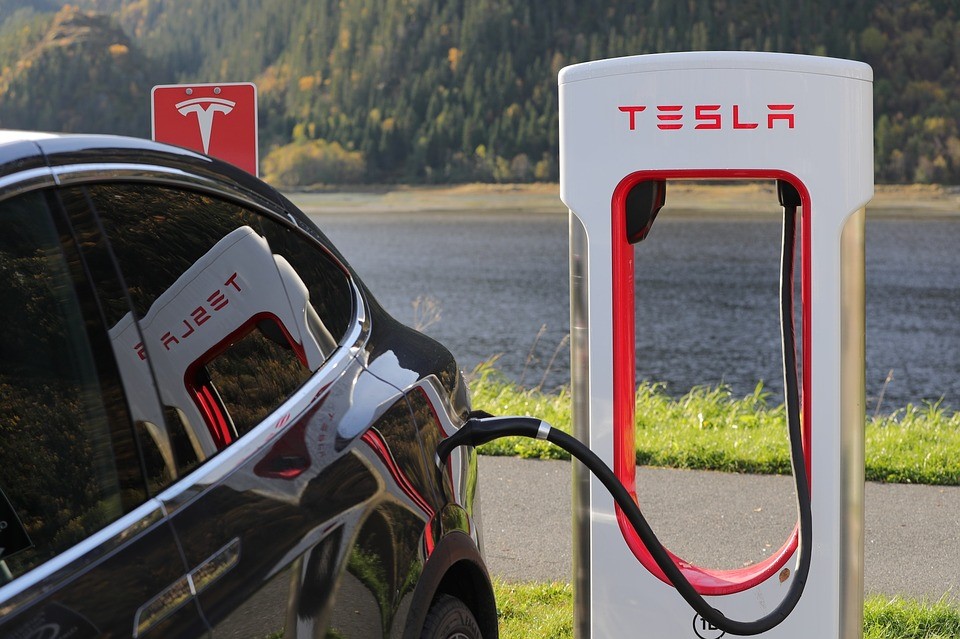 The author of this commentary, who has penned a number of articles for this news service, examines the eye-catching share price developments and business progress of Tesla, and suggests how investors might treat that company's shares in their portfolios.
The ascent of electric carmaker Tesla and the achievements of Silicon Valley rainmaker Elon Musk, are among the best-known in global capitalism. The gyrations of Tesla's stock are also widely talked about. What should investors do with this, and similar types of company if they want to avoid getting burned? And what lessons should be applied to those running portfolios? To address some of these questions is Christian Armbruester, chief investment officer at Blu Family Office, the European house. The editors are pleased to share these ideas. Join the conversation if you have a response. The usual editorial disclaimers apply. Email tom.burroughes@wealthbriefing.com and jackie.bennion@clearviewpublishing.com
As investors, we look to the future to deliver growth and capital appreciation. As traders, we look for things that are mis-priced. In other words, no one would consider buying Vodafone if it were trading at a fair valuation. Things must be either cheap or expensive for us to make money. Good traders have elaborate systems that alert them to stocks, bonds or commodities that are trading at the wrong prices, given statistical analysis.
For example, if Vodafone were to trade between a range of 100-120 pence per share for more than a month and all of a sudden dropped to 75 pence, an alert of some sort would go off. We can then interpret the move by looking at the performance of the sector or the market during the time of the price drop. We could also search for news, stories, or other corporate actions that may have caused the sudden drop in price. All of this can be done in an instant, and if none of the factors can explain what has happened, you buy the stock and expect it to revert back into its familiar range.
There are a lot of reasons why a financial security would trade at the wrong price for short periods, including over-reactions to perceived events, mis-valuations, liquidity, and even human error. On that note, there is no such thing as a long-term trade, there are only failed trades in the short term.
Remember, trading is all about getting in at inflection points. Time is money, and if nothing has happened in your investment hypothesis in over a month, you probably got your timing wrong. Few people like to admit they are wrong, and hence stay in trades for much too long, but that's another story.
Trading Vodafone back and forth is of course one way to trade, but it is much better to take that most random variable out of the equation: market risk. It is estimated that 80 per cent of our returns are attributable to general market movements, so whatever we buy or sell, we need to sell and buy something else against it. Trading is a relative game, whereas investing is absolute. Big difference, and the trick is to isolate or ring-fence the particular wrong price we wish to exploit. Think of it this way, if you saw that one market stall was selling oranges at a 25 per cent discount - cheaper than everyone else - you could buy more in the hope of selling them on. However, if you buy a lot of oranges and the market closes, you are left with a lot of rotting fruit. Better to arrange the sale before you buy, to avoid that risk and that's what trading is all about: know when to get out.
Having said all of that, let's get to Tesla and see why the stock has literally wiped out many a good trader in recent times. I have to admit, I like the cars, and they are far ahead of any competitor at the moment. Then, you also have the whole space travel and it is easy to see why so much fantasy has been instilled into the recent stock price move. However, now the company is worth more than the entire global auto and aerospace sector combined. From a fundamental perspective, that seems a big bet and if Nokia is any guide, we have seen this before. A market leader, far ahead of their time, that eventually falls victim to competitive market forces.
Then there are the numbers. The recent performance of TSLA [Inc] is quite frankly mind-boggling. Even after the recent fall of more than 25 per cent, the stock is still up more than 400 per cent since the beginning of the year. That's a big move, and it is no wonder why every statistical trading model in the world started selling the stock. The carnage that ensued was even more colossal. It is estimated that short sellers lost more than $25 billion on the recent move, regardless of how well they hedged, as nothing went up nearly as much.
Chart: Tesla versus European Automakers
Source: Bloomberg
We are hearing that so-called "Robinhood traders" are pushing the stock, as they perceived a recent stock-split to mean that the price was now "cheaper" than the day before. Remember what we discussed about checking for things that may have caused a big change in the price? Whatever the reasons may be, the stock price is what it is and by every measure it is the wrong price, so how should we trade this?
Proceed with caution and whatever you do, always expect that it can get worse. In other words, this massive, glaring, super-humungous trade of the century, could get even juicer and TSLA could keep going up for longer. Timing is a female dog, so whatever you do, work with stop-losses. You can always get back in, but if you hold on for too long, you can also pay the ultimate price.
Chart: Volkswagen stock performance during Porsche takeover attempt (2008)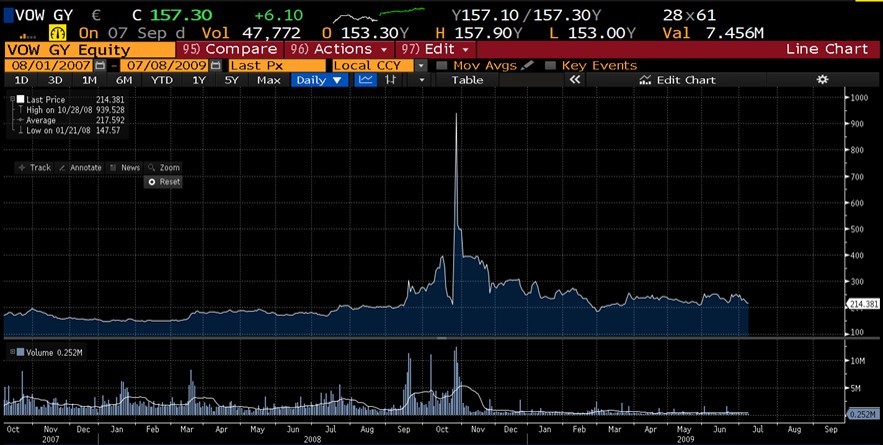 Source: Bloomberg
Lest we forget, the last time we saw such a glaring mispricing of this sort was when Porsche tried to buy Volkswagen, making it briefly the most valuable company in the world. Word is, two people committed suicide shorting the stock at 900 and getting wiped out, before it settled back at around 200. Rather ironic that TSLA and VOW have both become known as the widow-maker trades. Maybe we should trade one against the other? I hear there are rumours of a takeover in the air. Stay safe!