Strategy
Wealth Management Is More than Just Managing Investments - EPAM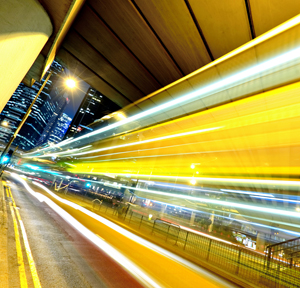 Investment circles and social banking
In almost every modern digital experience in which users interact daily, there is a social dimension – either as the basis of the entire experience (Facebook, WhatsApp, Instagram, …) or as a critical tool in forming opinion, rating services or providing advice (too many to name!)
And yet, in banking this is not the case. In what is almost the most critical service that any client will consume, their financial health and wellbeing is often entrusted entirely to a single entity with no systematic access to second opinion, diverse input or any kind of alternative assessment at all.
Our work with a wide variety of clients has shown that there are numerous cases where a group has a valid part to play in collaborating on financial matters from UHNW investments to payment wallets for children, with everything in between.
We have concentrated on two diverse scenarios to visualise how a set of basic financial products could be integrated with a social activity and group collaboration on shared accounts with feedback, interaction and advice built into the interaction:
1) Nou Gold – Superyacht rental with social interaction on shared deposits, subsidiary accounts, spending oversight; investment integration and group interaction for advice. A shared deposit account is established and initially funded by a group who wish to organise the trip; group members share access and are visible to each other through the banking app. Supplementary accounts and cards (basic pre-paid "wallets") are issued to crew members who are empowered to spend within certain limits. The environmental impact could be monitored and offset using appropriate investments, linked together in a single holistic banking experience;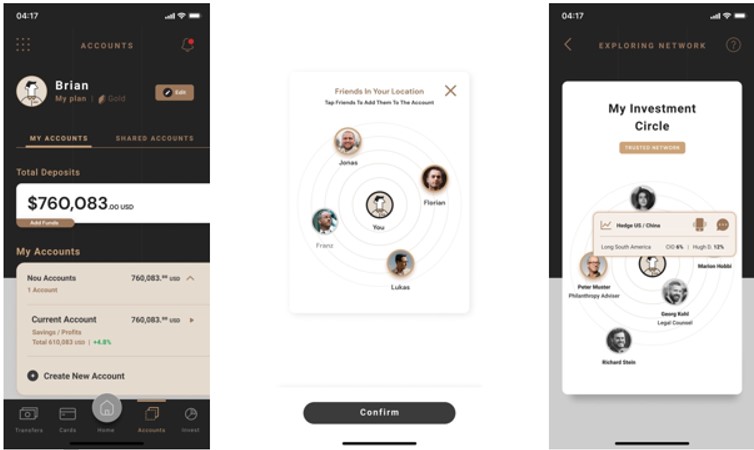 Social elements in Wealth Management context
2) Nou Family – taking the exact same products and concepts, the experience could also be applied to a family's accounts with parents having individual and joint accounts, children being issued with basic savings and spending accounts and cards, social interaction between family members and advice via bank-authorised "influencers" and environment and social responsibility made transparent via spending analysis and evaluation of the family's carbon footprint. Investments and education are also linked into the combined experience.
Advisor tools and actionable events
The typical advisor has a fragmented landscape of tools and with overlapping features, disconnected interfaces and an often manual process environment. Many applications and duplicate data entry are common, leading to delays, operational risk and both direct and indirect client impact.
At the same time, the advisor is buried with data from which personalised client insight and recommendations must be drawn but lacks the capacity to do this reliably at scale. What is needed are tools that support he advisory process, automating manual processes and robotic decision-making while analysing the constant stream of data to identify and propagate actionable events requiring advisor attention.
Advisor tools and actionable events
Our work with many different clients has informed our view that all content presented to clients and advisors should have value – and where action is required, that action should be supported in context with a relevant call to action.
It is clear that not every bank is able to replace their entire technology landscape to support a new interaction paradigm – and nor should they be required to do so. The technologies exist today to allow the required insight to be drawn from most applications. What is needed is a deep understanding of what has value and will contribute to efficiency, transparency and a reduction in complexity. The organisation can focus on the relevant integrations and experience in an iterative way, incrementally driving true transformation of the advisory process.
Conclusion
Digital transformation of the client experience, advisor tools and core processing platforms is clearly a major undertaking for any bank, whatever the starting point. It can feel like boiling the ocean and almost that nothing is done until everything is done.
We believe, though, that the experience of all users – client and advisor – can be gradually improved by a series of individual changes. What is needed is a clear understanding of what is working and what is not in the current state; what are the pain points and friction areas? It is useful to have an "ideal" target state in mind and to identify and prioritise small improvements against their potential to move in this direction.
The transformation journey can then begin as a series of small, practical and achievable steps, allowing for adjustment along the way, rather than a monolithic roadmap that must be defined in its entirety at the start.