Financial Results
Profits, Revenues Rise At Credit Suisse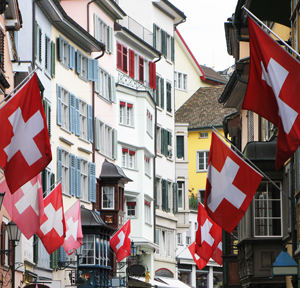 Switzerland's second-largest bank reported a broadly stronger set of financial figures for the quarter, defying challenges from the pandemic to put higher revenues and profits on the board. Results also beat analysts' forecasts. Provisions for credit impairments did rise, however.
Credit Suisse today reported second-quarter 2020 pre-tax income of SFr1.6 billion ($1.75 billion), rising by 19 per cent on a year ago. It also logged net income attributable to shareholders of SFr1.2 billion, up by 24 per cent on the year. The result was achieved on net revenue growth of 11 per cent, with a figure of SFr6.2 billion for the quarter.
The net income – attributable to shareholders – figure beat analysts' forecasts.
Switzerland's second-largest bank said total assets under management were SFr1.4 trillion at the end of June and net new assets stood at SFr9.8 billion for the quarter, versus SFr5.8 billion in the first three months of the year.
The figures suggest that Credit Suisse's repositioning of its business model over recent years, such as focusing even more on growth areas such as Asia, and its cost measures, have borne fruit.
"With an RoTE [return on tangible equity] of 11 per cent for the second quarter and 12 per cent for the first six months 2020, we delivered on our pre-COVID-19 ambition to achieve an RoTE of approximately 10 per cent for 2020, confirming the resilience of our integrated business model as a leading wealth manager with strong global investment banking capabilities," Thomas Gottstein, group chief executive, said.
The data did show, however, that the pandemic had an impact. Provisions for credit losses in Q2 were SFr296 million, while they were just SFr25 million a year ago.
Swiss Universal Bank
The Swiss Universal Bank business logged pre-tax income of SFr687 million in the quarter, rising by 5 per cent year-on-year; for the first six months of 2020, pre-tax income was SFr1.276 billion, a 6 per cent rise on the same period of 2019. The cost/income ratio of this side of the banking group narrowed a touch to 52 per cent. Net revenues rose by 2 per cent from a year earlier to SFr1.5 billion. Revenues were driven by a number of forces, including higher contributions from Credit Suisse's ultra-high net worth client segment.
The SUB's private client business generated pre-tax income of SFr366 million, a gain of 3 per cent on a year earlier, with net revenue, at SFr856 million, rising by 3 per cent.
International wealth
The International Wealth Management arm suffered a 22 per cent year-on-year fall in pre-tax income to SFr348 million; for the first six months of 2020, it fell by 8 per cent year-on-year to SFr885 million, the bank said. Provision for credit losses stood at SFr35 million in Q2, from zero a year before. The cost/income ratio of the IWM arm was 70 per cent, widening from 67 per cent. Net revenues fell by 7 per cent in Q2 to $1.274 billion from the same quarter a year ago.
Net revenues benefitted from higher client activity, which was more than offset by lower net interest income and recurring commissions and fees at the IWM business, Credit Suisse said. Net new assets stood at SFr1.8 billion, with "solid contributions" from emerging markets and Europe, bringing the half year 2020 total to SFr5.5 billion at an annualised growth rate of 3 per cent.
Asia-Pacific
The Asia-Pacific division chalked up some of the strongest results across Credit Suisse, it said.
APAC delivered pre-tax income of SFr298 million in 2Q20, a record since the formation of the division and up by 26 per cent year-on-year, with revenues of SFr1.1 billion, up by 17 per cent year-on-year. Credit Suisse said the results were supported by higher performance in both its markets business and its advisory, underwriting and financing business within wealth management and connected (WM&C).
Operating expenses for APAC in 2Q20 were stable from a year before. APAC delivered a return on regulatory capital of 22 per cent in 2Q20 and a cost/income ratio of 64 per cent. In APAC, Credit Suisse recorded provision for credit losses of SFr81 million.
The Asia private banking revenues slipped by 6 per cent year-on-year, driven by lower recurring commissions and fees and lower net interest income. In 2Q20, the bank recorded AuM of SFr216 billion and net new assets of SFr4.5 billion, supported by deposit inflows from Japan, Southeast Asia and Greater China.