People Moves
Who's Moving Where In Wealth Management? - Brown Shipley, Saranac Partners, Others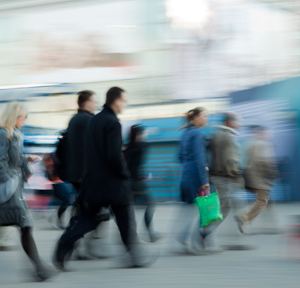 The latest moves in wealth management across Europe, Middle East and Africa.
Brown Shipley
UK wealth manager Brown Shipley has appointed Paul Smith as client director and wealth planning advisor to its Manchester office.
Smith joins from accounting firm Mazars, where he was responsible for the development and provision of specialist financial planning services for private clients across the North West, as well as heading up the practice's private client offering. Prior to this, he was a financial planning specialist at Coutts.
Man GLG
Man GLG, Man Group's discretionary investment management business, has appointed Michael Scott as a portfolio manager in its credit business.
He will be based in London and work closely with Man GLG's credit chief investment officer Simon Finch, who joined the firm earlier this year. He will focus on developing an unconstrained global high yield credit strategy and building out Man GLG's overall high yield capabilities and offering over time.
Scott joins Man GLG from Schroders, where he was a portfolio manager in the European and UK credit team.
Darius McDermott, managing director of FundCalibre, said of the move: "Schroders' loss is Man GLG's gain. Michael is an excellent fixed income fund manager and Man GLG is obviously very serious about bolstering its fixed income team. It has now attracted two very good and high profile managers to the company, with Craig Veysey also moving from Sanlam. It's an exciting new phase for Man GLG and those joining them."
Chartered Institute for Securities & Investment
The Chartered Institute for Securities & Investment (CISI) appointed Claire Newman, ACSI as President of the CISI's Essex branch.
In addition to serving on the CISI's Essex regional committee, Newman has 23 years' experience in the financial services profession. She has worked in a range of roles over the course of her career from operations, through client services and account management, to her current role as vice president of training at BNY Mellon's Pershing.
Based in London, she has worked at the company since 1997, prior to which she was with the Bank of Scotland.
Saranac Partners
Saranac Partners, the independent wealth management firm, has made several appointments to the company's management team. This comes after the completion of the firm's fundraise.
The management team will be made up of five partners led by Tanvi Davda as managing partner. Davda has been responsible for the client team and its activities since the firm's launch in August 2016.
The management team now comprises:
- Tanvi Davda, managing partner and head of clients;
- Michelle Witter, head of strategic business development;
- Brent Seery, head of proposition;
- Simon Latham, chief financial officer; and
- Andrew Catterall, chief operating officer.
Also, Mary Reilly stepped down from the board in June 2018 at the end of her two-year term. Michelle Witter will join the board as an executive director.
Mirabaud Asset Management
Mirabaud Asset Management has appointed Selina Tyler, who will join the firm in November to lead its coverage of external wealth managers, fund of funds and financial institutions markets in the UK and Ireland.
She will also oversee relationships with investment platforms in those areas. Tyler will work alongside Paul Waters, with both reporting to Bertrand Bricheux, global head of sales and marketing.
Tyler joins from Hermes Investment Management, where she was a director in the firm's UK distribution business for the last six years.
Also, in January 2019, Paul Boughton, the current head of wholesale, will take up a consulting role at Mirabaud Asset Management to expand his other business activities at Marketing Alpha Partners.
JP Morgan Asset Management
JP Morgan Asset Management (JPMAM) has appointed Simone Ishikawa as a sales strategist, Alfred Le Léon as head of exchange-traded fund distribution for France and Álvaro Quirós as a product specialist in the international beta product team.
Based in London, Ishikawa will be responsible for developing distribution plans for the International ETF business to focus and direct sales teams' efforts and priorities. She joined from JPMorgan's corporate and investment bank earlier this year, where she was a business manager for UK cross-asset and Europe, Middle East and Africa equities heads of sales.
Based in Paris, Le Léon will be focused on developing ETF relationships across JPMAM's client base. Le Léon joins from Deutsche Bank, where he was responsible for selling the Xtrackers ETF range to asset managers, intermediaries and institutional clients. He reports to Olivier Paquier, head of continental Europe - ETF distribution.
Based in London, Quirós will focus on product strategy and the development of ETFs alongside other vehicles. He was previously part of the ETF product development team at Xtrackers (Deutsche Asset Management), where he worked on the idea generation for new launches and the enhancement of the Xtrackers range. Quirós reports to John Harrington, head of international beta and ETF product at JPMAM.
Sanlam UK
Sanlam UK, part of global financial services group Sanlam, has appointed Richard Pursglove as head of distribution. He will be responsible for shaping and executing the group's strategy in sales and marketing.
Pursglove has a career spanning over 30 years in asset and wealth management, having started his career as an IFA. Having worked at Cazenove Capital Management as sales director from 2001, he went on to lead distribution in both sales and marketing functions for Gartmore Investment Management, Goldman Sachs Asset Management, Artemis Investment Management and more recently supported the integration of the global distribution team at Aberdeen Standard Investments during the merger.
He will report directly to Sanlam UK chief executive, Jonathan Polin, and will sit on the firms' executive committee.
Capital Group
Asset management firm Capital Group has appointed Nick Shaw, who will oversee the distribution to international financial institutions and work closely with the local sales team. He will be based in London.
Shaw has over 15 years' experience in the financial sector and was most recently sales director of global financial institutions at Robeco.
Prior to joining Robeco, Shaw held various international positions at Aberdeen Asset Management.