Print this article
Business Travel – An Expanding Frontier For Airbus
Tom Burroughes
18 August 2022
For many people in the summer holiday season, with its litany of mass flight cancellations and lost luggage, the prospect of air travel is grim – at least until disruptions end.

But despite all this disruption, business travellers are keen to make up for lost time after more than two years of Zoom or Teams "meetings." They want to take to the skies again. And that includes long-haul flights.

Some executive jets are comfortable but don't necessarily have the range to cover routes, such as from London to Singapore, without at least one refuelling stop. But the shape of business flying is changing – there is a new breed of large jet designed for entrepreneurs and executives that blends range, comfort and convenience. This is a space that France-based Airbus targets via its Airbus Corporate Jets (ACJ) division. And it hopes it will gain a significant edge over rivals, such as Seattle-based Boeing.



The view from the cockpit
Your correspondent recently enjoyed a flight on an ACJ319neo corporate jet from Toulouse – where Airbus has its headquarters and its ACJ TwoTwenty Creative Studio – and had a sense of how luxurious these jets are. (Regular flying, alas, will never feel quite the same again.)

The European aircraft manufacturer has a mix of ACJ319neo and ACJ320neo corporate aircraft which, it says, boast three times more space than traditional large business jets with similar range and operating costs. The ACJ TwoTwenty was launched in October 2020 – a tough year in which to roll out a new aircraft. Airbus hopes that the only way is up from there.

The Toulouse campus of Airbus showcases how these aristocrats of the air are designed. It also demonstrates how owners can pick and choose liveries, internal designs – such as the configuration of seats, tables, beds and room areas – and harnesses virtual reality technology to show customers what they can get for their money.

Business has been brisk. In July, for example, an ACJ319neo was delivered by ACJ to a new private customer in Western Europe (the identity has not been disclosed). In this case, the aircraft will be managed by Jet Aviation and is available for charter. More than 210 Airbus corporate jets are in service worldwide, with about 28 per cent in private hands, 22 per cent are available for corporate charter and the rest used by governments, ACJ told this news service in a media briefing. The latest ACJ business jet can fly for 12 hours non-stop and, thanks to an increased humidification system in the cockpit, without exhausting crew and passengers. (Dryness and the pressurisation of most aircraft cockpits is a big contributor to the tiredness felt at the end of a long flight, as many of our readers will know only too well.)

Flying higher
Numbers so far have been encouraging and reflect a wider rebound in aviation since lockdowns in most of the world ended. (Not even the wealthiest travellers are freed from bureaucracy.) According to the latest figures from WingX, which collates industry trends, the number of global business aircraft departures in April was 15.7 per cent higher than in the same month in 2019 – before the pandemic hit.

"The global business aviation sector is enjoying a strong recovery from the worst of the Covid-19 crisis, and this is evident in the two biggest markets – the US and Europe. Departures are up and the use of business aircraft is increasing. Growth is also being driven by innovation and a growing focus on sustainability," Chadi Saade, VP Commercial, ACJ, said.

January, February and March 2022 saw increases of 11 per cent, 15 per cent and 17.9 per cent respectively compared with the same months months three years ago. In June, the number of global business aircraft departures was 17.2 per cent higher than in June 2019.

Figures also shed light on where planes are taking off and landing, among other trends. For example, business jet departures from Palm Beach, Florida, skyrocketed by 61.8 per cent in April 2022 from the same month in 2019 and for large business jets, the rise was even more marked, at 70.8 per cent. There were other sharp gains in Naples, Florida, Phoenix, Arizona, and Miami, Florida. The top-10 total departure hubs in the US clocked up a 32 per cent gain for all business jets, and 31 per cent for the larger jets. In Europe, the comparable increase in business jet departures from the 10 largest hubs for these aircraft was 19.4 per cent; for large business jets, the gain was far lower, at 5.6 per cent.

ACJ's Saade is understandably confident his business will thrive in this environment.

"We are well positioned to capitalise on the growth in the ultra-long range business jet market, especially with our new addition – the ACJ TwoTwenty. This has created a new market segment – the Xtra Large Bizjet – which includes a unique flexible cabin catalogue, addressing the requirements of the heavy and long-range business jet categories," he said.
---
Competition, opportunities and red tape
Airbus isn't going to have the skies to itself, of course. Boeing, Bombardier, Gulfstream and Dassault are some of the main players in the field. Boeing, for example, has its Boeing Business Jets division, offering a range of planes for business and private, charter, corporate and head-of-state operations. These products include the BBJ MAX family and versions of Boeing's 787 Dreamliner, 777X, and 747-8. (BBJ was launched in 1996.)

This is a lucrative industry. According to Fortune Business Insights, the global business jet market is projected to grow from $29.03 billion in 2022 to $38.34 billion in 2029, at a compound annual growth rate of 4.06 per cent in the forecast period of 2022 to 2029. Last October, Honeywell International predicted that business jet use would rise by 12 per cent, and estimated that there would be 7,400 deliveries, worth $238 billion from 2021 to 2031.

The rise of the sector has its barriers, however. The Fortune Business Insights report referenced above says that there are delays in aircraft being certified, and differences in the way in which national regulations of the sector are interpreted across countries. Aviation authorities can impose a long certification process. To some extent, countries can fix the problem by co-operating with other countries' regulators, and this also explains why certain jurisdictions, such as Malta, Guernsey, Switzerland and the Isle of Man make a point of being regulation-friendly hubs. (Last December, this publication spoke to Colibri Aircraft, a private jet broker, about trends in registrations within specific jurisdictions.)

Tax and regulations, as well as the HR challenge of recruiting and keeping pilots, technical crew and support staff, are ever-present headwinds. In the US, for example, the tax treatment of owning or leasing private jets for business use can be a political hot issue. Under the Trump administration, rules were amended in 2017 to allow 100 per cent expensing on commercial and non-commercial aircraft used in a trade or business, enabling taxpayers to immediately write off the cost of planes acquired put into service after 27 September 2017, and before the start of January 2023. That appeared to be a welcome boost for the aircraft industry, although it provoked frowns from those who said the former president had given a tax break to the rich. The changes run to 2023.

Wider and nicer
At Airbus, there's no doubt how much attention to detail is being expended on the new business jets. Airbus says its new planes are wider than comparable aircraft in the business jet space, such as Boeing BBJ, Gulfstream G650, and Bombardier Global 7500. Among other facts and figures are that Airbus's "neo" planes have an average "cabin altitude" of below 6,000 ft, and they can cruise at 41,000 feet to avoid major turbulence and traffic.

The Airbus A320 airframe is also a familiar figure in the skies – more than 9,000 of them are in service around the world.




An example of the lounge design

As I discovered during an all-too-brief flight from Toulouse to Geneva, the aircraft that Airbus have worked on are extremely pleasant to sit in. Time will, of course, tell who wins in the race to be the leading business jet brand around the world. Whatever the economic black clouds may be, the appetite for those with the means to do so to fly long-haul, and in style, appears unabated.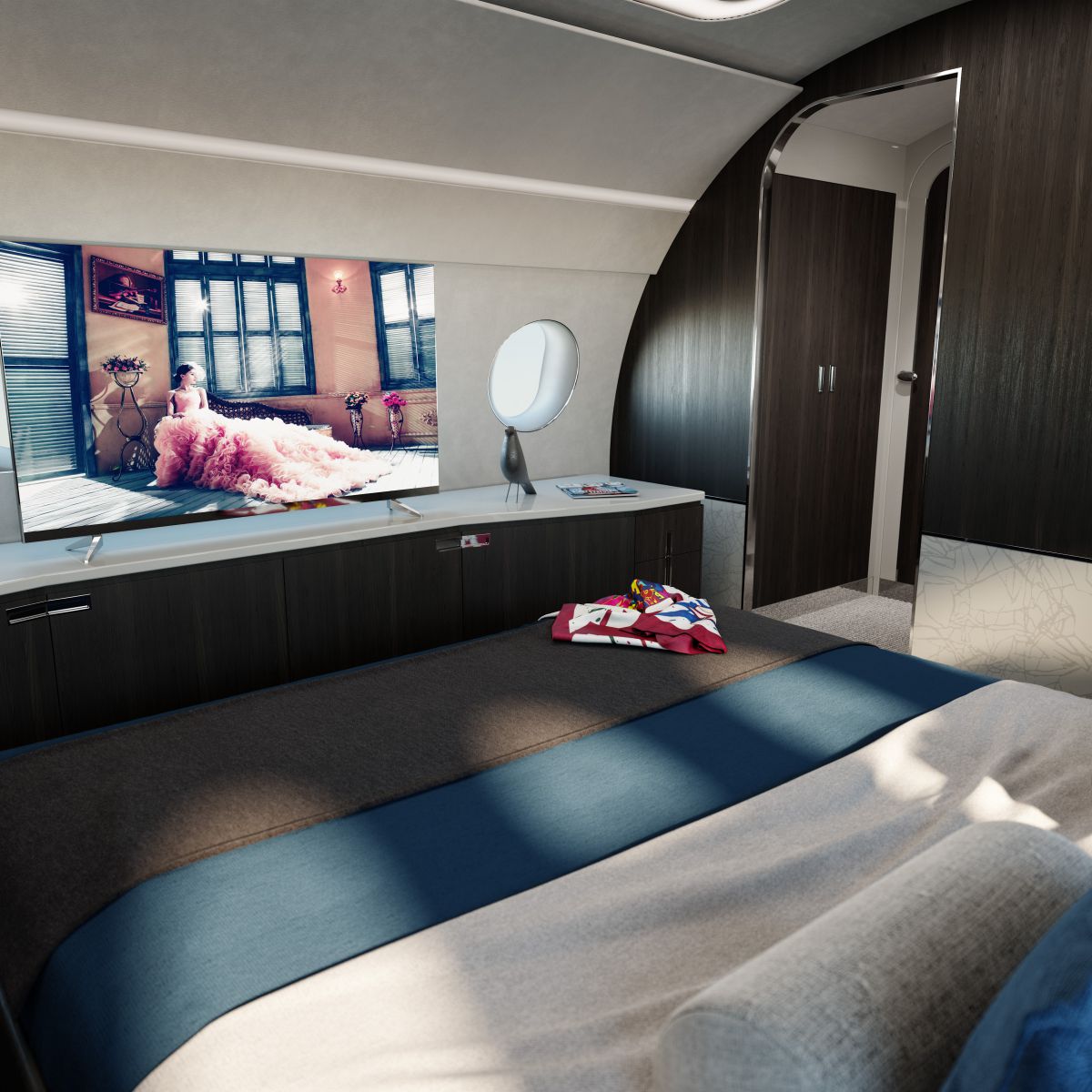 A bedroom design
(For more articles about aviation and wealth management, click here and here.)