Print this article
Big Divide Between Advisors', Clients' Return Expectations - Study
Tom Burroughes
29 July 2021
One of the main roles of wealth managers is helping clients to hold realistic expectations of how their investments will fare. And, if a study from is anything to go by, advisors have work to do. The gap between what clients and advisors think will happen is wide.

Natixis Investment Managers' 2021 Global Individual Investor Survey, conducted in February and March among 8,550 individual investors in 24 countries, highlighted how opinions varied on questions such as the impact of COVID-19 and the aftermath of the pandemic.

When asked what their long-term return expectations (above inflation) were, on average, clients gave a figure of 14.5 per cent, while advisors gave just 5.3 per cent. That means that the expectations gap, as measured between the two, was 174 per cent. The gap was narrowest (118 per cent) in Germany, and widest in Mexico, at 252 per cent. In Singapore, the gap was 158 per cent, and in Hong Kong, 162 per cent. In Switzerland, it was 163 per cent, while in the US and UK it was 161 per cent and 207 per cent, respectively.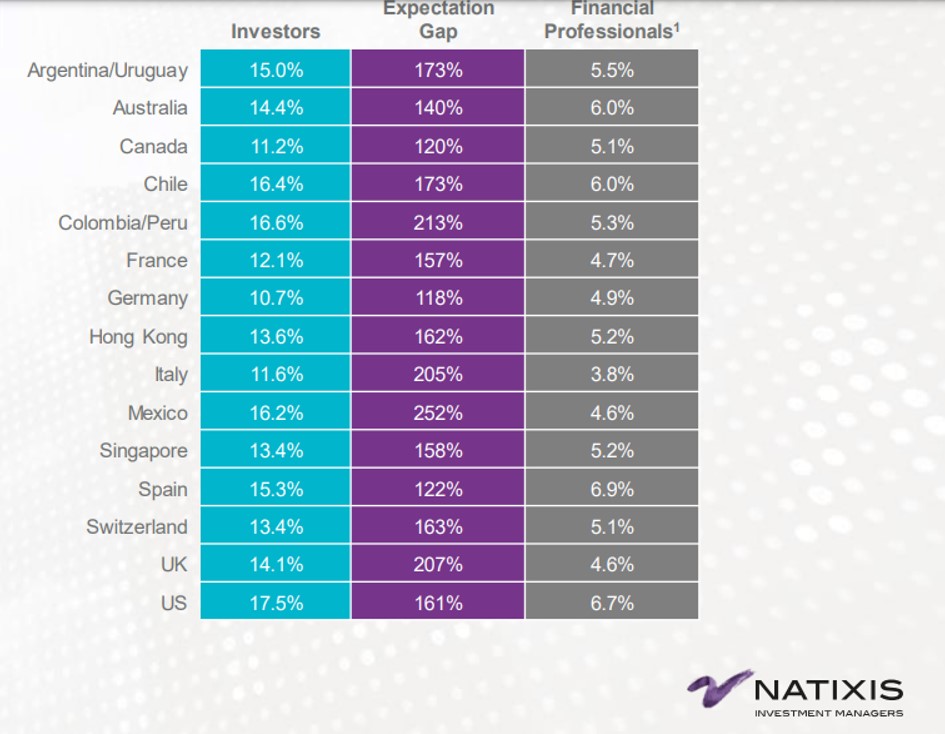 "After 15 months of lockdowns, shutdowns, spikes, and surges, investors across the globe have great expectations of what post-COVID markets will bring. But even as they anticipate outsized investment returns of 13 per cent above inflation in 2021 (and greater results over the long term), many may not be prepared to withstand the risk exposure they will have to assume in order to live up to expectations," the report said.

Return expectations aren't just at odds between those of advisors and clients, but clients' expectations continue to rise. In 2021, investors said, on average, they expected to obtain 13 per cent (over inflation). In 2020, it was 12.5 per cent, and in 2019, 10.7 per cent. In 2014, it was 8.9 per cent.

Volatility (40 per cent) and a slow economic recovery (39 per cent) are top of mind risk concerns for investors. Inflation (31 per cent) and low interest rates (27 per cent) also factor into their outlook. One-quarter (23 per cent) say they see potential tax increases as a looming risk as well – maybe reflecting the belief that governments will try and raise more revenues to pay for COVID's impact.

Looking into what lessons people might have learnt from the pandemic, the highest response on the personal finance side (43 per cent), said "keeping my spending in check." On the investment side, 29 per cent said "avoiding emotional investment decisions."