(This is part of a continuing series of ESG-themed wealth management articles this news service and its sister publications are running during May.)
Appetite for environmental, social and governance (ESG) strategies is moving at a clip as investors of all stripes see a route to alpha returns and a way to align investment with their values, and add a level of risk-return insurance to portfolios.
That is the thrust of a comprehensive new survey by taken between March and November 2018 which reached an aggregated total of around 12,000 investors across key roles and markets globally.
The study, released on Thursday, found that 77 per cent of professional fund buyers, 62 per cent of financial professionals and 57 per cent of institutional investors believe that there is alpha to be found in ESG, and that it is a good additional risk management tool. Six in 10 institutions said that they incorporate ESG into their decision making and analysis, and 60 per cent of investors are seeking to align investments with their values.
Despite the embrace, equal numbers were perplexed about how ESG is measured, with two-thirds calling out ESG metrics and reporting as its biggest barrier, even though most see it becoming standard practice in the next five years. Two-thirds said they would be more willing to recommend ESG products if better data and reporting was available.

The devil is in the detail
While momentum is growing, how environmental, social, and governance scores are integrated into ESG portfolios, how this affects fees, returns, and provides actual material value is, for now, a chapter that hasn't been written.
This broad survey also raises the debate about how the individual weight fund managers put on E, S, and G scores. In a room of Morgan Stanley fixed-income managers, it is unequivocally G. The investment bank said in recent briefings that ESG now has a name for what big investment houses have been doing for a decade as part of standard due diligence. Although nearly half of fund managers in the Natixis survey said that ESG analysis was as important as their traditional analysis, making the point that there are two types of analysis.
ESG data sources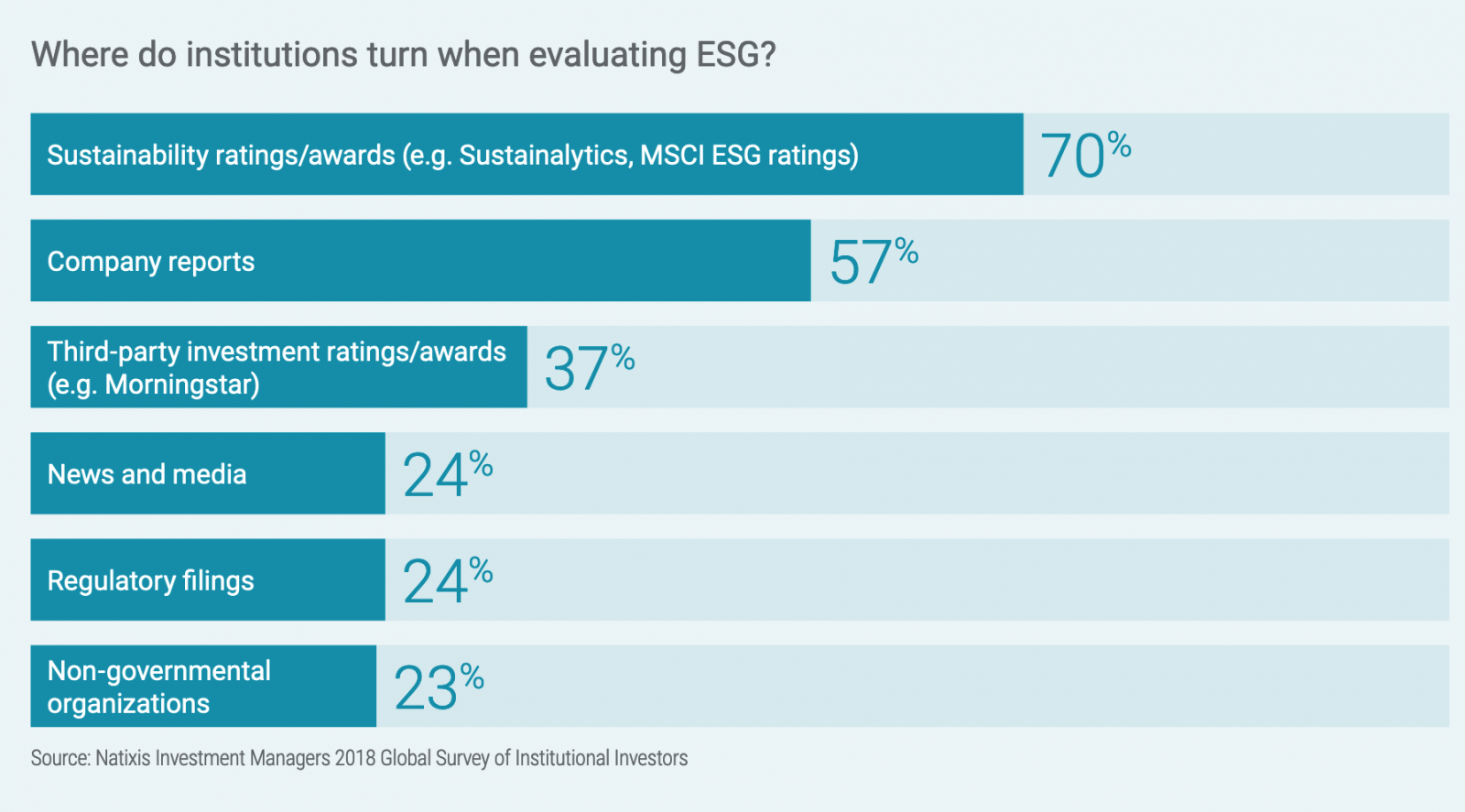 More than three-quarters of global institutional investors in the Natixis poll said that E (environmental) was the most important factor to integrate into their investment strategy, with just over two-thirds choosing governance, and just under two-thirds choosing social as the most important. Environmental also scored highest among professional fund buyers, with four-fifths choosing it as their top consideration.
How recipients weight related environmental factors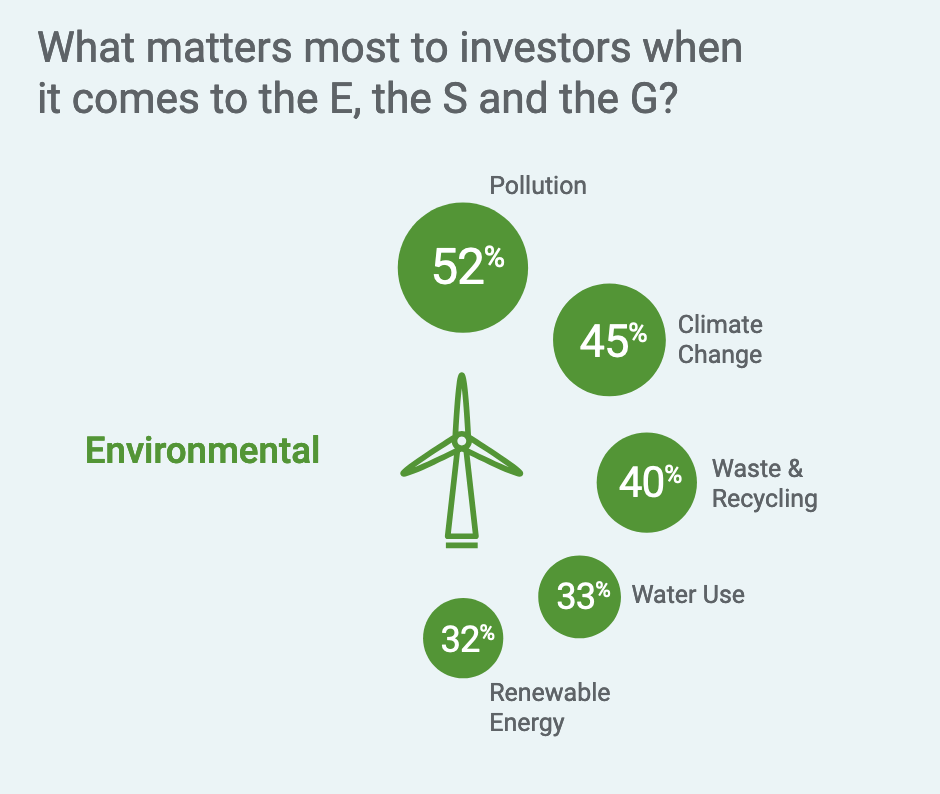 Environmental accounting has played a big part in ESG adoption so far, driven by divesting in fossil fuels and an all-levers approach to getting economies on a low carbon footing.
As a way of delivering that and other objectives becoming important to investors, "demand for ESG-related strategies is outpacing supply," Natixis CEO Jean Raby, said.
"As it continues to expand into a broader set of investment processes, investors will increasingly require greater clarity and definition on ESG strategies, how they are implemented, and what the benefits of ESG factors are on investment performance and on society more broadly," Raby said.
Good first steps include better taxonomy and labelling standards across the industry, and more transparency on climate and ESG reporting, he said.
The report recommended the taxonomy being proposed by the EU Technical Expert Group on Sustainable Finance coming in June. It also told managers to stop creating barriers preventing investors from aligning with their values, and make ESG part of all investment performance discussions.
"One of the key questions for investors is whether the investments they choose to support their values are actually delivering on that objective," the report said.
Asset managers promoting ESG investments have a "responsibility to report not only on their investment performance but on how well their funds have delivered on ESG goals.
"Can they demonstrate that their integration strategy has enhanced risk-adjusted returns? Or can they demonstrate that their screening process has either helped them avoid bad risks or helped them capitalize on top performers? Investors clearly outline their interest in ESG strategies; the industry should do its utmost to prove they can deliver."