Investment Strategies
GUEST ARTICLE: Maitland Explores The "Lost Asset Class" Of Convertible Bonds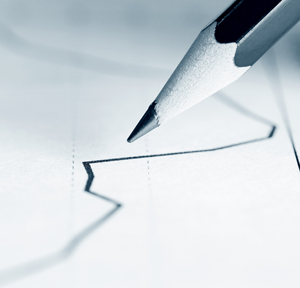 Maitland, the asset management firm, considers the investment case for an asset class that is in danger of being overlooked: convertible bonds.
The following article is by Greg Harris, senior investment manager at [tag]Maitland, the South Africa-headquartered asset management firm.
Few money managers would be willing to describe today's global equity markets as cheap or offering great long-term value (they certainly offer less than 18 months ago). Similarly, the voices supporting bonds as a long-term investment thesis have grown steadily quieter, especially as the US Fed stands in the corner ready to unleash further tapering.
Risk-taking investors are faced with a very basic conundrum – own equities because there is nothing else you would rather own (and the usual alternative to owning equities - i.e. bonds - is about as attractive as you with a kebab in your hand at 3am) or become more risk averse and hold cash.
The first possible solution to this conundrum is to entrust your money to people who are still able to find the diamonds in the rough, but remain exposed to the same asset classes. Short-term performance for such managers can often diverge significantly from market benchmarks and remaining invested requires patience and a strong belief that you were skilled or lucky enough to select the right manager.
A second possible solution is to find an alternative asset class that offers a more attractive risk and return profile due to its design rather than its current valuation. Enter convertible bonds.
Convertible bonds are a relatively elusive yet fundamentally attractive asset class. Very low issuance relative to traditional bonds has in the majority kept them the preserve of professional money managers.
A convertible bond is most easily thought of as a traditional bond issued by company X, together with a call option on the stock of company X. The owner of the convertible bond in effect owns both a bond and a call option on the underlying equity, resulting in a payoff profile as shown in Chart 1.
Chart 1 – Convertible bond valuation as a function of equity price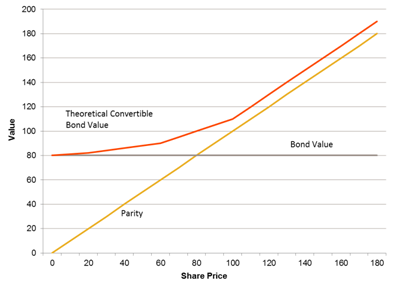 Globally convertible bonds shot to prominence during the 2008/09 financial crisis for all the wrong reasons. Up until then they had been significantly invested into by convertible bond arbitrage hedge funds and proprietary trading desks, which estimates suggest accounted for 80 per cent of the market. The funds had levered positions and during the turmoil needed to reduce risk quickly.
The result was many sellers and few buyers, creating a liquidity crush and pushing prices down, a very bad story for levered investors. Even so, convertible bonds lost less than equities did during 2008 and recovered strongly in 2009 as markets recovered and liquidity normalised. The long-term risk-adjusted return numbers are attractive relative to equities.