Building A HNW Network: Social Media Strategies For Financial Services Firms
Scott Tangney, Makovsky + Company, EVP, New York City, 18 September 2011
Think you know who's using social media? Think again. Kids and young adults continue to be the most enthusiastic social networkers, but social networking among adults aged 50-64 skyrocketed 88 per cent last year.
Think you know who's using social media?
Think again.
Kids and young adults continue to be the most enthusiastic social networkers; but in terms of growth, they are rapidly being overtaken by older Americans. Social networking among adults aged 50-64, for example, skyrocketed 88 per cent last year, according to a report from Pew Internet, while among 18- to 29-year-olds, it inched up a paltry 13 per cent.
And social media content? It's no longer all about gossip, gadgets and gaming.
Four out of five of the largest Fortune 500 firms use Twitter, Facebook, YouTube or corporate blogs to communicate with their customers and other stakeholders. (Source.) More than two-thirds of companies polled in a McKinsey Global Survey in 2009 reported that they have realized measurable business benefits from social technologies — including more effective marketing, more innovative products and services, better access to knowledge, lower costs of doing business and higher revenues.
Drilling down
Here's another surprise.
According to an SEI survey late last year, (click here), high net worth individuals — people with more than $5 million in investable assets — are actually more likely than the average American to be involved with social media (70 per cent compared to 60 per cent for all US adults). Thirty-eight per cent have visited at least one social media site within in the past 24 hours.
This inevitably gives rise to a host of questions. What are HNW individuals looking for? Where do they go to get it? And how do they ever find the time?
Typically, affluent people are looking for information — available on a 24/7/365 basis — and they want the process to be quick and easy. In fact, 40 per cent of HNW internet users say they prefer social media to the telephone, according to Spectrem Group.
Fifty per cent of affluent people visit Facebook; 37 per cent use YouTube; and slightly more than a third (35 per cent) check in on LinkedIn, Spectrem says.
They want to know all about you. They want to compare notes on your strategies, your results and your fees. They're looking for new ideas, better information and faster answers.
Spectrem says more than a third (36 per cent) of HNW investors report that they'd rather get information from their advisors via social media, and that satisfaction with an advisor's online tools directly correlates with the amount of assets affluent individuals are willing to invest with that advisor. So put your answers where HNW investors are looking for them: as comments and commentary on blogs, Twitter, Facebook, YouTube and LinkedIn.
It's what your competition is already doing.
Keeping up with the competition
A significant majority (68 per cent) of financial services firms now use social media, most often for new business prospecting, but also for communicating with existing clients (see graphs one and two), according to SEI.
Graph 1:
Graph 2: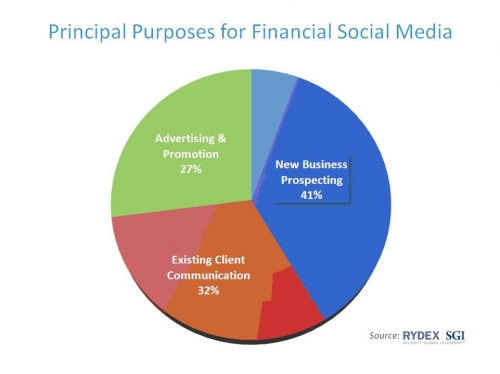 Financial services firms are discovering the advantages that accrue to those who participate in the great global conversion fostered by social media. Nearly half (47 per cent) of respondents in a recent Socialware survey of financial advisors credited social media for at least one lead (click here). Thirty-six per cent said they actually closed deals and acquired new clients as a result of social prospecting.
An integrated digital marketing model includes social media outreach, a personalized website, a digital direct response, search engine utilization, and online/offline advertising.
Considering compliance
So why isn't social media outreach an integral element in every financial services company's marketing mix today?
Nearly half (47 per cent) of advisors who use social media confess that regulatory and compliance issues are their single biggest worry (see graph three), according to a 2010 survey from American Century Investments.
Graph 3:
Nearly a third (32 per cent) work for firms that don't have a social networking policy – a direct violation of FINRA's recent guidance on social network usage, according to the Socialware survey. Meanwhile, 11 per cent are unsure of their firm's policy.
And shockingly, two-thirds of firms are non-compliant with FINRA/SEC archiving guidelines (see graph four). Only 12 per cent archive their data with an automated system, according to the findings of the Socialware survey. Slightly more than one in five (22 per cent) manually archive data through screenshots or copy-and-paste – which is not only time-consuming, but prone to error.
Graph 4: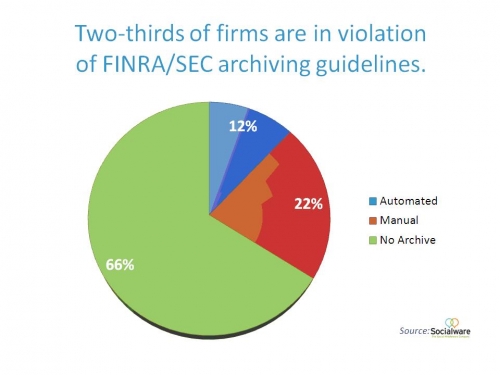 In truth, FINRA and the SEC are concerned with regulating social media social media, not banning it. They recognize that all social media content is not equal. Compliance requires an understanding of the nature of the particular content:
· Static content is the rough equivalent of advertising. Content that remains posted until changed by the firm or individual that originally created it (such as blogs and profiles) must be pre-reviewed.
· Interactive content is roughly equivalent to a public appearance. Content that's used for real-time communication (such a Tweets and blog comments) must be captured, retained and archived and should be post-reviewed.
A simple mantra can help keep your compliance in line with regulators' expectations: Pre-Review, Archive, Monitor.
Pre-Review: Analyze and moderate static content before it's posted.
Archive: Retain interactive content in an easily downloadable form.
Monitor: Scan posts in real-time to detect exceptions.
It's hard to get anybody to agree about almost anything these days, but one recent survey by Socialware, entitled The Asset Manager's Guide to Social Media, found the one thing about which 100 per cent of financial firms agree: social media are here to stay. The opportunities that social media present – to improve customer satisfaction and strengthen brand identity – are simply too compelling to be ignored.