People Moves
UBS Mayfair Departure Heralds A Brave New Private Bank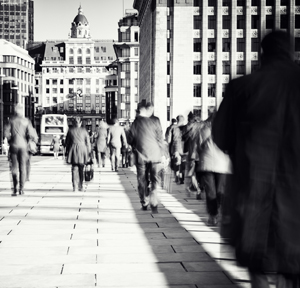 The move by UBS to a new office in the City area of London and away from Curzon Street bucks a recent trend.
Last week was the end of an era for UBS's UK-based wealth managers. After 12 years in their cosy Curzon Street offices in the heart of W1, last Monday the 300-odd private bankers were turfed out, blinking, into the harsh glare of the City.
Switzerland's largest bank relocated its entire UK wealth management business to 3 Finsbury Square EC2, near Liverpool Street station, over the weekend of the 16 and 17 of July, where they now share an office with their investment banking colleagues.
The office was previously home to UBS's back office staff, who have been moved to another building north of the City.
One week in, and the general consensus is "pleasantly surprised."
"It was a very smooth transition over the weekend," an executive director in the bank's wealth management operations told WealthBriefing. "People have been pleasantly surprised by the working environment. There is lots more space and plenty of light. People have taken to it well. The meeting rooms are terrific and it is all state-of-the-art."
He added that some clients, intrigued, had even ventured over from the West End for meetings. "We have to get cabs over to Mayfair to meet some clients but many are happy to come to us. Our entrepreneurial clients are frequently based around here. It is still the financial hub of the City. It is not like it is Canary Wharf, or anything."
And come 2016, the bank will further cement its foothold on Finsbury Square with its controversial Broadgate development. Last month the bank was given the green light to redevelop the 1980s office campus after it was fiercely opposed by English Heritage. The new building will provide office space of 700,000 square feet and will include four trading floors capable of accommodating 750 traders per floor, according to a statement by British Land.
And even if they prefer the West, UBS's staff and shareholders must be at least cheered by the cheaper rent. At a time of rigorous cost-cutting by chief executive Oswald Grübel, after the bank sustained heavy losses and client outflows through debt exposure and the US tax evasion crackdown, a Mayfair office was deemed unnecessary.
Mayfair rent is estimated at almost triple that in the City, with monthly rent on offices in 1 Curzon Street of £110 (about $180) per square foot per month compared with about £39 per square foot at 1 Broadgate, near UBS's City offices, according to estate agent Savills.
But the move is not just about cost-saving. UBS's "One Bank" strategy, whereby its private banking and investment banking businesses share clients and utilise resources in other parts of the bank, is becoming increasingly important. The investment bank reported a difficult second quarter in its results this week, as the division's pre-tax profits fell 71 per cent in the second quarter year-on-year to SFr376 million (about $479 million); UBS wants to use its wealth management business to plug the shortfall. In an interview yesterday with the Financial Times, Grübel said he plans to downsize the investment bank and cut thousands of jobs across the group.
He added: "The question that we really had to ask ourselves is how much trading do we need in our investment bank to satisfy the demands of our wealth management business, and how much do we need to build on top of that to be relevant as an investment bank."
Having the two businesses in the same building will help drive integration through cross referrals, said a source close to the bank.
The Swiss bank's exit from Mayfair bucks the trend. UBS's peers have been recently moving from the City of London and Canary Wharf to the West End, where they are more accessible to clients in wealthy neighbourhoods like Kensington, Knightsbridge and Mayfair.
Earlier this year JP Morgan Private Bank quit its London Wall offices for a new headquarters at One Knightsbridge, in the West End. Meanwhile, Barclays Wealth relocated some of its private bankers from its Canary Wharf building back to its old wealth management office in Mayfair's Brook Street.
Boutique wealth manager Signia Wealth last September left its offices near Bank, and moved to Mayfair's 1 Connaught Place. In July, UK private bank Kleinwort Benson moved from its home in the heart of the City, Gresham Street, to 14 St George Street in W1.
From a practical perspective, a Mayfair location makes sense if your clients are unwilling to travel. Natalie Dauriac-Stoebe, chief executive of Signia, pointed out at the time of Signia's move that its client base live, work and socialise in Mayfair so why should they be expected to manage their money elsewhere?
It is a gamble Grübel is willing to take.