People Moves
CCLA Appoints Dame Sara Thornton To Drive Change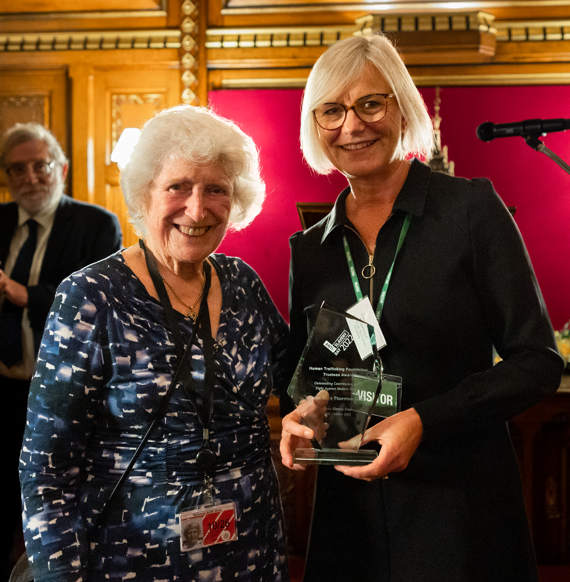 Sustainability team builds expertise in modern slavery and labour standards.  
CCLA Investment Management, a UK charity investment manager, made two new hires this week to bolster its sustainability team and extend its activities to drive change.
In her new role as consultant – modern slavery, Dame Sara Thornton brings her experience and expertise to CCLA's Find it, Fix it, Prevent it initiative to tackle modern slavery in investee companies' supply chains, the firm said in a statement.
Following on from a career with the police, Dame Sara Thornton served a three-year term until April this year as the UK independent anti-slavery commissioner, the firm continued. She is also a professor of practice in modern slavery policy at Nottingham University Rights Lab, where she focuses on research in the area of prevention, business responses, supply chains, and the role of the financial sector in tackling modern slavery.
Dame Sara Thornton, said: "As anti-slavery commissioner, I observed the launch of CCLA's Find it, Fix it, Prevent it initiative, and was both impressed with CCLA's ambition and indeed with what the coalition of investors has been able to achieve thus far. As we all know there is a long way to go, but the Find it, Fix it, Prevent it programme continues to gather momentum including spurring a spin-off initiative, Investors Against Slavery and Trafficking Asia Pacific Asia Pacific."
"Finance is the lever that can move the entire global economy and investors in particular have a key role to play in eradicating forced labour across the globe," she continued.

"If we look at other regions such as the United States and the European Union, they are moving fast on implementing various bans on goods made with forced labour. Investors are by their nature future-facing and must play an important role in urging companies to tackle the scourge of modern slavery," she said.

Also joining CCLA is Dr Martin Buttle who is tasked with leading CCLA's 'Better Work' stream focused on ensuring fair and sustainable working conditions for companies' labour forces in order to align them with the UN Guiding Principles on Business and Human Rights.
Joining from responsible investment charity, ShareAction, where he was head of good work, he has a specialist background and extensive expertise in business, human rights and labour standards, the firm said.

Peter Hugh Smith, CCLA chief executive, added: "We really want to see other investors join us as signatories on Find it, Fix it, Prevent it to fight modern slavery and to get behind our other Better Work initiatives. At CCLA, we believe that healthy markets are underpinned by healthy communities and we call on the investment industry to collaborate to drive real-world change for everyone's benefit."

CCLA currently manages investments for charities, religious organisations and the public sector. Founded in 1958, it aims to deliver long-term returns and is independently owned by its clients with £13.1 billion ($15.21 billion) of assets under management as at 30 September 2022.