WM Market Reports
Lombard Odier Shows What Asia's HNW Individuals Fret About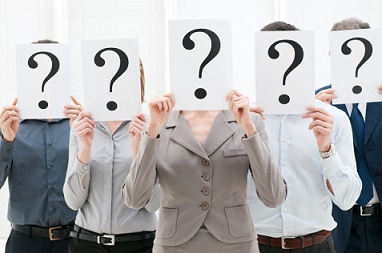 A 45-page report by the bank, following last year's study conducted in the teeth of the pandemic crisis, shows that investors are more concerned about inflation, even keener on sustainability, and mostly in the mood to review plans.
A significant chunk (44 per cent) of high net worth individuals polled by Lombard Odier think that equities are overheated and due for a correction, while 31 per cent expect them to continue rising. Investors also fret about inflation, with concerns sharpening this year from 2020.
Such market and economic uncertainties make it all the more important for clients to seek advice, the Swiss private bank said in report on attitudes in the Asia-Pacific region. It drew responses from 620 individuals domiciled in Singapore, Hong Kong, Japan, Thailand, the Philippines, Indonesia, Taiwan and Australia.
The bank's 45-page study – entitled The Certainty Deficit: Navigating Unchartered Waters. A Study of Asia-Pacific's HNW Individuals – followed a similar exercise last year at the height of the pandemic. It found that Australia, Hong Kong and Singapore think the world has become "more local, less global" while other markets in the study continue to think a global economy is a reality. As a result, the ability of local investors to diversify by holding assets around the world is all the more important, Lombard Odier said.
Data shows a difference between those who have used the pandemic period to reflect about their future and restructure family governance and wealth planning needs, and those who haven't done so, Vincent Magnenat, chief executive and limited partner at Lombard Odier, told this news service in a call.
Magnenat and his colleague Jean-François Aboulker, head of the UHNW offering for Asia, said survey respondents were more concerned about inflation than they were in the previous study. However, when looking at different countries – such as Indonesia – some were far more likely to want to hedge inflation risk than in others.
Aboulker noted how in 2020, a large majority of people said they expected interest rates to remain low; the majority in favour of that view is now smaller than it was, reflecting bigger concerns about inflation.
"For investors, all this is hard to navigate and our role as a bank is to help them transition through this. Today, diversification is key. Investors are still looking for opportunities and they have to position in the right way. And that means you have to have a local lead in your domestic market and access to a global offering. There is domestic bias that will influence investors about the market," he said.
This chart illustrates the risks that the investors worry about: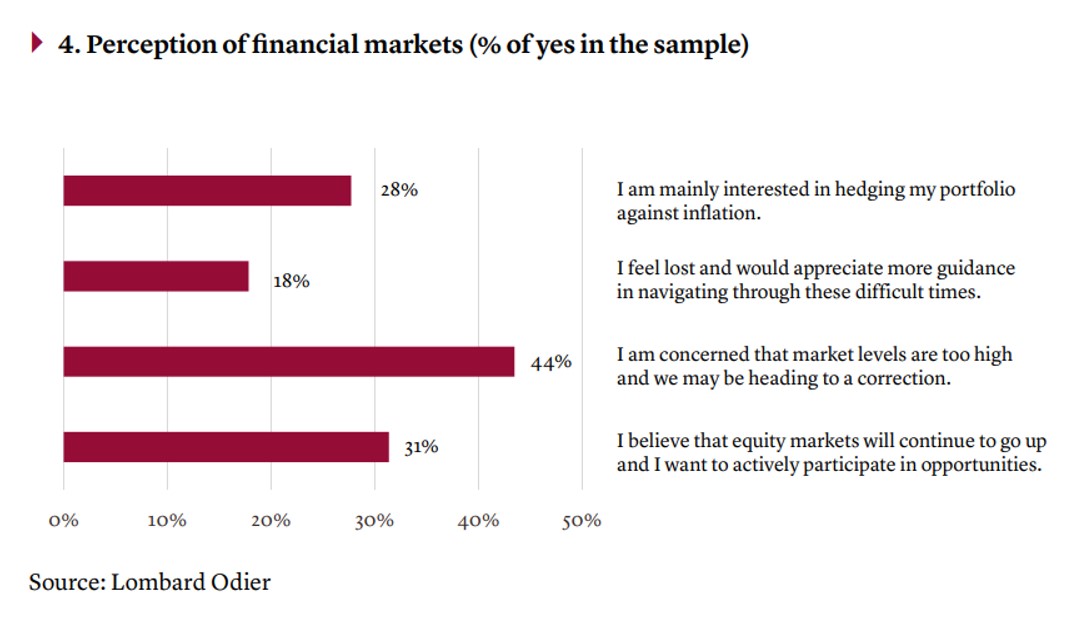 Sustainability
As with so many wealth managers today, the Lombard Odier report talked about what clients want in terms of sustainable investing.
Magnenat said that contrary to what he thought might be the case, pressure for more focus on sustainability didn't decline when the pandemic struck last year. On the contrary, it accelerated it.
The bank has integrated sustainability into its investment process. Demand for this focus on sustainability also comes from younger HNW and UHNW clients, he said. Magnenat also noted some gender differences, with women seeming to be more interested in such ideas than men.
As far as sustainability overall is concerned, Magnenat said in opposition to old notions of there being a trade-off between investment returns and sustainability, that this is "the biggest investment opportunity in modern times," as it is driven by a host of forces: political action, changing and improving technologies, investment demand, greater awareness and better data, and consumer desires.
Reviewing plans
The study showed that the majority (60 per cent) of respondents across the eight markets covered stated that they have rethought some family-related matters since the beginning of the crisis, but only half of those respondents implemented a solution. This meant that 70 per cent of HNW respondents haven't put plans in place or reviewed their arrangements.
"This gap is an important one and underlines how critical it is for banks to be proactive in further educating clients on family services and the importance of structuring their family governance and other family related matters in a meaningful way," the report said.
Data showed that Japan lagged other nations in how business heads and families showed a willingness to review plans amidst the pandemic.
"On one hand, some Japanese family businesses, with already several generations behind, did not necessarily feel the need to rethink their structure, as they already had a mature one in place. But overall, Japanese investors are lagging significantly behind," it said.
Magnenat and Aboulker, questioned Lombard Odier's own approach to the Japanese wealth market – the world's second largest by size – saying that there is big upside potential for work in helping Japanese families make changes.
"Lombard Odier has been in Japan for more than 27 years and are in contact with many of these leading families. The population is getting older but planning is being done and the transition of wealth in Japan will happen in the next decade. The need is there and we are meeting this need, working closely with Mizuho Securities, our strategic alliance," Magnenat said.
The study also showed that not many investors have relocated since the beginning of the crisis, but "many" are thinking about it – as many as 40 per cent of Singapore-based respondents, 34 per cent of Thailand's respondents and 32 per cent of the Philippines' respondents.