Surveys
Job Security Outweighs Pay Rises Amid Pandemic - Study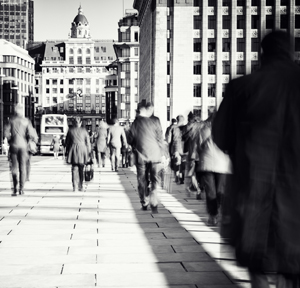 Using pay as the major way of influencing motivation and satisfaction is "misguided" say behavioural researchers, especially in light of the pandemic shifting workplace priorities.
As the pandemic began to hit home in March, average salaries fell for those moving between companies. At the same time, the first quarter saw a 43 per cent increase in job seekers compared with the one before, suggesting rising confidence among those looking for new employment. These are two trends noted by Stamford Associates in new research exploring workplace drivers in light of the health crisis.
The behavioural-led investment firm has used the early stages of the pandemic to revisit the role that compensation plays in the sector and other important motivators for retaining and rewarding managers. The investment group says that firms are naturally being "more frugal" with their salaries in the current environment but "the bottom line is that job security is now as much a motivator as getting 'top dollar'".
There are also reputations to protect. In these changed times, companies don't want to be seen 'over rewarding' managers while others across society are facing hardships. And the practical reality is that investments in many instances have taken a dramatic tumble.
Co-author Adrian Furnham, principal behavioural psychologist at Stamford, argues: "We know that remuneration packages attract people to organisations but do not necessarily keep them there." The firm suggests that finding the right rewards package is built around three basic behavioural scenarios:
Positive: Money motivates people, and extra money motivates people to work extra hard. Employees compete when rewarded to raise productivity or standards. It is not always possible to promote people, so money is a simple, effective, equitable way to reward people according to how hard they work and their productivity.
Neutral: If employees are highly paid, money may not be sufficient an incentive: beyond a level it has little or no motivational power. Also, monetary rewards may set employees against each other, leading to conflict in the workplace. It is also often difficult to accurately and fairly determine the standard or basis for the decision to award the employee money.
Negative: Money trivialises some work. The amount received may not bear relation to what the employee contributes. If the employer finds it motivating to award money, perhaps the salaries are too low. It can also paradoxically reduce intrinsic motivation.
There are many other ways to incentivise employees, the firm argues: "Work autonomy, job interest, and management style are more important in the eventual mix," Furnham and Stamford MD, Steven Braudo, said. "Arguably, all people - but most portfolio managers in particular - value autonomy: how, where, and when they work as well as freedom to make all major decisions." People in general value being appreciated for their strengths, and what comes easily, or not, but they persevere, the pair added.
The firm suggests ways in which hiring managers, consulting with senior managers, can strike the right balance between performance and pay:
"In their calculations they need to take into consideration not only their performance but issues like their seniority, their replacement value and the need to retain them; their social/morale contribution; the importance of the individual versus the team contribution and the pay of their colleagues. Inevitably this is where more subjective factors come into play however 'fair' the senior pay committee tries to be. Committee discretion is particularly important during difficult market environments, like we're seeing today, where effort and relative performance need to be considered."
The authors go on to say that just as important as remuneration, or even more important, is how people are managed and recognised. "The feeling that they are doing important work not only for their company and their clients but also how their efforts can benefit all stakeholders in society are powerful motivating factors. This is why, ultimately, money is not the most crucial motivator!"
The investment consultancy manages around £72 billion ($80.7 billion) in assets and takes a behavioural science-led approach to investment manager research and portfolio construction.