Surveys
Supply Chains And COVID-19: Who Gets Hit? - Refinitiv
Risk exposure is increasing but due diligence is not. This is the message from a survey by Refinitiv of 1800 risk managers globally. Tension between the two will only tighten as companies grapple with protecting themselves post COVID-19. Here are the main findings.
It is no understatement that COVID-19 has redrawn the risk-management landscape, and Refinitiv's fourth third-party risk survey released this week is a timely reminder of the pressures organisations are under in managing third-party relationships. Whether they are with suppliers, distributors or other partners, the global data analyst reckons that businesses are managing an average of 10,000 such relationships globally.
The report entitled The Real Risks: Hidden Threats Within Third-Party Relationships found that in spite of more regulation and enforcement, organisations are struggling to monitor third-party risks and take appropriate action. The survey found that an average 43 per cent of third parties do not receive any due diligence checks, a rise of 6 per cent on responses received in the firm's 2016 survey. The US rated highest for due diligence checks; Singapore the worst. (See the rest of the rankings in the chart below.)
Global just-in-time supply chains have created all kinds of advantages for business and savings to consumers, but just about every relationship now is being tested. This is true at the company disclosure level for ESG reporting, in direct investing in private markets, and vetting how emerging markets will fair through this crisis.
In reporting third-party breaches, roughly half the managers said they would report offences internally, but just 20 per cent externally. On top of that, only a third thought such actions would lead to any sort of prosecution.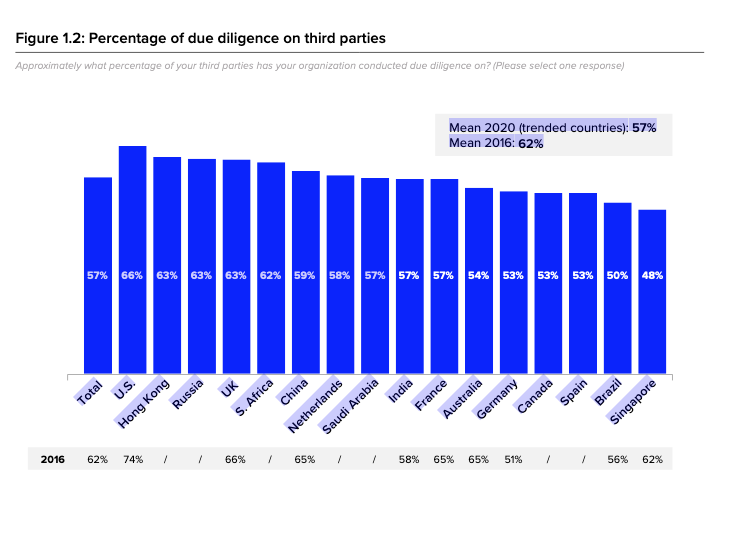 The views come from nearly 1,800 global corporate third-party relationship, risk and compliance managers surveyed in February across 16 countries, including: the UK, the US, Brazil, China, India, Australia, Germany, France, Singapore, Spain, Hong Kong, South Africa. Russia, Saudi Arabia, the Netherlands, and Canada.
"COVID-19 has exposed the fragility of supply chains and demonstrated how critical due diligence is to identify and manage multiple risk scenarios, whether it be country risk, jurisdiction risk, or the concentration risk of over-exposure to vendors or geographies," Phil Cotter, managing director of risk at Refinitiv said.
Cotter believes that businesses will have to build greater visibility and resilience into their supply chains in the future to account for risk and this involves increasing "all aspects of third-party due diligence," he said.
"If businesses do not have clear insight into all levels of their supply chains and the ability to conduct due diligence quickly and easily, they cannot hope to mitigate or manage their risk," the report said.
"Knowing your supply chain starts with knowing where they are located, what disruption risks are most likely to occur, how the government will react, and being ready to activate alternative suppliers at a moment's notice," Refinitiv's Nicholas Belani added. It must be said, that Refinitiv has plenty of business interest in pointing this out.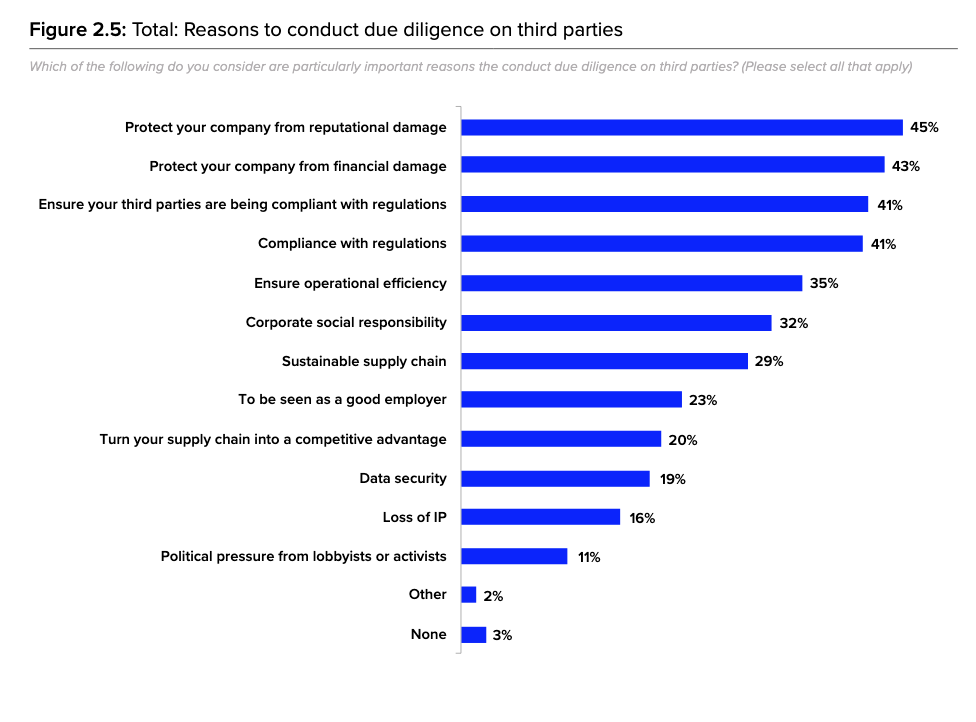 Nearly half (45 per cent) of managers responding in the UK said they either know or suspect third party partners of being involved in a range of illegal activities, and two-thirds did not consider CSR (corporate social responsibility) a reason to conduct due diligence. But managers globally agreed that third-party relationships have allowed their company to be more flexible and competitive. They also overwhelmingly agreed that reputation trumped everything, and that breaches, when exposed, could cost a company a quarter of its value.
As a measure of how difficult risk management has become, more than half of respondents admitted that they did not know the degree to which third-parties were outsourcing their work (to fourth parties) in managing overall risk.
Schroders and other fund houses have been at pains to point out how the pandemic is casting new light on everything from supply chains to country-by-country risks for investors. Keith Wade, chief economist and strategist for Schroders said: "Difficulties in travel and the need to make supply chains more resilient is likely to lead to greater diversity in suppliers. In some cases, there may well be a preference to move more production closer to home. To the extent that wage differentials between developed and emerging markets remain significant, this would mean more automation rather than a rise in demand for local labour," to mitigate costs. He sees AI and robotics, not advanced-economy labour forces, being the beneficiaries.
Dr Karin von Hippel, director-general of the Royal United Services Institute (RUSI) commented similarly on a call hosted by the British Swiss Chamber of Commerce last week. The great and the good of geopolitics had one topic on their minds for the former State Department senior advisor: future China relations.
"We are hearing a lot already about countries, particularly wealthy ones, going to try to decouple as much as possible," von Hippel said. "Countries will want to bring critical industries back home, critical technologies, resources, including food supplies, medical supplies, pharmaceuticals. They will want to make sure they have manufacturing capacity closer to home in case of another crisis, and build redundancy into those supply networks," she said. She pointed to the fact that France's finance minister has already directed French companies to reevaluate their supply chains and become less dependent on China. With heavy state inteference and debt piling into government laps, how companies proceed on supply chain decisions may not be all theirs to make.