Reports
Profits, Assets Rise At Vontobel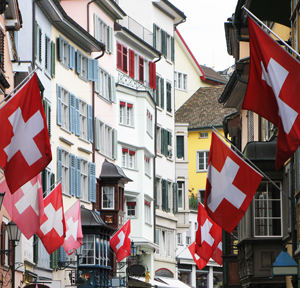 The firm said its net inflows beat medium-term targets, and the asset management side of the business provided a large chunk of the growth during the second half of this year. The organisation has been bedding in its acquired Notenstein La Roche Privatbank and US-based client portfolios of Lombard Odier.
Vontobel, the Swiss wealth management house, today reported a net profit of SFr265.1 million ($289.1 million) for 2019, a 14 per cent gain from the year before. When one-off items are excluded, the net profit figure came in slightly lower at SFr258.9 million, up by 4 per cent.
The Zurich-listed firm said that it had chalked up a return on equity of 14.2 per cent, which beat its medium-term target.
Total advised client assets rose by 17 per cent in 2019 to finish at SFr226.1 billion at the end of December, and net new money growth was 6.9 per cent, also beating Vontobel's targets, it said in a statement. In 2019, net new money came in at SFr117 billion.
The group proposed to boost its dividend to SFr2.25 per share, up by 7 per cent on the year.
Vontobel said that it had a Common Equity Tier 1 ratio – a common international yardstick of a financial group's capital strength – of 13.5 per cent at the end of 2019, up from 12.3 per cent.
The cost/income ratio, adjusted for one-off items, was 75.1 per cent. Vontobel has set itself a cost/income ratio target of below 72 per cent for 2020.
"Our good financial result confirms the positive growth and earnings trend that was already visible in mid-2019. Vontobel remained on course again last year. Our investments in new talents and technologies in recent years have paid off. As a pure-play investment manager, we want to swiftly and actively seize the opportunities for growth resulting from the increasing demand for professional solutions across all client groups and from changes in client behaviour," Zeno Staub, CEO of Vontobel, said.
Growth driver
Asset management was once again Vontobel's "engine of growth" in the second half of 2019, the group said. At SFr11 billion or 10.8 per cent, its growth in net new money for 2019 exceeded the 4 to 6 per cent target range. Vontobel improved its gross margin from 42 basis points in the previous year to 45 basis points.
The combined wealth management side of the business logged higher pre-tax profit, up by 21 per cent to SFr147.4 million. The cost/income ratio contracted from 71.3 per cent in the financial year 2018 to 69.5 per cent. Despite the "fiercely competitive environment", Vontobel said that the gross margin in this business arm held stable at 68 basis points.
The wealth business was boosted by the economies of scale helped by the acquisition of Notenstein La Roche Privatbank (2018) and the US-based private clients portfolio of Lombard Odier (also acquired in 2018), Vontobel said.
"As a result of good performance and newly acquired client assets, which offset outflows related to the changes to the Vontobel team in Basel, advised client assets in Combined Wealth Management reached a new record level of SFr76.5 billion in 2019, compared to SFr67.2 billion at the end of 2018. In the year under review, the overall net inflow of new money was again influenced by the integration of Notenstein La Roche Privatbank AG, which was completed in 2019 as announced." Continued low transaction volumes in markets also had an adverse impact on growth.