Surveys
Increasing Female Workforce Presence Will Boost OECD Economies, Study Says
The professional services firm looked at the club of developed industrial nations and concludes that raising female participation in the workplace will boost GDP by as much as $6 trillion.
Bringing more women into the workforce and improving retention rates will expand the economies of 33 OECD major industrialised nations by as much as $6 trillion, according to PricewaterhouseCoopers.
The report, coinciding with International Women's Day, analyses representation and welfare of women in the world of work across countries that are members of the Organisation of Economic Co-Operation and Development. (China, the world's second-largest economy, is not an OECD member.)
The OECD countries could gain $2 trillion by closing the "gender pay gap", PwC said in its latest Women in Work Index.
The five indicators that make up PwC's barometer are: the gender pay gap, female labour force participation, the gap between male and female labour force participation, female unemployment and female full-time employment.
Iceland and Sweden remain the top two performing OECD countries, while New Zealand joins the top three for the first time since the Index was first published in 2013. Norway slips to 5th place, having been overtaken by Slovenia. The UK is making gradual progress, performing above the OECD average in 13th place and ranking second out of the G7 countries behind Canada.
Ireland (17th) and the Netherlands (19th) have improved their rankings since last year owing to positive improvements across most of the indicators in the index, and in particular, reducing the female unemployment rate in the Netherlands.
The index shows that for the 2017 rankings (the latest year for which such data were available), the US – the world's largest economy – ranks in 13th spot, behind Switzerland at 12th. Japan ranks a relatively lowly 27th, with Spain and Italy at 28th and 29th, respectively. South Korea comes at the bottom, at 33rd spot.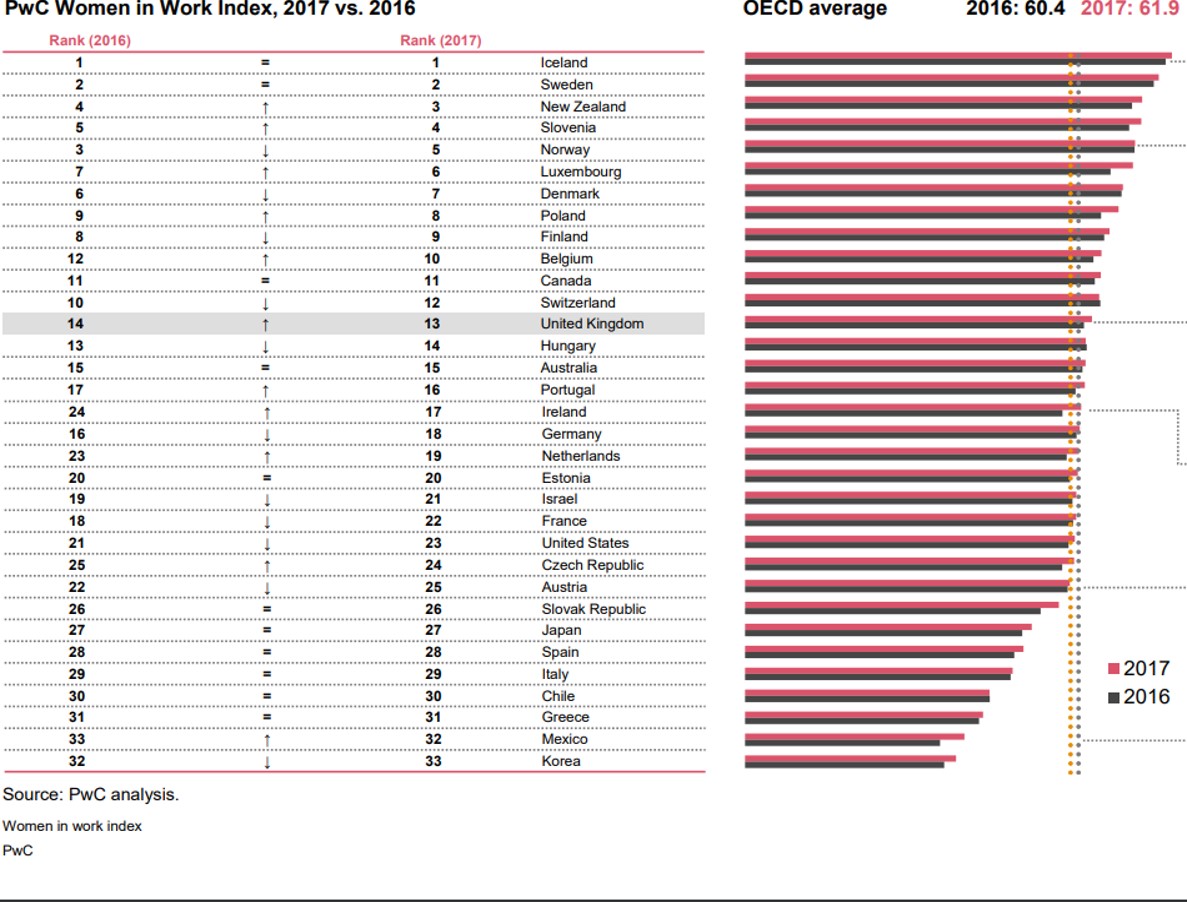 China rising?
The firm examined two major emerging markets – China and India – and found that while there is some progress, lots of work has to be done.
"The economic transformation in China and India has undoubtedly resulted in massive employment opportunities for women. However, there is room for further progress to promote gender equality and economic opportunity for women. Women in China still face challenges in the workplace. It has a large gender pay gap of 25 per cent according to the report's estimates, partly explained by social and cultural attitudes regarding the role of women The economic gains from closing the gender pay gap in China are substantial - generating a 34 per cent increase in female earnings, equivalent to $2 trillion," Zhou Xing, PwC China Diversity Leader, said.
If included in the PwC index, PwC said China would place in between Slovakia (26th) and Japan (27th). This is largely due to China's gender pay gap of 25 per cent which is substantially higher than the OECD average. However, China stands out for having a relatively high proportion of working women in full-time employment, at 89 per cent, which is 14 percentage points higher than the OECD average.
Raymund Chao, PwC Asia Pacific and Greater China Chairman, said: "China continues to have one of the highest female labour force participation rates (69%) and also female full-time employment rates (89 per cent) in the world. In recent years, China's remarkable achievement on female economic empowerment has been the rise of female entrepreneurship opportunities and the number of Chinese businesswomen topping the world's self-made billionaires list.
"These success stories are making China one of the most attractive places in the world to be a female entrepreneur and business leader," Chao added.

PwC explained how it compiled the figures (as of 2017), saying that there are some methodological differences to account for variations between data on the gender pay gap reported by the OECD and Eurostat [the statistical body of the European Union]. The OECD pay gap measures the difference in median earnings for all male and female full-time employees in all sectors, whereas the headline Eurostat pay gap (largely used in PwC's analysis) measures the difference in mean hourly earnings for all male and female employees for all sectors except agriculture and public administration.

How countries have moved from 2000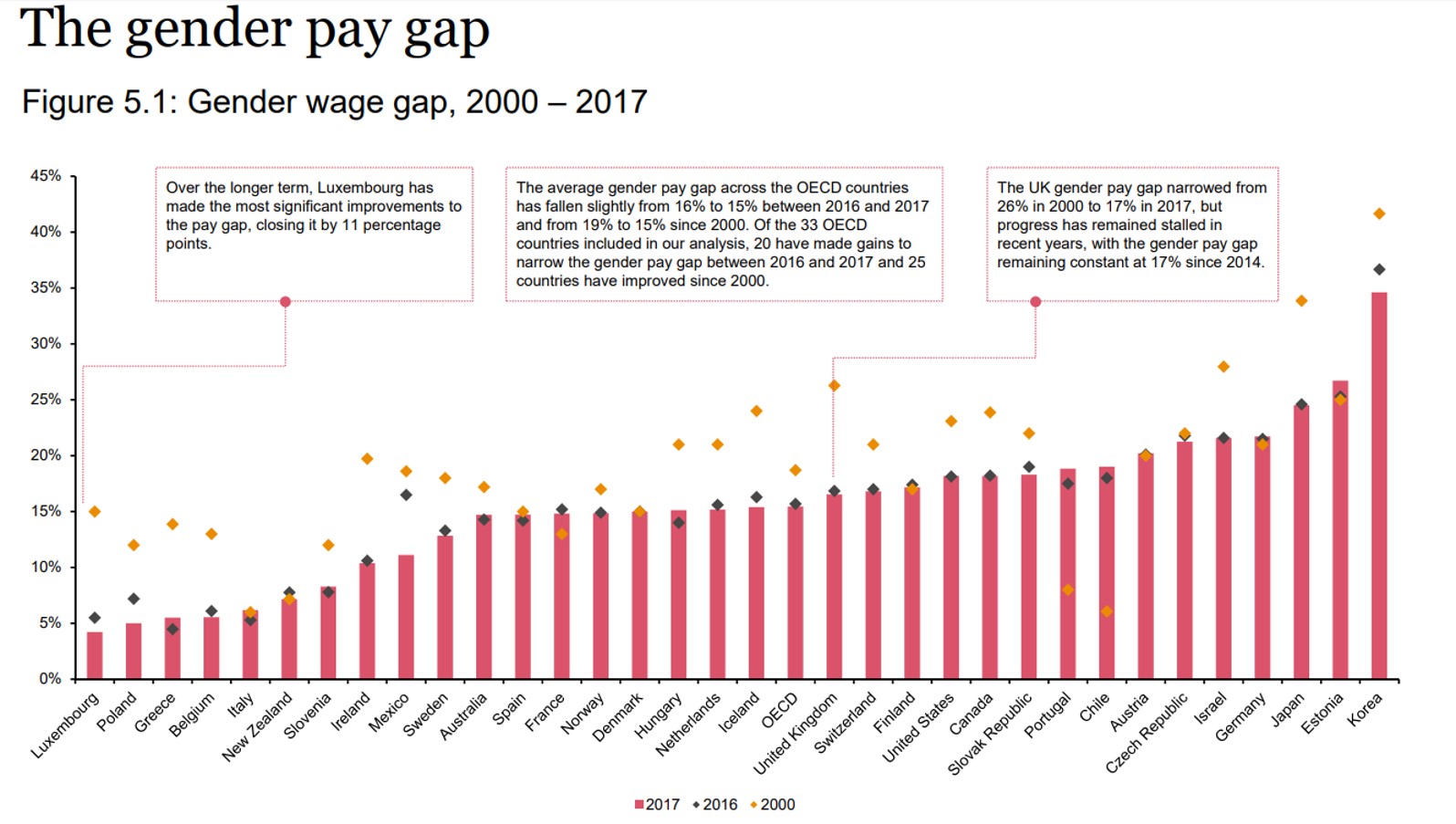 Source: PwC
Firms such as Switzerland's UBS and Credit Suisse, for example, have revealed what is being done in the gender gap space. (See examples of initiatives and reports on pay issues here and here.)
In March last year, this publication reported that UBS, Goldman Sachs, Invesco, Danske Bank, LGT Vestra, Hargreaves Lansdown, Man Group, Investec Wealth & Investments, Brown Shipley, Brewin Dolphin, Bank of Ireland and Cameron & Company Financial Planning had signed up to the Women in Finance Charter.
While there appears to be wide acceptance – as seen in the reports mentioned here by PwC and others – that there is a gender gap and that action is necessary, the issues are complex, and controversial.
For example, the UK-based think tank the Institute of Economic Affairs argues that how statistics are handled can skew results. In a report on 10 November 2017, the IEA wrote of UK data: "While the official gender pay gap figure is 9.1 per cent for full-time workers, the pay gap between men and women aged 22-39 is negligible. The gap widens later in life, often as a result of women taking time out of the workplace to raise children, and returning to work in a part-time capacity, reducing future earning potential. Calculations that put the pay gap above 9.1 per cent are achieved by moving away from like-for-like comparisons between men and women in the work place."