Credit Suisse Reports First After-Tax Annual Profit Since 2014
Tom Burroughes, Group Editor , London, 14 February 2019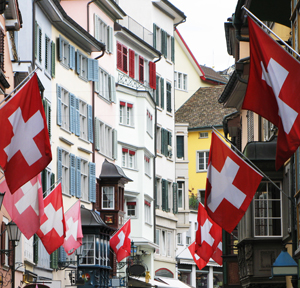 Switzerland's second-largest bank said a three-year programme to revive profitability and performance had borne fruit.
Credit Suisse today reported that it logged the first annual profit after taxes – SFr2.1 billion ($2.083 billion) – since 2014, completing a three-year restructuring programme that the Zurich-listed lender said has paid off.
Adjusted pre-tax income for last year came in at SFr4.2 billion, surging 52 per cent on a year earlier, it said in a statement. Net income attributable to shareholders stood at SFr2.1 billion.
In the final three months of 2018 the bank said it logged pre-tax income, on an adjusted basis, of SFr846 million, up 49 per cent on a year before.
Across the entire wealth management operation, the bank said net new asset inflows were "strong", at SFr56.5 billion for the year, up 49 per cent from a year before. Wealth management-related net revenues for 2018 were SFr13.3 billion last year, against SFr12.83 billion a year before.
Shares in Switzerland's second-largest bank nudged lower in morning trade on Thursday, possibly suggesting analysts had hoped for an even stronger result.
Source: Credit Suisse
Since taking the helm more than three years ago, CEO Tidjane Thiam has restructured the bank – creating new business divisions – and repositioned the bank towards Asia and cutting costs. He was positive about the results and said changes had borne fruit.
"Our restructuring, initiated in the fourth quarter of 2015, three years ago, was aimed at making the bank more resilient in challenging times by reducing risks, cutting costs and strengthening our capital base," Thiam said.
"We also wanted to grow our Wealth Management-related revenues and our relatively stable streams of income: we wanted to go back to profitable, compliant, quality growth. We wanted to right-size our more market dependent activities and deal resolutely with our largest legacy issues," he continued.
"With lower costs, lower risks and more capital than at the start of our restructuring in 2015, we believe that the bank is now well positioned to withstand challenging market conditions when they arise, to capitalise on positive trends in the world economy and to grow revenue and profits, by meeting our clients' needs," he added.
Divisions
The Swiss Universal Bank business reported an 18 per cent year-on-year gain in pre-tax income of SFr2.2 billion. Adjusted pre-tax income totaled SFr548 million for the quarter, up 25 per cent, reflecting strong operating leverage.
This business's private clients segment reported adjusted pre-tax income of SFr282 million in the fourth quarter of last year, to full-year 2018 adjusted pre-tax income of SFr1.1 billion, up 26 per cent.
International Wealth Management
The International Wealth Management area reported a 21 per cent rise in adjusted pre-tax income, at SFr1.8 billion. Continued adjusted revenue growth for FY18 of 4 per cent, to SFr5.4 billion, and an adjusted total operating expense reduction of 3 per cent, drove the jump in profitability.
In private banking, adjusted pre-tax income rose 24 per cent at SFr1.4 billion for FY18 driven by 7 per cent revenue growth, with higher revenues across all major categories, as well as stable adjusted total operating costs.
Net new assets in FY18 totaled SFR14.2 billion, representing a growth rate of 4 per cent, with flows in particular from emerging markets.
Asia-Pacific
APAC Wealth Management & Connected reported adjusted pre-tax income of SFr797 million in the 2018, slipping 3 per cent, while revenues held steady amid difficult market conditions last year, the bank said.
Private Banking achieved higher recurring commissions and fees for 2018, largely offsetting lower transaction-based revenues. It ended the year with AuM of SFR202 billion and net new assets of SFR17.2 billion, with net new assets offsetting negative market movements. Advisory, underwriting, and financing revenues for FY18 were down 5% year on year, mainly driven by lower financing revenues, while fees from M&A transactions and equity underwriting revenues were higher.
Director changes
The bank's board proposed Christian Gellerstad and Shan Li to be elected as new non-executive directors at its 26 April annual general meeting.
Andreas Koopmann will not stand for re-election and Alexandre Zeller will step down from the board of directors with effect from 28 February, 2019. All other board members will stand for re-election for a further year's term of office.