People Moves
Who's Moving Where In Wealth Management? - Societe Generale, Dolfin, Others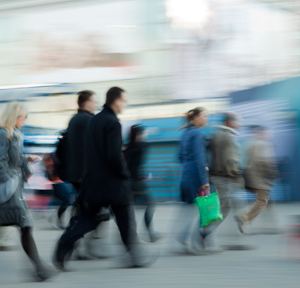 The latest moves in wealth management across Europe, Middle East and Africa.
Kempen Capital Management
Kempen Capital Management has hired Alastair Greenlees as senior investment strategist and Craig Stevenson as consultant relations director to bolster its UK team.
Stevenson will focus on Kempen's institutional presence in the UK, responsible for developing the distribution of fiduciary management and discrete investment strategies through investment consultants. He has over 20 years of experience in the pension and investment industry mainly focusing on investment consulting and asset management. Prior to joining Kempen, he was head of institutional and consultant relations at Old Mutual Global Investors.
Greenlees will be working with Kempen's institutional fiduciary clients. In this role, he will set and develop investment strategies to meet the requirements of fiduciary clients as well as conducting research into innovative asset classes. Prior to joining Kempen, Greenlees was a senior investment consultant at Willis Towers Watson.
Dolfin
Dolfin, the independent wealth management platform, has appointed Simon Black as a senior wealth manager.
In this newly-created role, Black will focus on bespoke portfolio design, identifying the specific needs and goals of the firm's clients.
Black joins Dolfin following 11 years at Hassium Asset Management.
Capital Financial Markets
London-based Capital Financial Markets, the bespoke private client investment firm, has appointed Andrew Stancliffe to its board and Robin Boyle as an investment manager.
Stancliffe, who has also taken a stake in the firm, recently left Macquarrie Bank, where he was head of cash trading Europe. He has also held senior positions at Investec and Merrill Lynch.
Boyle, who has managed private client portfolios for over 40 years, will manage bespoke portfolios on behalf of private clients. He recently stepped down as managing director of investment trust Athelney Trust. He also founded stockbroker Dunbar, Boyle and Kingsley in the 1980s then eventually sold the firm.
Societe Generale
French banking group Societe Generale has appointed Anne Marion-Bouchacourt as group country head for Switzerland and chief executive of SG Zurich, replacing Hugues de La Marnierre in the post.
Marion-Bouchacourt is based in Zurich and reports to Thierry d'Argent, head of coverage and investment banking.
She remains a member of the group management committee, and will be responsible for developing Societe Generale's activities in Switzerland.
From July 2016, Hugues De la Marnierre was group country head for Societe Generale in Switzerland, as well as the CEO of SG Zurich - a position he had held since September 2013.
Crux Asset Management
Crux Asset Management, the employee-owned investment management business, has appointed Lord Howard of Penrith as chairman.
Before joining Crux, Philip Howard was senior independent director of Schroders, having served as a non-executive director since 2008. He was also chief investment officer of Beazley, the Lloyds Insurer, from 2013 to 2015.
He was chairman of Tarchon Capital Management and spent a number of years as deputy to the chairman of Lehman Brothers in Europe until 1997. He was also the partner in charge of international fixed income at Phillips & Drew.
Charles Ferguson steps down as chairman to become a non-executive director for Crux.
ADCorp Ltd
ADCorp Ltd, which says it is the first Islamic financial institution to be based in the Abu Dhabi Global Market jurisdiction, has appointed Mohammed Al Khaja as its senior executive officer.
Al Khaja will report to ADCorp's board of directors. He will have overall responsibility over the company's activities, driving the strategy as set out by the board and leading its strategic and operational activities, the group said. He has more than 18 years of experience in financial advisory, asset management, wealth management, private banking, compliance and operations, having held senior management positions at Credit Suisse AG-Bahrain and Dubai, Merrill Lynch-Bahrain, and most recently Osool Asset Management in Bahrain.
In January 2018, ADCorp said it has raised more than $100 million for its formation capital. The firm mainly concentrates on financing companies in ways that respect Shariah principles.
Amundi
Amundi has appointed Philip Philippides as head of third party distribution for the UK. He will be based in London.
Philippides joined Amundi in January 2014 as head of exchange-traded funds and indexing sales for UK and Ireland.
He started his career in private wealth management at Old Mutual in 1997, before moving to Morgan Stanley where he worked in sales from 2001 to 2007. He then spent four years at BlackRock as head of institutional iShares sales for UK and Ireland, before joining Morgan Stanley again as executive director in ETF Sales. Before joining Amundi, he worked as a consultant for two years.
Russell Investments
Global asset manager Russell Investments has appointed Chris Davies as head of UK distribution for retail and wholesale.
Davies is responsible with overseeing Russell Investments' intermediary business in the UK, working closely with a wide range of wholesale and retail clients. Davies reports directly to Joe Linhares, head of Europe, Middle East and Africa.
Building on the existing range of retail multi-asset solutions, He will also introduce Russell Investments' range of Dublin-based SICAV's to the professional investor market in the UK.
He has joined Russell Investments from Candriam Investors Group, where he led its UK and Ireland sales team for the past three years.
Wells Fargo Asset Management
Wells Fargo Asset Management (WFAM) has made four appointments to its international distribution team.
Among the appointments, WFAM named Sylvain Agar as head of international financial institutions; Maja Jankovic as director for WFAM international business development; Matt Craddock as a director on its institutional client and consultant relations team; and Gabriel Gilarranz as a senior associate, responsible for consultant relations coverage in Europe, Middle East and Africa.
Agar joins WFAM from Janus Henderson Investors, where he held numerous roles, including head of EMEA institutional (ex-UK), head of UK and Europe financial institutions and head of sales for French speaking Europe. In the new role, Agar will oversee the strategic direction and sales activities of WFAM's international financial institutions business, leading a team of professionals dedicated to strengthening relationships with banks, private banks, wealth managers, family offices, and multi-managers.
In her new role at WFAM, Jankovic will be responsible for the development of the Italian market and the Italian-speaking Swiss market, with a primary focus on our intermediary, family office, and sub-advisory clients. Maja joins WFAM from Schroders Italy, where she most recently served as a sales and client relationship manager for wholesale clients.
Craddock will be responsible for driving forward the WFAM UK consultant relations strategy as well as delivering tailored solutions for its UK-based institutional clients. He joins WFAM from PwC, where he served as a senior investment consultant.
Gilarranz will support the consultant relations and institutional client teams. Prior to joining WFAM, he served as vice president of business development at eVestment.
Barclays Wealth Management
Barclays Wealth Management has appointed Ellen Cornelious and Ian MacKinnon as wealth managers.
The new roles will see Cornelious and MacKinnon responsible for supporting and driving the Barclays Wealth Management offering forwards across Bristol, the South West and Wales.
Cornelious joins Barclays from Santander, where she worked as a financial planning manager. Prior to this, she was based in Hong Kong with HSBC, where she catered for the investment, protection, banking and FX needs of clients across South East Asia. She will be located in Bristol.
MacKinnon joins Barclays from Brown Shipley, where he worked as the private client director. He has also held various senior positions at HMRC and Grant Thornton, specialising in pensions and taxation. He will be based in Exeter.