Strategy
Deutsche Bank WM Warns Crypto-Currency Investors Of "Total Loss"
Mueller's warning was fired just a week after one of history's largest crypto heists took place at a major Japanese exchange.
Deutsche Bank Wealth Management does not advise clients to invest in crypto-currencies as there is a risk of "total loss," Markus Mueller, its global head of chief investment office, said.
"We do not recommend that," he told Bloomberg news in an interview, as "it's only for investors who invest speculatively. There is a realistic risk of total loss." According to Mueller, recent price spikes are a result of imagination, driven by the current market situation, and there is hardly any return scope left in other asset classes such as fixed income, he added.
Mueller is not alone in thinking crypto-currencies make for a speculative investment. Capital Economics, a leading team of economists, said earlier this month that bitcoin has all the hallmarks of a classic speculative bubble, and Australia's Financial Planners Association compared bitcoin investments to a "casino visit".
In order for crypto-currencies to become an asset class in future, more regulation, security and transparency is required, Mueller said. "Important issues such as liability and documentation are unclear," he said. "We are still at the very beginning."
Last week, a $530 million heist at Coincheck, a major Japanese exchange, drew into focus the vulnerabilities in trading an asset that global policymakers are struggling to regulate. The theft also highlighted the fundamental flaws of storing crypto-currencies in online "wallets", which are often provided by platforms directly connected to the internet.
Mueller's comments came around a month after a market surge that saw bitcoin's price rocket to over $20,000 before pulling back more than 50 per cent to below $10,000 within weeks. Bitcoin, the first and most well-known crypto-currency, is currently trading at around $11,100, according to CoinDesk.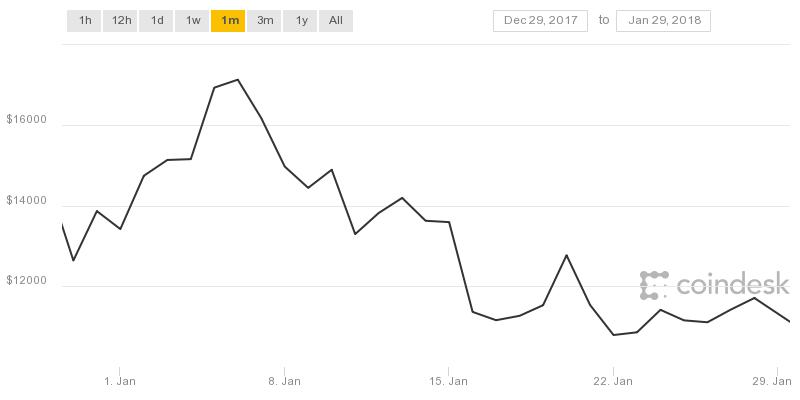 Bitcoin's price movements over the past month Source: CoinDesk.
He suggested that companies issuing crypto-currencies should collaborate with regulators. "When security and trust are created, crypto-currencies can be assessed like established asset classes. It is possible that the governance required will exist in five to 10 years from now."
Some proponents of crypto-currencies consider them an asset class, while others would rather them be used for their original intention: to transact without the need for a third-party.
Late last year, bitcoin landed on two US exchanges in the form of futures contracts, used daily by Wall Street traders to go both long and short on the crypto-currency. Many had hoped this trading would encourage mainstream acceptance, but regulatory uncertainty still surrounding crypto-currencies coupled with their vicious price swings suggests there is still a long way to go before digital coins will be used by the masses.
Mueller pointed out that fiat currency is supported by the underlying economy of the country by which it is issued. Crypto-currencies, on the other hand, would only function as a store of value if the issuing companies have a sustainable business model, he said. When a company issues its own crypto-currency, this is known as an initial coin offering (ICO). This process is similar in some ways to an initial public offering (IPO), but instead of shares in the company investors are rewarded with digital tokens, whose value are tied directly to the company's performance. Investors cannot buy into an ICO using fiat currency. Instead, they will typically exchange bitcoin, ethereum or ripple.