Compliance
Global Anti-Corruption Group Jabs UK Over Its Role In Russian Scandal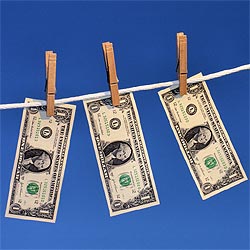 Transparency International has commented on the UK banking sector's role in an alleged money laundering scam.
A global anti-corruption watchdog has scorned the UK for its role in a scam that allegedly saw the nation's high street banks launder nearly $740 million from Russian criminals.
HSBC, Royal Bank of Scotland, Lloyds, Barclays and Coutts are among 17 banks that are facing scrutiny over whether they knew about the scheme and why they did not reject suspicious transfers, the Guardian reports.
Documents seen by the UK news service reportedly showed that at least $20 billion was moved out of Russia between 2010 and 2014.
Dubbed "The Global Laundromat", the records shone a light on 70,000 banking transactions, which included 1,920 that went through UK banks and 373 through US banks. In total, UK banks and foreign banks with offices in London processed $738.1 million in transactions that apparently involved criminal cash from Moscow.
In light of the revelations, Transparency International, a non-profit organisation that seeks to combat corruption, has slammed the UK and its anti-money laundering regulations, which could have made it easier for banks to clean the dirty cash.
"We have been saying for years that the UK's anti-money laundering system is not fit for purpose," said Duncan Hames, director of policy at Transparency International.
"If the UK is serious about ending its role as a safe haven for corrupt money, there must be extensive changes as part of a wide-ranging anti-corruption strategy, which is now overdue," he added.
Transparency International's comments came after the group earlier this week warned that the UK government's new anti-money laundering watchdog, set to launch early next year, may not be fit for purpose should it fail to significantly step up current regulations.
The Global Laundromat records reportedly showed that HSBC processed $545.3 million, mostly through its Hong Kong branch. Royal Bank of Scotland – which is 71 per cent owned by the UK government – dealt with $113.1 million. Coutts, which is owned by Royal Bank of Scotland, handled $32.8 million, channeled through its offices in Zurich.
Other UK high street banks that reportedly appeared in the documents included Barclays, NatWest and Lloyds. NatWest, which is also owned by Royal Bank of Scotland, allowed through $1.1 million.
US banks reportedly processed more than $63.7 million. Citibank was said to have processed $37 million and Bank of America $14 million.
The revelations could raise questions in the UK as to whether its financial regulator, the Financial Conduct Authority, is doing enough to crack down on money laundering schemes.
The UK Treasury last week announced it plans to establish a new anti-money laundering unit that will reside within the FCA in a bid to further clamp down on illicit gains and dirty money.