New Office
Deutsche Bank Sets Up New London Shop For Wealth, Asset Management Employees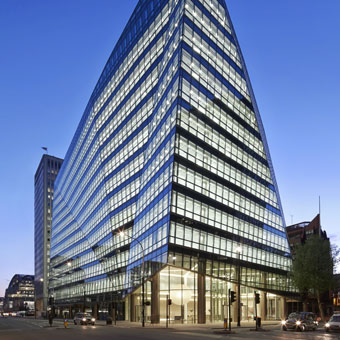 The Frankfurt-headquartered firm has moved its London wealth and asset management staff to a more modern office space.
Deutsche Bank last week relocated its London-based wealth and asset management team to a new state-of-the-art building in Victoria.
The move to the Zig Zag building will provide employees with more modern facilities, increase efficiency and bring staff closer to many of their clients, the firm said in a statement. Some 650 employees will gradually transfer from the current Pinner's Hall office to the new one over the coming weeks.
Germany's largest lender signed a 15-year lease in November 2015 for its wealth and asset management businesses to occupy six floors of the Zig Zag building. The new office space spans 92,000 square feet and has been designed to provide a more inspirational workspace, Deutsche Bank says.
The new space houses a range of working zones, which include a technology lounge and meeting rooms that the bank says have cutting-edge audio and visual technology.
"This building represents a significant investment in the future of our business and a vote of confidence by the leadership of the bank," Fabrizio Campelli, global head of Deutsche Bank Wealth Management, said in a note to employees. "It should also mark a step change in how we work together and an exciting new chapter for the future of our business."